Story by Dominic Stearn
Open Division football hopeful Highland Hawks are off to a tremendous start to their 2021 season. In the 6A Premier division, Highland boasts a +82 point differential through seven games.
"I think we've reached the point where it's not surprising if we do this," Highland head coach Brock Farrel said.
"We aren't at the point where we are expected to reach 6-0 like Chandler and Hamilton, but we are not surprised when we win our games early."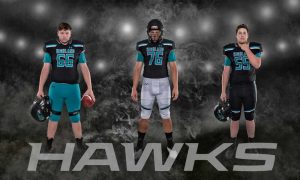 Making the Open Division was the goal for Highland after losing a game each of the last two years that Highland couldn't afford to lose if they wanted to make the Open Division. With their 6-1 start, Highland avoided those losses and has put themselves in a position to make Open.
"In order to be in the Open, you have to beat everyone that isn't a top team in the state," Farrel said.
Highland's starting quarterback Gage Dayley is performing at a high level and leading the Hawks' offense to new heights. He is completing 71% of his passes with 1,195 yards and 11 touchdowns on the year. Farrel thinks that dayley is even better than these stats show.
"If you don't count the drops, he is at like 80 percent complete," Farrel said.
What a DIME by @gage17dayley I mean that is some serious touch 🎯 @HighlandHawksFB

Failed 2 point conversion so @bashagridiron leads 7-6 w/ 3 minutes left in the 1st #FridayNight360AZ @Sports360AZ pic.twitter.com/eDVbdYpJS8

— Jordan Spurgeon (@spurge_) October 23, 2021
Dayley doesn't just do it with his arm. He uses his legs as a weapon to extend plays and in plays designed to get him out of the pocket. His 137 yards and two touchdowns on the ground are third on a strong Highland rushing attack.
"He is just one of the smartest quarterbacks I've ever coached," Farrel said. "You're almost never in a bad play because he always puts you in the right one."
None of Dayley's work could be done without a stout offensive line protecting him. Highland boasts one of the biggest fronts in the Valley, and Farrel knows how important this is to competing at a high level on the football field.
"Say what you want about skill position players, if you don't have O-linemen that can block, you're not going to win," Farrel said. "I think we've done a good job of making it a point of emphasis to have great O-line play. Coach Terry Fair does a great job of not only teaching great technique and skill to our linemen, but also giving them the attitude that we're going to move you against your will."
Gage Dayley takes off along the sideline and spins his way into the end zone for a 19-yard touchdown. Gets up slow but runs off under his own power. PAT no good.

30-7 Highland | 4:46 3Q #VXLive #TeamAZV pic.twitter.com/hzzmlyCpK3

— Zach Alvira (@ZachAlvira) October 2, 2021
Highland also prides themselves on their disciplined defense. As a unit, they've only allowed 115 points. Farrel noted that in order for them to compete for a championship, they need to plug the running lanes and complete their tackles.
The Hawks' upcoming stretch of games could be the biggest of the year. They are getting an early look at what Open Division play could look like with Hamilton and Chandler back-to-back on their schedule. Those two teams all currently sit as top five seeds in the current Open Division standings. Highland is currently the sixth seed, so this will also be an opportunity to improve their seeding.
Top 16 in the Open Division Rankings according to the AIA🔽 pic.twitter.com/AntLelby36

— Sports360AZ (@Sports360AZ) October 19, 2021
Getting ready for these big games, Highland is not altering their practice plan for the occasions.
"We've been practicing to play these teams the whole year," Farrel said. "It doesn't matter who our opponent is, we practice at a high level no matter what. In terms of format, intensity, and time, every week we practice at a high level because we want to be prepared for when we play in big games, because we expect to be in the big games at the end of the year."
Highland suffered its first loss of the season to Basha on Oct. 22 in a heavyweight contest. They'll travel to face undefeated Hamilton next Friday.