Bryce Drew and his Lopes aren't phased as expectations continue to rise in the new-look WAC.
"We want to empower our players," Drew said. "We want to try and practice and get them in a position where they're ready to go compete and play. At that point, we want to feel like we've done our job and let them finish off the results. Compliment to these guys being devoted to getting better in a lot of different areas."
After a breakthrough season for Grand Canyon men's hoops, the program's second-year head coach is preparing for an even tougher run if they hope to win back-to-back conference titles.
"The WAC's gonna be the best it's been in a long, long time," Drew said. "You're basically adding two conferences that were getting two bids to one conference…hopefully we can get a team or two to break through and get an at-large but it's gonna be extremely competitive."
They were rewarded for their WAC dominance with a trip to the NCAA Tournament – the first in GCU history.
While the Lopes kept the second-seeded Iowa Hawkeyes on their toes, their 2021 run would end in the first round, making the guys even more focused to return to the big dance this March.
"The work we did last year – nobody's content with it," stand-out forward Gabe McGlothan said. "Let's do that again and try to build on that and keep building what GCU's all about. The determination of this team is pretty high."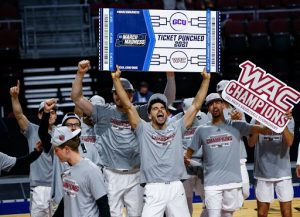 Mr. Reliable, Plus New Faces
The squad's lone returning starter in junior guard, Javon Blacksher Jr, was selected to the coaches' and media's Preseason All-WAC first teams after winning conference tournament MVP.
The Phoenix Shadow Mountain High School alum averaged just above 12 points, five assists, and almost two steals a game last year and plans on leading the way with a level head.
"I wouldn't say it's pressure," Blacksher said. "I'd say it's more of our expectations, standards. Our coaches do a really good job of coaching us and giving us the confidence to want to do those things."
Beyond Blacksher, talented transfers like fifth-year guard Holland Woods and sharpshooter Walter Ellis are expected to provide Grand Canyon with a different dynamic in the backcourt.
"I believe we can play faster," Blacksher said. "We have a lot of guards. We're not so heavy in the post, how we were last year. We can get up and down."
Eight new faces in the program means more work for Drew and his staff to figure out the identity of this year's Lopes.
"This team is built different," Drew said. "We are really excited about this year's team cause of the depth that we have. Everyone's been really competitive at practice positioning for minutes and for spots. Right now, we haven't said anyone's starting or not starting."
Whether or not GCU will reach its full potential is a question only time will answer but one thing you can count on is the trust Drew shares with his players.
"We know what we got in the locker room and what Coach Drew is leading us to," McGlothan said. "We'll just have confidence in that. All the noise on the outside, it's just noise at the end of the day."
Grand Canyon opens its season on October 30th against Western New Mexico in front of a sold out, 7,000-seat GCU Arena for the first time since 2019.