The life of Bob Machen will be celebrated next Wednesday in service at Bethany Bible Church. I see no reason to wait until then to talk about what an indelible mark he left on our community. The next time you walk into a Suns, Diamondbacks, GCU basketball game or concert in downtown Phoenix just know that Bob had more than a little bit to do with the building and running of the facility you're standing in. In one tribute to Machen, Valley sports icon Jerry Colangelo said "I had great trust in Bob because he was so dependable. He got to know me extremely well and how to deal with me because I had a plate full of responsibilities. He made life a little bit easier for me to help us accomplish all the things we did over the years."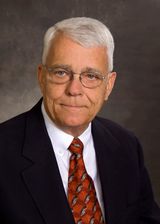 I always enjoyed visiting with "Mache". We'd sit in the dining room before Suns or Diamondback games and talk about the Valley sports scene. Our last long conversation took place on the campus of Grand Canyon University. At the time I told him I had heard that G-C-U stood for Grand Construction University because so many buildings were being erected. "Mache" liked that.
For those of you who want to get into the business of sports. Study the life of Bob Machen. He started as a ticket manager for the Suns. It led to him having the title of President and General Manager of Sports and Entertainment Services, Phoenix Suns Organizations. He eventually filled the role of owner's representative for the design and construction of the America West Arena (now Footprint Center), Bank One Ballpark (now Chase Field), and Dodge Theatre (now Arizona Federal Theatre) and Senior Vice President of Development at Grand Canyon University.
In life, you cross paths with people who make you feel better when you're in their presence or after you say goodbye. Bob Machen was one of those people…
Leftovers…
It was all in front of Arizona State at halftime last Saturday night. Up 21-7, all they had to do was hang on for the last thirty minutes, get on the plane with a victory over Utah, and the fanbase would grow to a level we hadn't seen in quite some time. The Sun Devils would be ranked somewhere between 10 and 13. Jayden Daniels would become a darkhorse Heisman candidate. With Iowa getting smoked earlier in the day by Purdue, I could see a path(not a straight line) where ASU could be talked about in the College Football Playoff. The conversation about College Gameday coming out to Tempe for the USC game. Playing a January football game in Pasadena for the first time since 1997. On and on. It's one of the biggest gut punches to the program that I've seen. Saying "turn the page" just doesn't cut it on this one…
For all of you who've bitched to me about the lack of day games for Arizona State football. Noon a week from this Saturday. Let's see if more than 40-thousand fans show up…
At what point does the Arizona Wildcat administration wonder if they missed on Jedd Fisch? I would like to think that cooler heads would prevail in Tucson. Kevin Sumlin was the gift that just kept on giving for Arizona State. He ran that program so far into the ground, it will take at least two more years before they're even able to talk about getting out of the Pac-12 South basement…
If I am an athletic director looking for a head football coach, Kalane Sitake at BYU would be on my call sheet.
So, if Deandre Ayton sulks because he didn't get a max contract, will you rip the team or the player? If his production drops, are you one of those who says, "well the team didn't respect him by giving him the max". That's a "you' problem. Facts are Robert Sarver gave Devin Booker his max contract when he deserved it. Same goes for Mikal Bridges. He averaged only 14.4 points and 10.5 rebounds in 30.7 minutes per game last season. Are those max contact numbers? So Ayton will just have to take his $12.6 million dollar contract this season and suck it up. Hard to feel sorry for a guy being "disrespected" being paid $12.6 million but that is the reality of pro sports in 2021…
From the "You can't make this stuff up" file -The SEC fines Tennessee 250K for fan behavior and says the "fans" that were throwing trash, golf balls, whisky bottles, a plastic mustard bottle(yep, it happened) coins, etc last Saturday night delaying the game against Ole Miss, won't be allowed back into games until next year? That's right, Next year!! That will sure teach those "fans" a lesson to never do it again. I don't know, how about A LIFETIME BAN…It just can't be that hard to eradicate stupidity at sporting events…