By Zach Alvira
Was there ever really thought that the Arizona Cardinals' matchup against the Houston Texans would be a "trap game?"
The Cardinals came into Sunday's contest atop most, if not all, power rankings across the country. They have one of the league's top offenses behind an MVP-caliber quarterback in Kyler Murray and despite still missing some key defensive starters due to COVID-19, they maintained the same dominant level of play they've had all season.
Sure, any team riding a wave of momentum as high as the Cardinals has the potential to be humbled very quickly against a team that has no business sharing the same building with, let alone the field. But luckily for Cardinals fans, they didn't have to endure that type of heartbreak after the team's dominating 31-5 win over Houston that saw the return of head coach Kliff Kingsbury after he tested positive for COVID-19 last week.
"I feel great," Kingsbury said after the game. "I'm glad to be back. I felt a little disconnected, I didn't feel as into the game as I usually am just showing up on game day. The players were awesome, great energy and made me feel very welcome to be back."
Kingsbury found out he was officially allowed to return at 6:30 A.M. Sunday morning. The news was welcoming to the entire Cardinal locker room, including tight end Zach Ertz who was acquired from the Philadelphia Eagles the same day Kingsbury tested positive.
The Pro Bowl tight end had spent his first nine days as a Cardinal communicating with his head coach by text and phone. The two didn't meet face-to-face until they arrived at State Farm Stadium ahead of kickoff against the Texans.
Ertz went on to haul in his first pass as a Cardinal against Houston, which resulted in a roar from the home crowd. He hauled in another on the run that he took 47 yards for a touchdown – which was the longest of his career. The bench nearly cleared when Ertz crossed the goal line and he and James Conner shared a chest bump that sent the running back tumbling to the grass.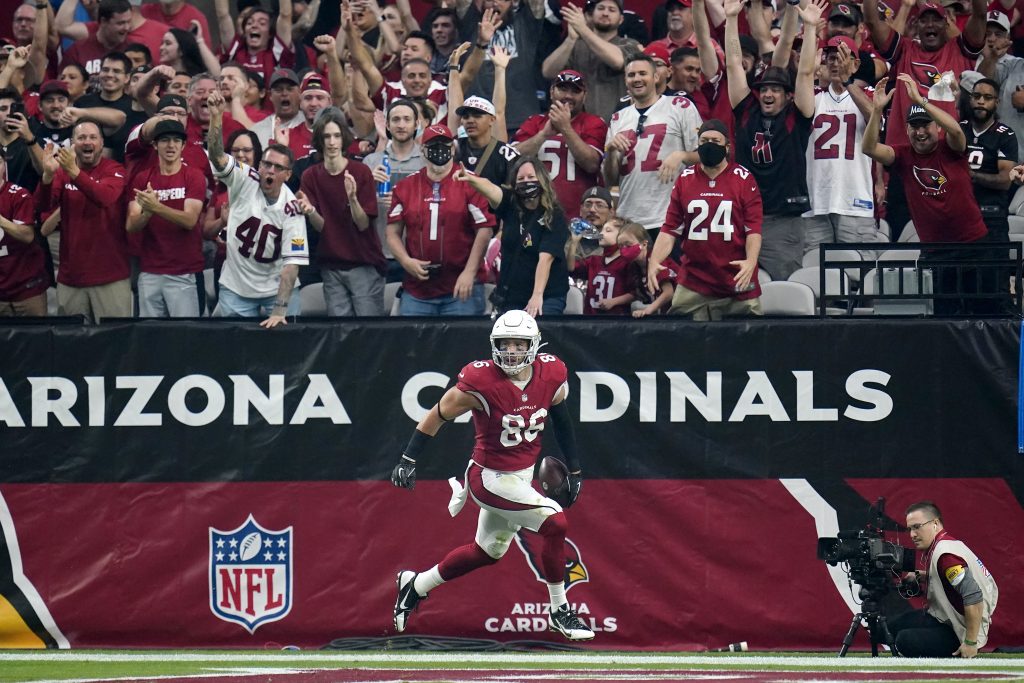 It was just one of several times Ertz said he felt like he was truly welcomed by his fellow teammates and the fans.
"It was kind of surreal to see the whole sideline come on the field for my first score," said Ertz, who caught three passes for 66 yards. "I think it just speaks to the culture of this team. Everyone wants to win so badly. Everyone is happy for another man's success. The best teams I've been a part of that's the culture that it is."
The touchdown to Ertz was one of three thrown by Murray, who was 20 of 28 for 261 yards and an interception. Many of those completions, however, didn't come easy.
Right guard Josh Jones struggled against Houston's defensive line. Of the four total sacks given up by the Cardinals – which is the most all season – two came against Jones. Murray was also hurried on several occasions and was on the receiving end of hits that sent him into the blue medical tent twice on the day with what he said was a "dead leg." On both occasions he emerged a short time later and returned to the game.
But the pressure stalled Arizona's high-powered offense in the first quarter, which led to just 13 total offensive yards in the first 15 minutes of play. But they settled down and found a rhythm both through the air and on the ground, exploiting a Houston defense that entered Sunday's contest allowing the second-most rush yards in the league.
"Credit to them, they played hard and came after us," said Murray, who had 10 of Arizona's 172 rush yards. "I know we are better than what we put out there today. We clicked, for the most part, during the middle of the game. But like I said they got after us today."
Murray's first touchdown of the day was to wideout DeAndre Hopkins, the former Houston Texan who, along with J.J. Watt, was a focal point for their teammates who repeatedly said they wanted to get the win for.
Both Kingsbury and Murray admitted they aimed to get Hopkins into the end zone. Murray overthrew Hopkins on the first opportunity, but side armed a one-yard touchdown pass to him later in the drive.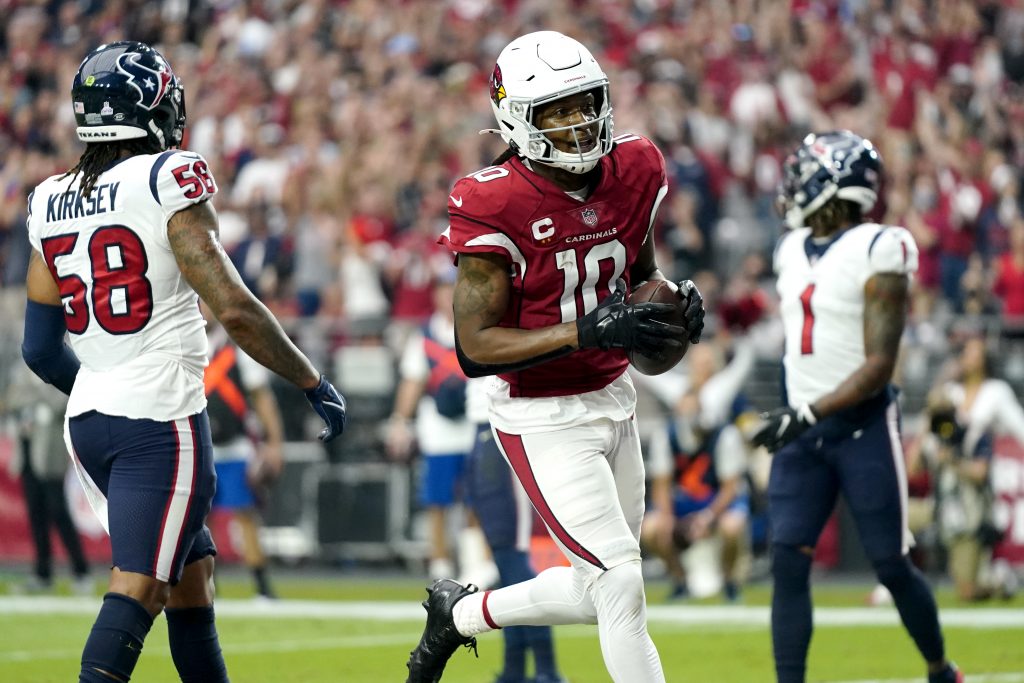 Hopkins was coy about scoring a touchdown against his former team. Even in practice his teammates said he was all business and didn't put an emphasis on the game. Hopkins further emphasized that stance postgame.
"It was just another game to me," said Hopkins, who had seven receptions for 53 yards and the touchdown. "I know some of those guys over there. This team, we've got bigger goals. We knew we needed to handle business today. I didn't want to make it a thing, it's just another game for me to go out and do my thing."
While Hopkins thought of the game against the Texans – at least publicly – as any other Sunday, defensive end J.J. Watt had a different tone. Defensive end Markus Golden said Watt motivated the defense all week long in practice and emphasized pregame what getting a win over his former team would mean to him.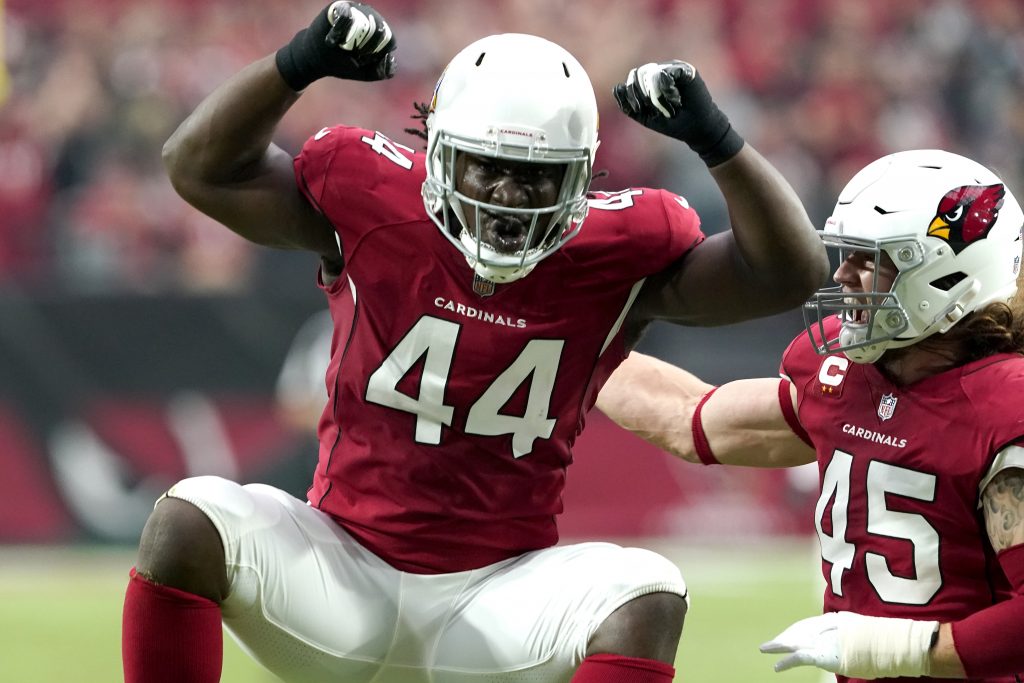 Golden and the rest of the unit took that to heart and delivered Sunday.
With defensive end Chandler Jones still sidelined despite being taken off the COVID list, Golden and the rest of the defense shined. They gave up just three points to the Texans and responded well after Houston tackled Murray for a safety in the first quarter.
The Texans converted just twice on third down despite 13 attempts and were 0-for-2 on fourth down. Houston was held to just 160 yards of offense and turned the ball over once, a fumble by rookie quarterback Davis Mills after he was sacked by Golden – who also recovered the ball despite his helmet getting ripped off in the process at the bottom of the pile.
"It's crazy at the bottom of every NFL pile," said Golden, who had two sacks and took the lead for most on the team this season with six. "It was normal for me. I just knew I wasn't going to let that ball go."
Take away an abysmal first quarter and offensive line struggles and it was a dominating performance by the Cardinals, who now enter a short week with the 6-1 Green Bay Packers coming to State Farm Stadium on Thursday.
Like all short weeks in the NFL, it will present a challenge. But it's one Kingsbury said he has been preparing for his last week of quarantine.
"I was on the Packers all week," Kingsbury said. "We're good there. I'll go back in this office and watch their film right now and have a good plan for Thursday."