Story by Amanda Sherer
The 10th annual Battle of the Badges Hope Charity Flag Football game kicks off at 7pm Saturday. It is being held at Mesa Community College, as first responders from Maricopa County will be facing off against first responders from Pinal County.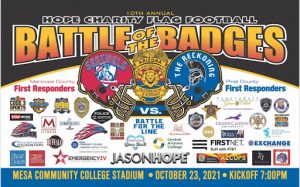 "Unfortunately, too often, when we see large groups of officers because something really bad happened," says officer Jim Hill who has played in all 10 years of this event. "Here we're working towards something we can actually make a difference in with our officers."
The event is put on to benefit injured officers, and make a difference to help them as they are out of the station.
This year, the event is benefiting Officer Sean Stoddard from Mesa Police Department, who suffered a traumatic brain injury and other issues after he was rear-ended on the freeway. It will also benefit Officer Steven Braswell with El Mirage PD, as he caught a bad case of COVID-19 and will need a lung transplant to survive.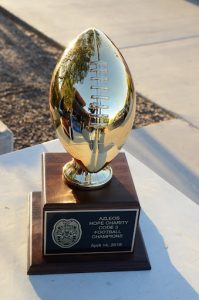 Injured officers also serve as co-captains during the flag football game.
"It's part of our DNA, it's what we stress all the time that we're supposed to be family," Hill said. "This is what family does."
The event doesn't just feature a flag football game it also includes a "trunk or treat " and an awarding of scholarships for students who are aspiring to be future first responders from MCC and Central Arizona College. These scholarships are funded by local business and community groups.