"You're One Play Away"
Playing two years behind a legend in Jacob Conover, not many outside of the Chandler High football program knew much about young Mikey Keene two years ago.
Now, many University of Central Florida fans may be saying the same thing about their new starting quarterback after Knights' star Dillon Gabriel fractured his clavicle in an upset loss to Louisville last week.
With Dillon, who has amassed over 8000 yards and 79 touchdowns in 26 career games, out indefinitely, UCF's offense will now be run by the true freshman from the southeast Valley who didn't lose a game as a starter in two seasons for head coach and offensive wizard, Rick Garretson.
We're in good hands with @Mikey_Keene 🙌 pic.twitter.com/78EZjUd2KG

— UCF Football (@UCF_Football) September 21, 2021
Keene, one of the most humbled, grounded, mature student-athletes I've ever covered, isn't changing his approach heading into his October 2nd starting debut against Navy.
"My family, team, coaches, and supporting staff have all been great to me this week," Keene said to the "Zone Read." "Everyone has rallied together at this time and I'm taking things day-by-day. I'm going to prepare myself for Navy to be able to play confident and efficient and do whatever I can to help the team be successful."
He's also taken the bye week to pick the brain of his high school coach but admits he's had to re-focus on the challenge ahead as his phone has "blown up" since being named the starter by head coach Gus Malzahn.
"Yes, I have talked to him," Garretson said to the "Zone Read." "He and I [also] talked about this before he went to UCF in January. He would be working to be the backup quarterback. When you're the backup quarterback, you're one play away from being the guy in there and that's exacly what's happened."
Garretson, who watched Keene lead Chandler to back-to-back Open Division Championships, believes the moment won't be too big when he takes the field in Annapolis, Maryland.
"Mikey Keene is a mentally tough, mentally disciplined kid," he explained. "When you don't even get to [take your official visit] because of COVID. The first time that you arrive at the school you're going to is the first day you arrive in January. Two weeks later your head coach [Josh Huepel] leaves and goes to [Tennessee]. All that uncertainty and everything that comes along with that."
🚨 First UCF Touchdowns 🚨@MikeyKeene1 ⏩ @kaedinrobinson ⏩ 30yds pic.twitter.com/6LD1EieWRe

— UCF Football (@UCF_Football) September 12, 2021
"He's just stood the course."
I don't think any of us who watched Keene play over the last two years would expect anything else.
Jack Stomped
It's hard to put into words just how big NAU's stunning comeback win over Arizona was last Saturday night in Tucson.
Celebrating for the first time in Tucson!!#NAUStrong ⚒️🌲💪🏼 #CHOP pic.twitter.com/RxKccxd2EW

— NAU Football (@NAU_Football) September 19, 2021
The Lumberjacks entered the game 26.5-point underdogs, coming off two lopsided losses to open the season.
Oh, did we mention Chris Ball's team was playing their fourth quarterback of the season?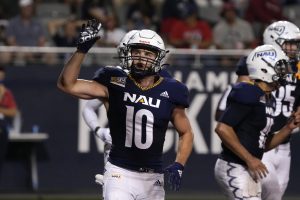 — Hendrix (@HendrixJohnson) September 19, 2021
"For us to go down there and do it against a team that doesn't recruit Arizona very much," Johnson noted. "Obviously, there are now but in the past, not as much. That means everything because it shows the coaches that they're right. We're going to be successful in the future. We're going to be successful this year. It's going to be thanks to a lot of Arizona kids."
Johnson continued.
"We're not even close to reaching our potential. The thing with every guy who comes here is, they're going to have a chip on their shoulder."
Last season the Jacks came close to winning a Big Sky championship.
Despite being 1-2, their conference future is in front of them, starting Saturday at Northern Colorado.