Josh Weeks' Story
If you're familiar with the Arizona high school football scene over the last decade or so, you know the name Josh Weeks.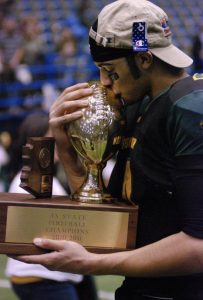 — Eric Sorenson (@EricSports360AZ) September 15, 2021
It also presents a unique challenge for senior quarterback, and recent West Virginia commit, Nicco Marchiol who enters this season more polished and experienced in his second year starting in Zdebski's offense.
"They have a really fast defense," he explained to the "Zone Read." "They're a team that's not going to make very many mistakes…I have to up my game a little bit and out-think guys and just do what a good quarterback does. It's going to be a good test for us. But I have full faith in my guys that they're going to go up and make the plays they need to. We're prepared I think. We're ready to go."
The Gaels' defense features Nevada's top three 2022 prospects according to 247 Sports in end Cyrus Moss, safety Zion Branch, and cornerback Fabian Ross. Stanford commit linebacker Benjamin Hudson is another player to watch on Friday, along with junior cornerback Justyn Rhett.
And that's just one side of the ball.
Zdebski expects his team to be up for the challenge.
"If you're prepared, there is no pressure," he said. "The kids know it. A game like this…there are cameras everywhere. A lot of the kids in the program, this is their third time (on national tv). Everything is going to be scrutinized more because there are more people watching it. But all in all, it's a great thing to be in this situation."
A group is a collection of individuals who coordinate their individual efforts. On the other hand, at team is a group of people who share a common team purpose and a number of challenging goals. Members of the team are mutually committed to the goals and to each other. pic.twitter.com/NRN6EQYksw

— Michael Zdebski (@michaelzdebski) July 2, 2021
Don't be surprised to see a few new offensive wrinkles from Hamilton, as well.
Arizona teams are 4-3 against Bishop Gorman dating back 2008 according to Max Preps.