Since I started covering Arizona high school athletics the most vivid, lasting memories have little to do with record-breaking performances, state championships, or players signing to play in college. Sure, all of those are important pieces of the bigger picture but the relationships made, even the somewhat unexpected, are what makes covering prep sports so unique.
One of my closest, and personal ones, was with Andrew Luberda, who passed away last December from COVID-19 complications.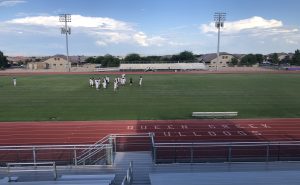 As I sit here alone in the Queen Creek High School press box and look out over the empty stadium, I still feel Andy's presence and envision him walking the Bulldogs' sideline chatting up assistant coaches or players during practice water breaks. Truth be told, nobody cared more about this school, the student-athletes who attended – heck, the entire far southeast Valley community, than he did.
He had that type of influence and a natural gift of giving back through his reporting, storytelling and never-wavering selflessness towards the student-athletes he covered.
Andy Luberda made it his priority and mission to shine his spotlight on the schools near the outskirts or outside of Maricopa County. After all, he and his family resided in Pinal County (Coolidge), despite his full-time job as Director of Tune-In Operations with Skyview Satellite Networks being headquartered in north Scottsdale.
One of Andy's greatest strengths, happened to be one of his biggest weaknesses. He was his own worst critic. It wasn't uncommon to receive a story from Andy for me to "look over" and see two more versions appear in my inbox before I finished the initial one he sent. Self-doubt, like for many, was often his kryptonite.
We would spend hours sitting together, discussing the evolving, sometimes ugly, world of modern day journalism. He was a detailed writer and a damn good one, even though he never believed he was "good enough."
Truth be told, Andy was a visionary.
His platform, CountyLinePreps.com was, at the time, his lifeblood.
When he approached me about helping launch the site and build the brand, I jumped at the opportunity because, although we'd have our disagreements on things as petty and insignificant as In-N-Out Burger or Whitecastle, Oregano's or Barro's Pizza, we both had an affinity for sharing high school stories too far off the beaten path for some.
Andy texted me almost immediately when I released my first story on a big, raw (but skilled) sophomore offensive lineman from Safford named Ralph Frias. He wanted to know how Ralph Amsden and myself first caught word of the then 6-foot-6, 315-pound man child tucked away in southeast Arizona. That was HIS kind of story.
His smile was even brighter when he caught word myself and Haley Stesiak made the three-hour drive to Safford to interview Frias in the school's weight room after he committed to ASU in the fall of 2017.
He had a knack of unearthing players with incredible back stories and speaking their tales into existence. Before Trey and Porter Reynolds, older sister Jessie excelled both in life and track at Queen Creek. Before Lindsay Lopez earned All Pac-12 Freshman team honors in the circle at ASU, she was one of the most dominant two-position players our state has seen in the last decade for Poston Butte High. We can't forget about a then gangly, goggled, long-haired freshman tight end at QC who hadn't played a down of high school football by the name of Isaia Glass.
Our County Line Prep "work days" usually followed the same script. He'd network a story through his contacts and we'd pick an afternoon in the coming weeks to go tell it. With me living in the north Valley and him in Coolidge, the "halfway point" was our home base, a Starbucks, just off the Loop 101 and Ray Road in Chandler. I'd park my car, load the equipment in the back of his SUV and we'd head east.
Way east.
The road trips were so enjoyable. It started with whatever he was in the mood to listen to. Sometimes it was classic rock, other times maybe just classical.
Andy seemed to know every one-lane back road on the county line. I never knew what was around the next corner, much less where the hell we were, but he always did.
"Hey, there's this cool little chicken farm coming up on the right. The owner's kid is a pretty decent running back, too."
We'd pass jaw-dropping, picturesque churches, fruit stands, make-shift rodeo grounds and sprouting new housing developments.
Most importantly, he had the 4-1-1 on the most obscure, authentic Mexican food spots in the area, including QC's Taqueira Mis Amigos – one of our staples. We'd eat $1.85 street tacos by the half dozen at makeshift tables while watching Spanish soccer matches on the televisions during our meals.
Andy refused to let me pay and was notorious for walking to the car and handing me a paper bag from inside.
"Hey, I got you something," he'd say with a smirk on his face.
I'd open the bag and there would usually be either some delicious dessert or a bottle of Mexican Coke (my favorite) for the road.
We'd made regular trips to Florence, Poston Butte, Benjamin Franklin, San Tan Foothills, ALA-Queen Creek, Casa Grande, Coolidge, Eastmark, and every other school in QC and San Tan Valley that he covered like they were his own because, let's be honest, they were.
In early December we met for dinner. As he typically did, Andy spent half the conversation lamenting why his beloved Chicago Bears couldn't find a decent quarterback. He looked healthy. He had dropped a bunch of weight and was mentally in a good place with his family and himself as he prepared to move to Kentucky in a matter of hours.
Our typical two-hour dinner ended with a hug. I was sad I wouldn't be seeing him much but was excited for his next chapter. We swapped some texts a few days later but that would be the last time he and I would ever communicate.