It's not all peaches and puppies for professional athletes. You may think that's not the case, but the decimal point location can only take a person who competes at the highest level of athletics so far. Hometown kid, Christian Kirk is living proof. By way of Saguaro high school, the Arizona Cardinals wide receiver has gotten off to an excellent statistical start(8 catches, 135 yards, 2 TDs), but more importantly to him, his mental side is in a great place. "Mentally, I'm probably in the best place I've been in since I've been here," Kirk said during a virtual meeting with reporters on Tuesday.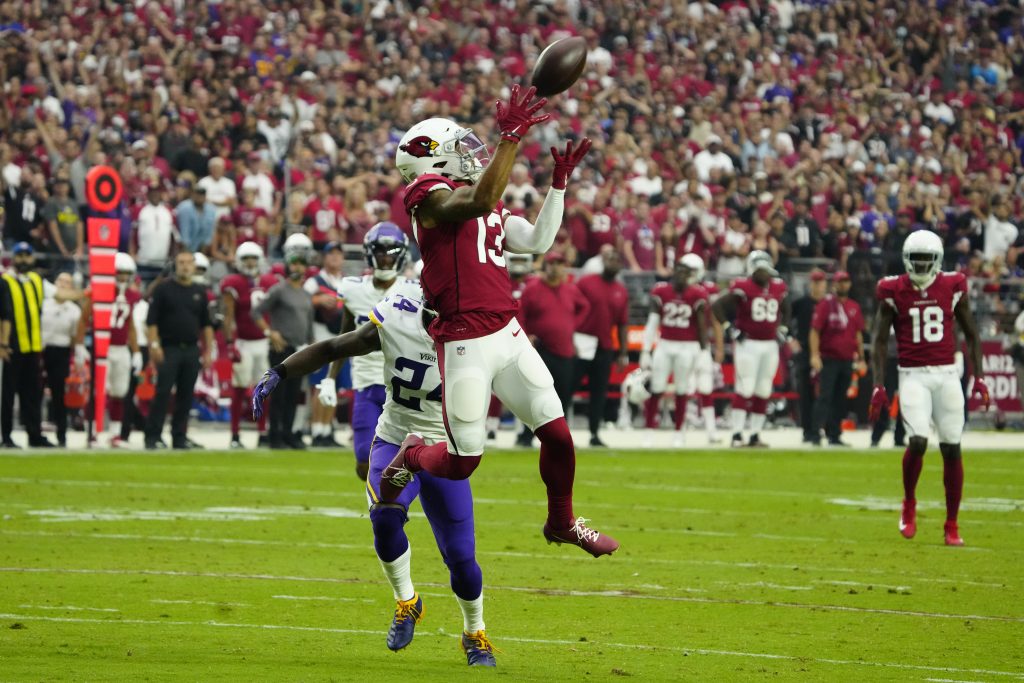 "I've been through a lot, through the injuries and missing games and questioning a lot of different things. Playing this sport, there is a lot you have to go through mentally. It may not seem like that from the outside in, but there is." Kirk is a free agent at the end of this season, and history shows that very few players start and finish with the same organization. So far, the hometown kid is making good in what could be his final season in Cardinal colors…
Feels like a trap game this Sunday for the Cardinals in Jacksonville. With games against the Rams and 49ers the following two weeks, I wouldn't be surprised to see the combination of a 10 am body clock kickoff in a less than imposing environment give our hometown hero's on the gridiron some trouble. Arizona is a 7-and-half point pick, with a total of 51.5. I'll take the under…
The Suns open up training camp next week. Yep, two and half months later from the Finals run, and they're back at it…
Invited to screen the new James Bond film "No Time to Die" next week. Outside of Sean Connery, Daniel Craig is the best of the Bonds. This will be his last film in that role. I'll give you a review in next week's Three Dots…
HUGE game for Arizona State football on Saturday night. The crowd will be sparse, Colorado has put up just 7 points in the last two weeks, and the natives are growing restless after the lousy showing by the Sun Devils in Provo. What exactly is progress for ASU when it comes to cutting back on the penalties? The numbers below don't lie. They are dead last in the nation.

The 11.5 is how many penalties per game they average. The 16.0 is off of their Saturday showing at BYU. Not the most esteemed company…
While I am a fan of Sun Devil radio analyst Jeff Van Raaphorst, I'm thrilled to hear that former Sun Devil Jordan Simone will strap on the headset in replacing Rapper for the ASU football game at UCLA on October 2nd.
Excited to announce this will be my first game on the color for ASUs radio broadcast! My guy @JvanRaaphorst will be at his sons wedding. So you will have me and the legend @TimHealeyASU https://t.co/wMF2IJsZ9B

— Jordan Simone (@JordanSimone38) September 20, 2021
Simone should be a Pac-12 Network football analyst. He's ready for the TV gig…
Arizona is a 28.5 point underdog at Oregon. I think that's just for the first half. Total is 59. I can't imagine it getting any worse for long-suffering Wildcat fans, but Saturday in Eugene feels like more misery being put on the Cats…
Will Hamilton football be ready to play Friday night at Centennial? On Tuesday, I dropped a text to Huskies head coach Mike Zdebski asking for his biggest takeaway from the fantastic comeback vs. Bishop Gorman, "gaining focus on Centennial" was his reply. Does a win like that propel Hamilton to a run that includes taking down arch rival Chandler? Hasn't happened since 2012. By the way, Centennial will retire the jersey number of the late Zach Hoffpauir on Friday night. If you haven't seen our documentary on the former Coyotes star, it's worth the watch.
103 losses for the Diamondbacks and counting. What do you think the crowd's makeup will be for this weekend's three-game series in downtown Phoenix against the Dodgers? Yikes!!!…