Following the Mountain Pointe Pride's season-opening win over Corona Del Sol on Sep. 3, head coach Eric Lauer said that his team's success would depend on finding and sticking to a well-defined identity.
Based on Friday's 26-23 win over Brophy College Prep, the Pride seem to have found one. Just as they did in week one, Mountain Pointe secured a victory in the game's dying seconds thanks to an impressive grandstand by its defense. Junior defensive back Timmy Allen intercepted a desperation heave by Brophy's Elijah Warner with six seconds remaining in regulation to definitively put an end to the back-and-forth affair and give Mountain Pointe its first 2-0 start since 2016.
"It's exciting, but it's a process," Lauer said. "We've been training pretty hard and we expect to win most days. These guys stayed together and we bent a little bit but we didn't break."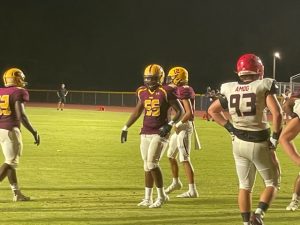 By virtue of Friday's result, the Pride now find themselves in a four-way tie with Mountain View, Cesar Chavez and Basha atop the 6A Central division. It won't be totally clear how Mountain Pointe stacks up against its sectional opponents until later on in the season, but the team's early results against two consistently competitive programs seem promising, especially given its struggles in 2020.
"It's only two games but we're establishing who we want to be in a powerful way," Lauer said. "It's been good to see."
Aside from its must-see late-game heroics, Mountain Pointe's versatility on offense has taken a front seat through its first two matchups. Against Corona Del Sol, the Pride employed the traditional run-heavy style that won it a state championship in 2013 under Norris Vaughan, but opted for a pass-first approach against Brophy and executed it with the same level of efficiency. The team's ability to attack opponents' weaknesses adds an unpredictability factor that they have lacked in the past, and it has the potential to create serious headaches for their opponents as the season moves along.

Its performance on offense and defense has passed the test so far, but shortcomings on special teams have come dangerously close to costing Mountain Pointe both of its first two games. Lauer has yet to deploy his field goal unit this season, which has resulted in several turnovers on downs in the red zone. The Pride's kickoff unit has also experienced its share of struggles, frequently kicking the ball out of bounds and giving up long returns when they do manage to keep it in play. Lauer mainly attributes these struggles to the youth of his special teams players, but did not rule out making personnel changes in the near future.
"We're still a work in progress," Lauer said. "We've got to look at personnel, definitely. We have a young freshman kicker right now and that's shown, so we've got to continue to fix that. Some guys that maybe play more might have to find themselves on special teams, because we can't give that kind of field position up."
Though special teams remain an issue, the Pride seems to have overcome the conditioning woes that plagued it during its season opener. Lauer expressed his displeasure at the number of players suffering from cramps during the late stages of that game, and the measures he took in the ensuing week of practice have paid off nicely.
"It takes a village," he said. "We had to bring a doctor in and sit our guys down. We started doing the math of when our guys are a little bit better throughout the whole week, and assessing the way we train. We had no cramps tonight, so it worked out for us."
Imperfections remain, but Mountain Pointe's rebuild seems to be headed in the right direction. The Pride's penchant for winning tightly contested games is proof of its resilience, and if the team continues on its current trajectory, it won't be long before people begin to take notice.