When Jessica Slaughter assumed her duties as the head football coach at Gila Ridge High School in Yuma, she became the first woman in a decade to take control of an AIA-affiliated football team.
Slaughter, a Gila Ridge graduate who starred at guard and defensive tackle during her time as a student, served as the school's freshman football coach and as a varsity assistant under the previous coaching regime before ultimately taking the head coaching position this past June.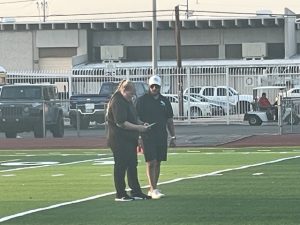 "I'm honored to have this position," she said. "I've coached these boys for quite some time, I've coached our seniors for the past four years, starting at the freshman level when I was the freshman head coach. It's awesome to kind of get to grow with them.This program is very important to me as an alumna of Gila Ridge and I'm just looking forward to a great season."
Gila Ridge enjoyed an undefeated season in 2020, and Slaughter will have the responsibility of continuing the team's success into 2021. The Hawks are in excellent position to be a force in 4A once again, as they boast a large and experienced senior class that has grown familiar with Slaughter's coaching style.
"There was no adjustment period [after I took over]," she said. "They were just kind of waiting to hear the word and as soon as I was able to say it, they were like 'okay, let's go,' and we've been going ever since."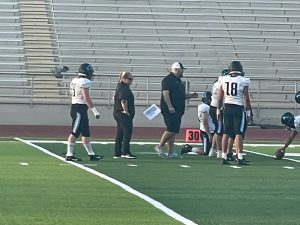 The Hawks lost their season opener on the road against Glendale High School, but Slaughter is confident that her squad can repeat as section champs if they play to their strengths – physicality and "ruthlessness," as she puts it. While Gila Ridge beat all five of its sectional opponents handily during its undefeated run in 2020, its non-section schedule includes tough matchups against cross-town rivals Yuma and Cibola, as well as two teams from California that posted winning records a year ago.
"Our schedule is tough but we're here to win," she said. "That's the expectation. there's no going backwards, there's only going forwards. There's obviously pressure to win but we're just taking it one game at a time, one practice at a time, one week at a time."
Despite the rarity of Slaughter's situation as a female head coach in a sport that has historically alienated women, she has resisted being portrayed as a trail blazer. While she is aware that her ascension to the top of a high school program is significant, Slaughter says she wants her track record as a coach to speak for itself.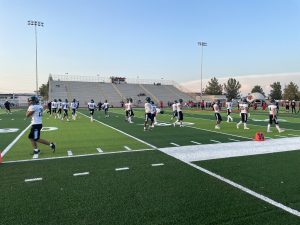 "If [other women] want to use me as an inspiration to attack some sort of dream, that's fine," she said. "But I'm not here to be [just] a female coach. I'm here for the kids, it's not about me in any way. I'm here to win, I'm not here to participate."
Though she prefers to downplay her role in paving the way for more women to pursue coaching opportunities, but Slaughter's status as the first female head coach in Arizona High School football since 2010 is sure to be a major topic of conversation in the early stages of her tenure. A winning regular season and subsequent playoff success could help change the narrative, but regardless of whether she comes to be remembered as a pioneer for diversity or simply a successful coach, Slaughter seems destined to forge a lasting legacy for herself one way or another.