Every week during the NFL season, Sports Illustrated Senior Fantasy Analyst Michael Fabiano joins Sports360AZ's Brad Cesmat to share his insight on building and developing your fantasy team for success.
In our most recent conversation with Michael (Sep. 27), we continued to dissect the ever-changing running back stock market, namely which backs managers should target on the waiver wire and which second-string ball carriers could see their carries increase in the coming weeks.
It Feels Like Every Tuesday Is A Scramble To Get The Top Running Back On The Waiver Wire. Who Are The Backs To Pick Up This Week?
Chuba Hubbard data after Christian McCaffrey left the game:

Snaps: 73%
Long-down-distance: 100% ✅
Short-down-distance: 66%
2-minute: 100% ✅
Attempts: 47%
Routes-per-pass play: 72% 🌶️
Targets: 22% 🔥
Targets per route: 22%

Volume is king –> mid RB2 w/ RB1 upside#CARvsHOU

— Context Matters (@dwainmcfarland) September 24, 2021
"Hopefully, if you have Christian McCaffrey, you handcuffed him with Chuba Hubbard. If you didn't, you're probably going to lose him on the waiver wire. Hubbard is going to be the guy that folks are going to bid the most on. The good news is that the Panthers are saying that right now they aren't going to put McCaffrey on the injured reserve list, but maybe that changes. Hubbard is going to be the hottest pickup."
"Cordarrelle Patterson should already be gone. If he's not, he's also someone that you should be looking at. He's been very good, he's been better than Mike Davis in Atlanta and they lack for playmakers. Running back is tough. It really is. That's why they get picked so quickly in drafts."
Let's Continue The Discussion We Had Last Week About Committees. Did This Week's Games Make The Picture Any Clearer?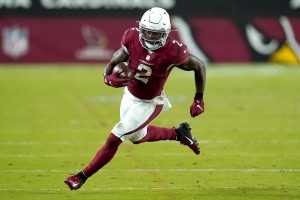 "I said this in the preseason – you've got an extra game this year. Coaches and offensive coordinators are not going to wear their running backs down. We've got a lot of committees across the National Football League and some backfields that are completely useless, like the Jets. You can't play anyone from that backfield right now. In Arizona, I love Chase Edmonds but James Conner got two touchdowns. He got the goal-line opportunities (and converted on them). Edmonds actually did get a goal-line look and didn't get into the end zone. This is what you deal with, and this is why featured backs are so valuable in fantasy football. You have to keep tabs on these backfields every week, like in Buffalo. Moss was out, Singletary was the guy. Moss came back last week and got two goal-line looks but Singletary still led the team in snaps and touches. It's a confusing situation, just like in Arizona."
What Is The Best Defense To Stream This Week?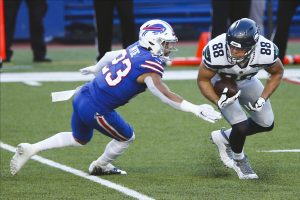 "Start every defense that plays the Texans every single week until Tyrod Taylor comes back. This week, it's Buffalo. The Bills are going to smash that team."