Story by Dominic Stearn
The Dobson Mustangs are eager to gallop out for their 2021 season and turn around prior down years. Head coach Bill Godsil is optimistic that after a full offseason and summer, he and his coaching staff will get the best of their players.
"This was my staff's first full off season since taking over the program," Godsil said. "Having a full offseason saw some impressive growth in strength and speed. Also, having a full spring practice and full summer program we were able to work on development of the program both with culture and scheme."
A strong team culture is something the Mustangs have worked tirelessly to perfect. After winning no more than three games in each of the past four seasons, Dobson is hungry for a winning season with a culture change.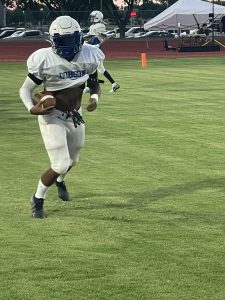 "We instituted a player-driven leadership program this off season," Godsil said. "We met during lunch for a month teaching the players what player-driven leadership looks like and what values they wanted to focus on during the season. So far, we have seen more positive attitudes and better participation this fall."
Junior Jordan Legg will be the leader on offense for the Mustangs at quarterback. He started as a sophomore later in the season last year, and according to Godsil, devoted this offseason to becoming a better quarterback. Legg threw for 311 yards and two touchdowns on 60 passes in 2020.
Someone that Dobson is really excited to see in a full season is senior running back Mekhi Steuber. He transferred to Dobson last year and needed to sit out the first half of the season. In just three games last year, he rushed for 122 yards and got 38 carries. As the primary runner, Steuber will have a chance to put up big numbers over the course of a full season.
Legg and Steuber are nothing without their offensive line, which is anchored by senior Max Aldana, who can play any position on the line. If Aldana and the offensive line perform well, so will the rest of the offense.
On the other side of the ball, junior safety JaShawn Kinney will serve as the vocal leader. His job on the back end will be to call checks and make sure his teammates are in the right spot. He recorded 33 tackles as a sophomore and will look to grow on that number as a junior.
Two risers from the lower levels of Dobson football to watch for on the defensive end will be safety Elias Murray and linebacker Michael Delligatti. Murray is a speedster who is showing great knowledge of the defense. According to Godsil, he is getting better everyday with route recognition. Delligatti added 20 pounds of muscle this offseason and is looking to be a force against the run and the pass.
Senior defensive lineman Grayson Longfellow stands at six-foot four-inches tall. He'll anchor the line defensively and use his height to cause problems up front.
All of Dobson high is anticipating the upcoming football season. The anticipation will need to wait, as Dobson plays their first three games on the road before their home opener and homecoming game on September 24. The Mustangs will kick off their season Friday at Red Mountain.