While Team USA failed to register a podium finish at the 2021 Hlinka Gretzky Cup, a tournament featuring the best U18 ice hockey players in the world, the play of Jake Livanavage represented a major bright spot for the Americans.
Livanavage, a 17 year-old defenseman from Gilbert who previously starred for the Phoenix Junior Coyotes, became only the fourth Arizonan to ever participate in the tournament, and started off his draft year in authoritative fashion. He posted four points in four games, finished tied for ninth place in scoring out of 160 skaters and scored two goals and an assist in the United States' 10-0 dismantling of Germany.
Jake Livanavage has his first national team goal with this wrister to make it 3-0 early in the second for USA. #hlinkagretzkycup pic.twitter.com/LOceqVcka2

— Steven Ellis (@StevenEllisTHN) August 4, 2021
"It was a great experience and a big part of my hockey career," he said. "It was a lot of fun, being able to get [my] name out there and see the different countries, see how they play and see how we stack up against them. It wasn't the outcome we wanted as a team but getting over there (to the Czech Republic) and getting to wear the USA jersey, being able to represent your country, it was an amazing honor."
Livanavage's strong performance on the international stage comes on the heels of an equally outstanding season with the USHL's Chicago Steel. Despite being one of the league's youngest players at the start of the year, he managed to secure a regular spot in the Steel's lineup, appearing in 43 of the team's 54 regular season contests and all seven of their playoff games as they cruised to a Clark Cup championship.
"It was a pretty hard adjustment going from U15 hockey to the USHL, but the Steel organization and the staff made it a lot easier," Livanavage said. "We realized probably a fourth of the way through the season that we had a special, special group. Going through the season with all the ups and downs and all the adversity we had, we stuck with it and everybody believed."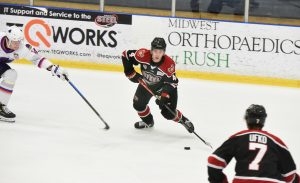 An offensive defenseman by trade, Livanavage says that playing on a team like the Steel, which boasted a wealth of talented scorers, helped his development by allowing him to focus on his defensive play and putting less pressure on him to produce offensively. With many of the Steel's top forwards from last season moving on to the college ranks, he should have an excellent opportunity to fill the void left by their absences and dramatically improve on his point totals from 2020 while maintaining the level of defensive prowess that kept him in the lineup as a 16 year-old.
"Last year as a younger kid, I wasn't going to light the lamp a hundred times and do all that stuff, so I was really focused on my defensive zone play," he said. "If we get stuck in our d-zone I like to tell myself that I'm able to play defense and I'm not just a fourth forward out there."
Livanavage hopes that the time he has devoted to perfecting his all-around game will pay dividends for him this season, his first as an NHL Draft-eligible player. Having seen several of his teammates selected early in the 2021 draft, including fellow Arizona native Josh Doan, he fully understands the importance of having a strong draft year. While he realizes that there will be ample pressure on him to play at a high level due to the impressive amount of talent in the 2022 draft class, Livanavage is approaching the upcoming season as he would any other year.
"That's something that's always in the back of your mind," he said. "This is my draft year, it's a big year and I've got to perform. Learning from those guys who got drafted this past year, you can't focus on [the draft], you've got to focus on the team aspect. I want to come back and win another Clark Cup. I haven't focused much on [individual goals], I would say just getting bigger and stronger would be the main one."
Breaking down the 18 straight to the point reasons why we believe Jake Livanavage @jakers_77 @jlivanavage is one of the best NHL Draft prospects in the 2004 DOB age group… https://t.co/YNnZrBgZOI

— The Scouting News (@hockeyscouting) August 5, 2021
The 2021-22 season will likely be Livanavage's last with the Steel barring unforeseen circumstances, as he has committed to play college hockey for the University of North Dakota, a program that has produced NHL superstars like Chicago Blackhawks captain Jonathan Toews and United States Olympic hero T.J. Oshie. Arizona State might have seemed like a natural fit due to Livanavage's Arizona roots, but it was UND's history of success and reputation for developing NHL talent that ultimately won him over.
"Just trying to make a dream come true," Livanavage said. "Seeing what [North Dakota] has, from their coaching staff to the facilities, and obviously the school factor. All the teachers want to see you succeed in the classroom and on the ice as well. You look at their past, they have championships, everything. That was a huge part of it."
Although his performance at the Hlink Gretzky Cup was a coming-out party of sorts for Livanavage, it may only be scratching the surface of what he can accomplish as a player. His offensive skill set is one that cannot be developed through coaching, and at just 17 years of age, there is still plenty of room for him to blossom into an even more dominant force than he currently is. The coming season might be crucial in deciding his draft position, but it will only play a small role in determining his hockey future.
Whether his breakout happens this winter or later on down the road, Livanavage is one of the finest defenseman to ever emerge from Arizona's youth hockey system, and he will certainly be one to keep an eye on for years to come.