A lot has happened to Bobby Hurley's squad since they last took the floor March 11 in the PAC-12 Tournament.
For starters, there are nine new faces with incoming freshmen and transfer portal additions.
Josh Christopher, a five-star recruit, entered the NBA Draft and was selected No. 24 overall by the Houston Rockets.
"It's a dream come true for Josh [Christopher]," Hurley said. "I think he was always destined to be that guy, an NBA guy. I truly believe that. He didn't have a normal offseason to train normally. I think his season could've been even better and he's going to do fantastic. A lot of guys on the phone mention Josh Christopher when I'm recruiting."
Talk of the H-Town.@Jaygup23 🤝 #NBATwitter pic.twitter.com/CxCX4pzpxc

— Sun Devil MBB (@SunDevilHoops) August 1, 2021
Sun Devil legend Remy Martin also entered the draft, but opted to return to school and transfer to Kansas.
Marcus Bagley originally declared for the draft, but decided to run it back in Tempe for a sophomore campaign.
"We were excited to hear the news," Hurley said. "I stayed in touch with Marcus [Bagley] periodically through his pre draft experience. It's a grueling process going through that. He worked out for a bunch of teams and made a decision that he felt was best for him and he truly loves Arizona State. He wants the true experience of playing with a big crowd and a somewhat normal environment."
Joining Bagley as returners are Jalen Graham, Kimani Lawrence, and Luther Muhammed. Hurley says he's glad these guys want to be part of the solution for this program.
New Faces
There are lots of new names around the program. The largest of which is incoming freshman center Enoch Boakye. Physically large at 6 feet 10 inches tall and loaded with talent as a four-star recruit. Hurley says he worked with him a lot for a few weeks during the early part of summer before he suffered a minor injury. He's working his way back now.
Enoch's got next.

The big man on campus is ready to be Tempe's next great Sun Devil. 🔱🌟@EnochBoakye11 // #MeetTheDevils pic.twitter.com/I25W4lxdZK

— Sun Devil MBB (@SunDevilHoops) July 30, 2021
Boakye along with transfer forward Alonzo Gaffney will be inside threats for the Sun Devils. That's where they were lacking on the court last year.
"There were times last year during shoot around before games where I'd be worried," Hurley said because of their lack of size last year. "I don't think that'll be a problem with the guys we have this year."
The rest of the newcomers are listed here. Muhammed transferred last year, but was injured so he's a kind of like a new player who already knows the system.
Not only are there new players, but there's also new coaches on the staff. Joel Justus joins the staff after seven years with Kentucky in multiple roles. Jermaine Kimbrough, joins the staff with over 20 years of coaching experience. His most recent stint was with Loyola-Chicago, who made two fantastic runs in the previous two NCAA March Madness tournaments.
"It's a learning experience with me and the new staff members," Hurley said. "Joel [Justus] and Jermaine [Kimbrough] have brought a lot to the table already. We've connected really well and they just have different perspectives."
Lessons Learned
The 2020-21 campaign was exhausting for the Sun Devils. They finished 11-14 after multiple stints of COVID-19 outbreaks, both from within and due to opponents. Add that stress on top of a talented roster that underperformed, and it can be easy to get stuck in the past with "what ifs."
Hurley describes himself and returners as "pissed off" after last season's trials and tribulations. They look to use that energy in workouts all the way through the season opener and beyond.
"I tried to bring the energy throughout the summer to express my feelings on that," Hurley said. "We're not going through another season like that and I think the message was delivered and sent. I think we had a really good summer."
As the offseason progresses, Hurley is adapting to the way this team practices. He mentioned that he never has to get on them about their effort, which he he worried about often during last season.
"I've had to adapt to change," Hurley said. "I'm just kind of taking the time learning about the team. I spent the summer just really evaluating, teaching, and seeing what our team may look like."
Schedule
The season is still a ways off, but the opening schedule is looking tough. On Thanksgiving week from Nov. 24-26 they'll be in the Bahamas playing in the tenth Bad Boy Mowers Battle 4 Atlantis tournament. Game one for ASU is slated against the reigning NCAA Champion Baylor Bears.
"Our guys love the opportunity to get out of their own environment," Hurley said about traveling far on the road.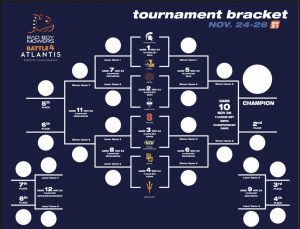 Hurley was asked about why they've never scheduled UCONN. He says he wants to play them in a meaningful game, which could happen if both programs reach the championship during this non conference tournament.
The full non conference schedule was released during the press conference with Hurley. Prior to the Bad Boy Mowers Battle 4 Atlantis, the Sun Devils are slated to play four games. Opening night is Nov. 9 against Portland. Two notable road matchups are San Diego State on Nov. 18 and Creighton Dec. 14.
🚨 2021-22 NON-CONFERENCE SCHEDULE 🚨

— Sun Devil MBB (@SunDevilHoops) August 2, 2021
Last note, ASU is 18-3 in November in the past four seasons under Hurley. That's a trend he takes pride in and he expects his team to be prepared after a normal offseason this year.