It was another rough week for Arizona State's football program, as wide receivers coach Prentice Gill and defensive backs coach Chris Hawkins were placed on paid administrative leave Monday in the wake of alleged recruiting violations.
To address the issues facing the Sun Devils as they enter a pivotal season, legendary ASU quarterback and College Football Hall of Fame inductee Danny White appeared on The Brad Cesmat Show and shared his thoughts on the situation. White previously served as an offensive analyst for the Sun Devils under the current coaching staff, and is the all-time winningest quarterback in school history with 33 career victories.
"There's good and there's bad [sides] to being a very aggressive recruiter," White said. "Right now, we're seeing the bad. You're seeing recruits start to waver, and so the long term effects of this are yet to be seen."
White said that while the accusations levied against the program frustrated him, he did not believe that ASU head coach Herm Edwards had willfully broken any rules, but that Edwards' zealous recruiting tactics may have resulted in other members of the staff committing transgressions.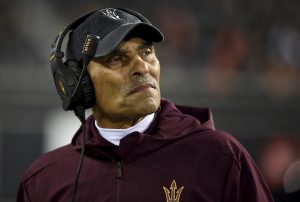 "I hope [the allegations] aren't true," White said. "But if they are, knowing Herm like I do, I don't think Herm had anything to do with it or knew what was going on. You get too aggressive and sometimes it can bite you. It sounds on the surface from what I know, which is not very much, that that may be what happened. Maybe they got a little too aggressive with their recruiting."
White further speculated that the ultra-competitive nature of ASU's administration, particularly president Michael Crow, as a potential catalyst for the alleged violations.
"This is a very proud bunch of people," he said. "From the president of the university down. You may not find, in your lifetime, a more competitive person than Michael Crow. There isn't anybody over there that wants to win worse than he does, and the football program is first and foremost. They want to win, they don't want to be even runners up in the PAC-12 ever again, and so they're going to do whatever they have to to win, and maybe they've done a little too much."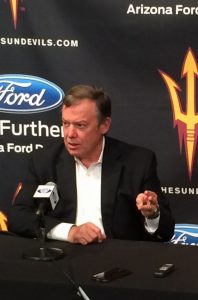 In spite of the potentially disastrous repercussions that could be in store for ASU football should the allegations prove to be true, White asserted that the Sun Devils could still have a productive 2021 season if they used the situation as a rallying cry, noting that they possess ample talent on both sides of the ball.
"How does that affect the team? It's a mystery," White said. "It could make them stronger, it could make them weaker, it could cause infighting. The chemistry is such a big part of any football team. This year, on the field, could be a great year, but it's all gotta be modified by this investigation."
While the last week's developments have cast further doubt on the future of ASU's football program, more details will surely be revealed as the days and weeks go by. On-field results might provide a temporary distraction from the issues surrounding the team, but this story won't go away any time soon.