Every week during the NFL season, Sports Illustrated Senior Fantasy Analyst Michael Fabiano joins Sports360AZ's Brad Cesmat to share his insight on building and developing your fantasy team for success.
In our most recent conversation with Michael (Aug. 31) we discussed roster cutdowns as teams trim their active rosters to 53 players. The Patriots' decision to release former league MVP Cam Newton was the main focus of the discussion, and Fabiano gave us the ins and outs of Newton's exit and what it means for the remaining members of the New England's offense.
What Is Your Overall Take On This Situation?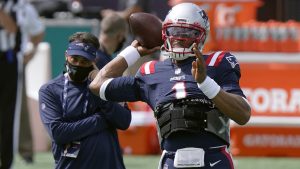 "It's a bit of a surprise, right? Cam had a, let's just say, less-than-stellar 2020 season when it came to throwing the football. What did he have? Eight touchdown passes last year and three came in the last game? So, not great, and what did New England do? They went in and added a whole bunch of pass catchers in the offseason through free agency. And Mac Jones looked good in preseason. He's an accurate guy, he's a guy that Bill Belichick feels obviously that he can trust. And Belichick isn't the type of guy who's going to lean on a rookie quarterback. It's just where we're at right now."
Who Benefits From Mac Jones Being The New Starter?
A new era in New England. @MacJones_10 | @Patriots pic.twitter.com/WkQIWIx6LK

— NFL (@NFL) August 31, 2021
"Mac Jones is now going to be drafted across the board as a QB2. He's going to be a low QB2 or a high QB3, certainly going to be drafted in all leagues where you get the potential to start a quarterback as a flex, or a two QB league, or best ball. He'll be drafted in all of those leagues. He is a rookie, so he's going to have some growing pains for sure, but as a player who is an accurate passer, who was very accurate last year at Alabama, who looked very accurate in the preseason, this is good news for everybody.
I don't know if the Patriots are going to have one or two players in the passing attack who are going to be consistent enough to start every week in fantasy, but when you've got a reliable, consistent, accurate passer under center, which Jones looks like right now, maybe that will change. It's good for Nelson Agholor, it's good for Jakobi Meyers, it's good for the two tight ends – Hunter Henry and Jonnu Smith – and I also think this is really good for Damien Harris. What happens when the Patriots get down near the goal line? When Cam Newton is under center, he's getting the ball. Guess who's not going to do that? Mac Jones."
Where Do You Think Cam Newton Ends Up?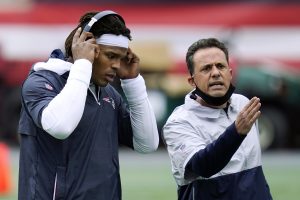 "He's going to end up somewhere if he wants to play football. Houston, that's interesting. How about the Cowboys? Their backup quarterback right now is Cooper Rush. I'd love to see Cam end up with a star on the side of his helmet. Who knows? He'll end up somewhere, though. If he ends up in Houston, that's pretty interesting. That would be an interesting move, but everything is a mess with that team in terms of the quarterback position, so who the heck knows? Cam is going to end up somewhere, I just don't know that he's going to end up somewhere where he'll compete for the starting job."