Every week during the NFL season, Sports Illustrated Senior Fantasy Analyst Michael Fabiano joins Sports360AZ's Brad Cesmat to share his insight on building and developing your fantasy team for success.
This time, Fabiano joined the Brad Cesmat Show to discuss pre-season happenings around the league. Here are some highlights from our most recent conversation (Aug. 17) with the Fantasy Sports Writer's Association Hall of Famer.
What Positional Battles Will You Be Watching In The Second Week Of Preseason Games?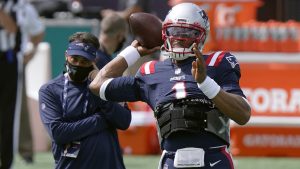 "I know Teddy Bridgewater is going to start the second game for the Broncos. How does he do? Drew Lock looked really good against Minnesota. James Winston versus Taysom Hill at the quarterback position (for the Saints). Cam Newton versus Mac Jones in New England. There's a ton. There's so much up for grabs right now, like the Jets' wide receivers. Corey Davis, we know he's the number one, who's the two? Elijah Moore is hurt right now. I'd love to see them use Moore on the outside and Jamison Crowder on the inside. You've got Keelan Cole there as well. There's a lot of different scenarios that I'm looking to see how they play out, not only this week but next week.
How Would You Evaluate Sam Darnold's Value?
Sam Darnold to C.J. Saunders in 1-on-1s pic.twitter.com/CZ5gHF0zl2

— Bill Voth (@PanthersBill) August 13, 2021
"I don't know if he's going to get drafted as a QB2. If you're in a 12-team league, he might not get drafted. If you're in a super flex league, he obviously will. He had several years in New York with Adam Gase and no weapons at all. Then he goes to Carolina and he's got Christian McCaffrey, D.J. Moore, he's got Robby Anderson. They drafted Terrace Marshall, Jr. and they've got (offensive coordinator) Joe Brady. I'm not saying he's going to come out and be elite, but he can come out and be like a top-20 fantasy quarterback.
Who Would You Draft First, Justin Fields Or Trevor Lawrence?
Justin Fields is pretty good at this football thing. pic.twitter.com/zOfZ0kcP6v

— PFF College (@PFF_College) August 14, 2021
"I'm going with Lawrence only because I know he's going to have the [starting] job. I think Fields is going to have the job sooner rather than later. I like Fields too, he's in the QB2 range.