Every week during the NFL season, Sports Illustrated Senior Fantasy Analyst Michael Fabiano joins Sports360AZ's Brad Cesmat to share his insight on building and developing your fantasy team for success.
This time, Fabiano joined the Brad Cesmat Show to discuss pre-season happenings around the league. Here are some highlights from our most recent conversation (Aug. 17) with the Fantasy Sports Writer's Association Hall of Famer.
Who Caught Your Eye In The First Week Of Preseason Games?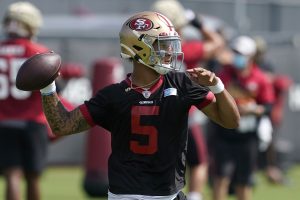 "(Rondale) Moore, Justin Fields looked pretty good, and of course Trey Lance with the 80-yard bomb to Trent Sherfield. But it's one preseason game. Rondale Moore is more likely to go two catches for eight yards in the next game than he is to have a massive explosion, so I didn't move him up in my rankings, I still have him as a WR5. Justin Fields, I did move up. Trey Lance, I did move up. A bit of it is that they played really well, but when I look at high-stakes results and I see where some of these guys are starting to move up to, Trey Lance is getting drafted ahead of probably half the quarterbacks in the league that are guaranteed to start. That's how you have to draft.
What Do You Make Of The Steelers' Running Back Group?
"It's Najee Harris and that's it. Everybody else is going to be a backup. They have McFarland, they have Benny Snell, but I think (Former ASU Sun Devil) Kalen Ballage might be the handcuff there. That still needs to be determined, but I've been drafting Harris in the second round in every league I can. I love him, I love that the Steelers are going to use a featured back. Do I love the offensive line? No, that's a big question. I'm hoping that he's going to be able to overcome a mediocre offensive line, or maybe that the offensive line is going to be better than we project. I don't know that it will be, but it's his backfield.
Najee Harris casually hurdling a 6'1 safety who barely ducked his head like it's no big deal. #Steelers pic.twitter.com/UfU6ET5AtM

— Alex Kozora (@Alex_Kozora) August 13, 2021
How About The Dolphins' Running Backs?
"I thought I had it figured out, and then Malcolm Brown started the first preseason game and now I'm not sure. I thought it was going to be Myles Gaskin. He was good last year, he averaged 16 points a game in the ten games he played. Malcolm Brown is a nice back but he's not going to light the world on fire. I think ultimately Gaskin will be the player to own, but I dropped him like ten spots at running back because now I'm afraid that they're going to use Gaskin, they're going to use Malcolm Brown, they're going to use maybe Salvon Ahmed. So where Gaskin was legitimately a really nice high-end flex starter before, now I've got him more at that low-end flex spot."
Malcolm Brown surprised with a starting role. His 9-for-8 stat-line raises questions about whether that'll continue. As a runner, Brown offers little beyond replacement level, showing minimal agility & burst while processing blocks a 1/2 step too slow. pic.twitter.com/4mjaLZqwFT

— J Moyer (@JMoyerFB) August 17, 2021