In football, the line that separates success from failure is often razor-thin. A handful of mistakes or missed opportunities in key situations can end up being the difference between an excellent season and a disappointing one.
Such was the case for the Thunderbird Chiefs in 2020. Although their 2-6 record may seem pedestrian on the surface, Thunderbird came tantalizingly close to beating the heavyweights of the 4A Skyline section, taking both St. Mary's and Glendale to the brink of defeat. While they ultimately came up short in both contests, the Chiefs' performances in those games seemingly indicated that they were on the verge of success.
As a result, the stakes have been raised heading into the team's third year under head coach Matt Nalette. Thunderbird returns four of its most productive players from last season, and boasts much-improved depth throughout the lineup thanks to its large crop of juniors expected to make the jump from junior varsity. The Chiefs' goal in 2021 – end their streak of seven consecutive playoff misses.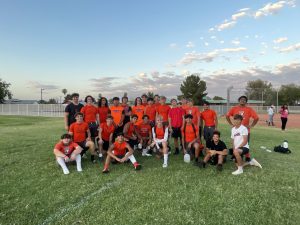 "We probably need to win eight games," Nalette said. "We have a few tough ones, I think our schedule is manageable, though. I don't see any reason why we can't compete with all those teams. It's just about getting over the hump."
The "hump" that Nalette speaks of presented itself in many forms last season. In some games, it took the form of a slow start that required the Chiefs to play from behind. In others, it was fatigue that unraveled their quest for victory. Nalette tailored his offseason program to specifically address these factors, holding a camp in the White Mountains in hopes of improving the team's overall conditioning and building team chemistry.
"It was a unique experience for our guys," Nalette said. "A lot of them had never been to a place like Pinetop, up in the mountains where we're running hills in the morning through the forest. We wanted to instill that toughness, that's why we chose to go [there] To get to go up there and also compete with kids from Blue Ridge was a great experience for us."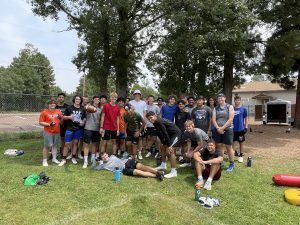 Thunderbird's intensive training over the summer should help to mitigate some of the fatigue that plagued the team last season, but the glut of juniors stepping into the lineup might end up being the biggest source of relief. In 2020, the Chiefs' depth issues required many players to start on both sides of the ball, which contributed to some of their late-game shortcomings. A number of juniors who are slated to start this season were able to garner some varsity experience at the end of last season, which Nalette anticipates will ease their transition into starting roles.
"We had a lot of guys going both ways," Nalette said. "When you get deep into a game like that and you've played 80% of the snaps on offense and you're also playing full-time on defense, it can tend to wear on you a little bit. With our numbers being thin [last year], there was an opportunity for a lot of [sophomores] to play varsity. They got a lot of experience and gained a lot of confidence as well. The depth is hopefully going to make a big difference here."
The emergence of new starters will allow some of the Chiefs' showcase talents, like senior running back Jordan Lahusky, to focus on their primary positions, which could lead to major statistical improvements for the dynamic ballcarrier. Lahusky averaged over 100 rushing yards per game last season while doubling as a cornerback, and will likely once again be the focal point of Thunderbird's offense. The Chiefs have made it a point to become more effective in short-yardage situations, and their ability to do so will depend largely on whether or not they can effectively manage Lahusky's workload.
"That's our number one thing," Nalette said. "We want to have a balanced offense, don't get me wrong, but we need to make the tough run go. We had pretty good rushing statistics last year but a lot of those were long runs that Lahusky broke. We need to get better between the tackles and getting those tough yards when we need them. Lahusky played almost every snap on both sides of the ball, but we might be able to get him more rest on defense this year because of the depth of our secondary. Those are big things that I think will make a difference."
Thunderbird's senior class, which comprises three 2020 all-section selections, including Lahusky, will be asked to carry a heavy burden this season in terms of both leadership and on-field performance. After struggling to attract players for a number of years, recent increases in participation have created an abundance of underclassmen, and the responsibility of setting an example for the program's next generation will fall upon the small group of seniors. The program's numbers are the highest they have been in almost a decade, thanks in part to Nalette's innovative approach to recruitment, but whether or not those numbers translate into sustained winning will hinge on whether or not young players receive adequate guidance from the program's few veterans.
"Our participation numbers are the highest they've been since about 2013," Nalette said. "We've got 60 freshmen cleared, out for practice right now, and we've got 64 between our sophomores, juniors and seniors. That's with a small handful of seniors but these four senior captains – Lahusky, (Sam) Clark, (Eder) Solis and (Kyler) McConnaughy – they're extensions of me and my staff in every interaction. They set the tone for everybody."
While the substantial increase in participation is an encouraging sign for the future of Thunderbird's program, Nalette and his players feel that they are in a position to win now. The near misses of last season remain fresh in their memories, and they recognize that wholesale improvements will be needed in order to reach their goals, but the team believes it can change its fortunes for the first time in years, and that may be a sign of progress in and of itself.
"We're going to be the region champs and go to the playoffs. That's the standard we've set," Nalette said. "We know that in our region, that means going through Glendale and St. Mary's, and we feel like we're equipped to do that."