The Arizona Wildcats have vowed to incorporate the tight end position more under the Jedd Fisch era. They added an in-state player that can help them do just that over the coming years in Brophy tight end Tyler Powell.
💯COMMITTED‼️🐻⬇️ #BST #ItsPersonal #BearDown #TwentyTucson @CoachPaopao @CoachJeddFisch @ArizonaFBall @jason247scout @BCP_CoachEJ pic.twitter.com/HIJ1hVGNDu

— Tyler Powell (@TylerPowellbcp) August 13, 2021
The 6-foot-7, 230-pound tight end announced his commitment to Arizona on Friday.
Powell joins Service (Anthem, CA) tight end Keyan Burnett – currently the highest rated commit in the class – in the position group for the 2022 class. His commitment gives the Wildcats multiple players to revamp the position under tight ends coach Jordan Paopao. Powell is a red zone threat for the Broncos. He also helped set the blocking edge for the Broncos when they went to a run-heavy system last year.
"I don't know if there is a player in the state with as much upside as Tyler. He's 6'7, 230 pounds and has run sub 4.7 several times at camps," Brophy head coach Jason Jewell said.
"His strength has improved tremendously in the last year and while many of his early offers were based on his potential, all early indications are he's going to meet those expectations. He has become much more physical in the run game and I think he has a chance to be a big time tight end at UofA. Don't be surprised when his early film gets out to see many more big time schools offer him and try and steal him away from the Wildcats."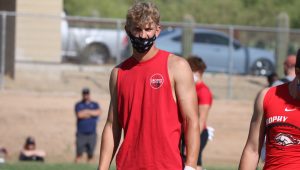 The tight end is looking to be a "Swiss army knife" within the Wildcat offense.
In addition to Arizona, Powell holds offers from Iowa State, UNLV, New Mexico State, UCLA, Arizona State and Florida State. Despite being the most recent school to offer Powell, Arizona quickly set itself apart, making Powell a high priority instantly.
With the commitment, Powell becomes another piece to a strong inaugural in-state class under Fisch. He joins Chandler's Isaiah Johnson, Hamilton's Russell Davis and Grayson Stovall and Saguaro's Tristan Monday as in-state commits.