I hope everyone had a great holiday weekend and are braving these sizzling July temperatures in the Valley.
Speaking of sizzling, the Phoenix Suns are closing in on history with a uniquely balanced, blended roster, and a head coach in Monty Williams who has found the secret sauce in finding balance, with complete buy in – something rare in professional sports.
I reached out to a few high school head coaches here in the Valley and asked them what they have taken away from Williams' coaching, teaching, and mentoring philosophies.
Rick Garretson – Chandler
"The biggest take away I have from Monty Williams' coaching philosophy is that you are there to serve your players [and] your program. I want my players to know that I care…and so does our staff. The kids know that we hold them accountable both on and off the field. Leadership starts at the top and we spend hundreds of hours addressing it throughout the entire year."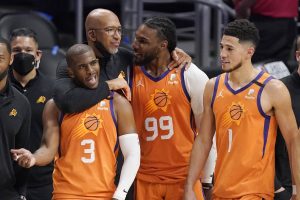 Jason Mohns – Saguaro
"The thing that is apparent to me from watching the Suns from afar, is that the Suns' players have a tremendous amount of trust and respect for Monty Williams. He has created culture where the players and coaches on the team seem to genuinely care about each other and enjoy being around each other."

I tell my guys all the time that the best teams we've had at Saguaro weren't always the most talented teams, but rather the teams that loved each other the most. That seems to be what the Suns have going on and that's a testament to the job Monty Williams has done."
Bear-ing More Responsibility
It's been an eventful summer for Chris McDonald's Basha Bears.
Coming off a 6-3 shortened 2020 campaign, which included a six-game win-streak to end the regular season before dropping an overtime heartbreaker to O'Connor in the opening round of the 6A playoffs, the outlook this fall is brighter than it's been in several years.
Basha is young, but experienced, and has added some game-changing transfers in former Hamilton star 2023 athlete Cole Martin and most recently, Jeremiah Vessel who came via Baton Rouge, LA. Also a '23 cornerback already has seven offers, including ASU, Michigan State, Mississippi State and others.
New Flavors…💚 @bashagridiron pic.twitter.com/fDjgzI89BM

— Jeremiah "JV" Vessel 🏝 (@jeremiah5vessel) July 3, 2021
Basha's secondary will be salty. However, sophomore quarterback Demond Williams, Jr. continues to be the straw that stirs the Bears' drink after bursting onto the scene in '20 showing incredible poise in tallying over 2000 yards and 19 combined touchdowns. He was intercepted just four times in 173 attempts (once every 43 throws).
After a great camp and discussion with @Kennyhill13 and @CoachBHern_TCU I am very excited to announce I have been offered to TCU💜💜! @TCUCoachP pic.twitter.com/Tk34wwk6eo

— Demond Williams jr🖖🏾 (@QBDwilliams1) June 7, 2021
McDonald has seen growth from his rising star, both physically and from a maturity standpoint.
"He's really done a good job working on his body," he explained to the "Zone Read." "He put on 15 pounds of muscle and that includes running track…he's improved his speed. His balls come off with zip.
"He's the alpha out there," McDonald continued. "He's taken more of a leadership approach and he's a guy that [has] a very high football IQ."
McDonald trusts his quarterback to check plays and allows Williams to have input in the offense.
Scary to think how good this kid is going to be over the next few years.
Camping with the Carter's
One of the most exciting parts of this summer, and the return to "normalcy," are teams jettisoning the Valley for the cooler climates and change of scenery everywhere from northern Arizona to Southern California.
The last time "Zone Read" when camping with co-head coaches Mark and Marcus Carter, it was the summer of 2019 in tiny Ash Fork, AZ.
That camp served as a spring board for the Carter's at South Mountain High – bringing the program their first winning season in over a decade before leaving for Desert Edge in early 2020.
With several schools, including D-Edge, back camping, "Zone Read" decided to check in on the Scorpions who are spending the week here.
It's Camp Week for Desert Edge! The Scorpions leave today for Pinetop-Lakeside and will be there through Friday.

— Gridiron Arizona (@gridironarizona) July 5, 2021
So, we decided to check in and see if Carter X's 2 changed up anything in their camp routine after not traveling last summer due to COVID-19.