Salpointe Catholic 2022 quarterback Treyson Bourguet just wanted a chance. A chance to throw in front of college coaches, to look them in the eye and show so much more than an online video or Zoom can offer.
COVID-19 made that impossible over the past 15 months.
The 6-foot-2, 195-pound Bourguet is making the most of his time on campus now that the dead period has lifted. In the span of 10 days, he's visited ASU, Northwestern, SMU, TCU, BYU and Colorado.
"It feels like it's been years," Bourguet laughed. "These first eight days have been a year or more. It's crazy everywhere I've been. I've been all across the nation in the past eight days, and throwing for like six different coaches and four different schools, and I'm not even done yet. I just have myself so much left to prove."
Bourguet has already proven plenty at the varsity level. In 14 games over two years, he completed 126/207 passes for 1,877 yards, 27 touchdowns and 10 interceptions for the Lancers. Heading into the summer, Bourguet held offers from Columbia, Idaho, Vanderbilt and Arizona's staff under Kevin Sumlin.
The quarterback is fueled by the potential missed opportunities over the past year, but he is also motivated by the his first to teammates who were seniors last year and saw their seasons minimized and their recruitments affected.
"This is for everybody who never got this shot," Bourguet said. :I'm trying to show everyone that I'm not going to let anything stop me, I'm not going to let COVID stop me from reaching my goals, I'm not gonna let anybody stop me from doing what I know I can do."
On Tuesday, Bourguet saw the hard work and long travels come to fruition with an offer from BYU.
After a great workout with @CoachRoderick and @coachblairp , I am excited to announce I have received an offer to BYU @TucsonTurfElite @CoachEricRogers pic.twitter.com/429dfAvMAp

— Treyson Bourguet (@treysonbourguet) June 8, 2021
The Salpointe quarterback participated in the Cougars' camp and was watched closely by offensive coordinator Aaron Roderick and offensive graduate assistant Spencer Peterson.
Bourguet felt like he threw the ball well in one-on-ones and 7-on-7.
"I don't think my 7-on-7 team was stopped once, and I completed probably about 80% of my one-on-one passes," Bourguet said. "It's pretty difficult to do too when you're throwing to new receivers that you're not comfortable with, but you learn to adjust and learn to adapt."
After the 7-on-7 session, Bourguet threw for Roderick and then went to the quarterback room to talk football. He walked away from that conversation with an offer and the feeling that the Cougars were prioritizing him.
"He let me know right then and there that I had a scholarship offer waiting for me and he really liked me," Bourguet said. "Right now, they don't have any offers out in my class at quarterback. To be that first and to be the guy that he wants to run his offense and lead them, it means a lot. It really does."
The quarterback also spent three days at Northwestern, a program that has been recruiting him hard the past year. While the Wildcats have yet to offer, there's a strong mutual interest between both parties.
"It's really, really special, it starts at the very top with (head coach Pat Fitzgerald) and what he's done there," Bourguet said. "The stability they have in the in the coaching staff, and it's really a player-first program. They really, really care about their student-athletes and make sure that they're getting it done in the classroom as well as on the field and in the weight room. When they're when they're out in public, they rep they represent that, that purple 'N' on their shirt with with pride."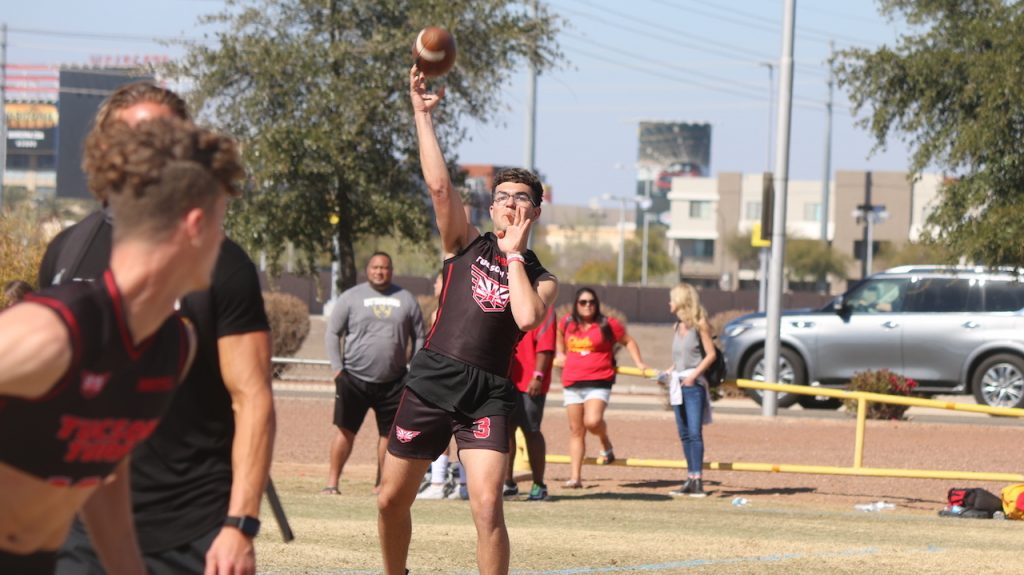 Finally getting to meet the coaching staff in person confirmed that interest, and Bourguet is fine going through a slower process with the program.
"They recruit very slow. Sometimes, that's a good thing. They get who they want, and they get who's best for their system and their program and who's going to sit in the locker room with the other players. I really think I made a really good impression. I threw the ball really well, and the coaches really likes me, but it's just, it's a process."
The Bourguet family will now re-assess after all of these early visits and potentially line up a few other trips at the end of the month, but the plan is for Treyson to make a college decision before his senior season starts.