While the Suns were playing in LA on Saturday night, their downtown home was transformed into a viewing party.
This is an away game…

WOW. #RallyTheValley pic.twitter.com/BLgQxt7iJl

— Phoenix Suns (@Suns) June 27, 2021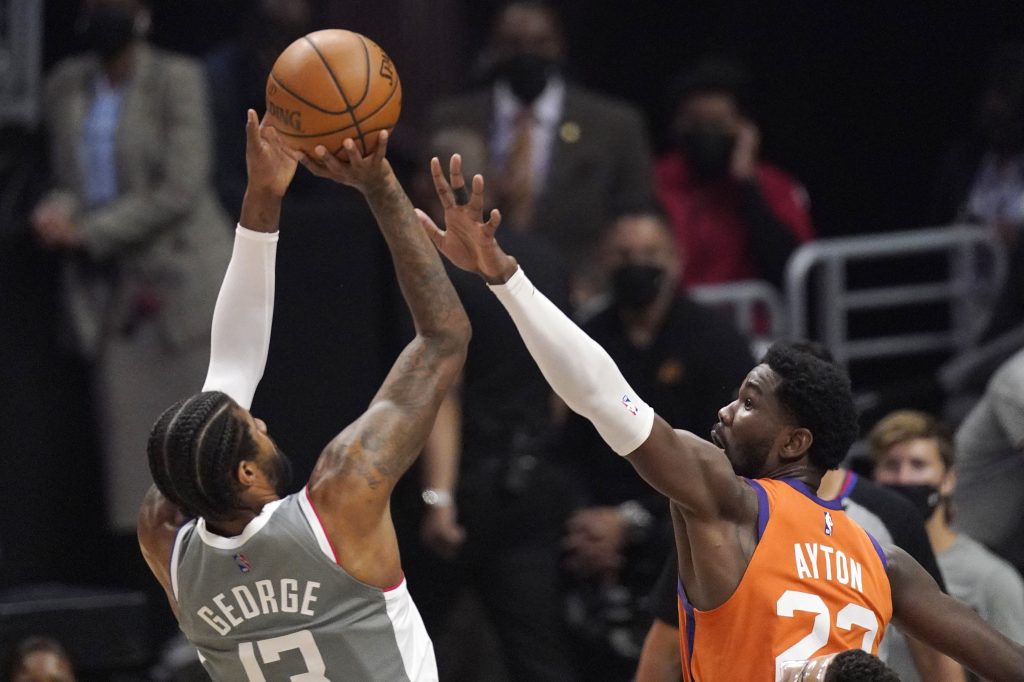 The two teams combined for 9-51 from the three-point arc
Devin Booker ditched his mask with 8:10 to go in the third quarter. "I'll probably put it on to start our next game at home" he told Scott Van Pelt of ESPN on the postgame show.
Clippers were 0-12 in shots in the fourth quarter that would've given them the lead.
46 fouls between the two teams.
Two teams were 6-34 shooting in the 4th quarter.
The Suns can win the West on Monday night with a victory over Clippers.
Can we make a postseason trade?
I've sat through the first four games of the Western Conference Finals and have come to the VERY easy conclusion that TNT is much, much better at the production of the Eastern Conference series between the Bucks and Hawks than what ESPN/ABC has put together with the Suns v Clippers. ESPN's show is just not very entertaining. Outside of the banter between Jeff Van Gundy and Mark Jackson, everything is pretty vanilla. Meantime, listening to Marv Albert and Reggie Miller, it feels like they are calling a big series with the winner heading to the NBA Finals. I laugh with/at the TNT studio show. Great production, terrific creativity, and chemistry. On TNT, there is no "the fans here at Staples Center are delirious" coming out of a commercial break. or "Hey Ty Lue, how do you take the lead in the fourth quarter" or "Torey Craig comes in to protect Devin Booker from fouling out of the game"(which was after Booker already fouled out). Scott Van Pelt' ESPN post game show is terrific viewing, but it's still not near the fun that TNT puts out…