It's "Beat LA" version 2.0.
After beating the Los Angeles Lakers in six games, then the Nuggets in four, the Suns are ready to face the other LA team. The Clippers just beat the Utah Jazz in six games, despite Kawhi Leonard missing games five and six with a knee injury. His status for this series is unknown.
Game 1 is in Phoenix on Sunday at 12:30 p.m. PST.
The availability of Chris Paul is uncertain after the Suns released a statement today.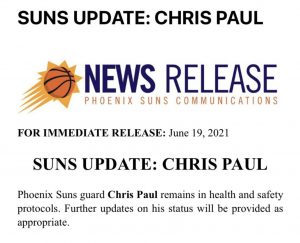 As practice wraps up, Monty Williams believes his team is ready to go with or without Paul.
"In our current climate, everything is day-to-day," Williams said. "I wish I could tell you a time but I can't. For now we're just focused on Game 1."
Booker Stepping Up
If CP3 is out, Williams is confident in Booker's ability to stay poised when teams throw everything at him. Phoenix's leading scorer will need to continue leading the pack if Paul misses any time.
"When we talk about having a chip, we're talking about competitive nature," Williams said about Booker playing with a chip on his shoulder. "Teams try to get under his skin. He has the edge, the chip to go right back at people in a competitive, physical way. He just doesn't back down from anybody. That's what I like about him, that's what I love about him."
It's next man up for Booker and the Suns. He says he's just ready to play like always. Teams do try to get him off his game but he always responds back.
"It's just the way I've always played, with an edge," Booker said. "Yea it's an emotional game and you try to channel it the right way, but I've gotten better at channeling it over time."
Crowder isn't surprised by anything Booker does. In fact he was on the court in 2017 with the Celtics when Booker dropped 70 points. He joined the Suns partly because he wanted to help Booker win a title.
"Seeing him grow and being with him everyday is amazing," Crowder said. "We all believe in him and everything he can do."
This is his first playoff experience. People always told him what the postseason is like, but after two rounds he's falling back on his own information.
"During the summers I always worked as if I was in the playoffs," Booker said. "It's the highest form of basketball there is. You have to lock in on every possession.. You might get fouled and not get the call, you have to keep moving. We've done well with it even though a lot of us are in this situation for the first time."
He's also stepping up off the court. Booker is a nominee for the Seasonlong NBA Cares Community Assist Award.
.@DevinBook of the @Suns has been nominated for the Seasonlong NBA Cares Community Assist Award pres. by @kpthrive!

To vote for Devin, retweet this post, or post with #NBACommunityAssist + #DevinBooker

OR

Vote here: https://t.co/Ppc1EleHSG pic.twitter.com/C20vZn7S5e

— NBA Cares (@nbacares) June 18, 2021
Staying Sharp
With a full week in between games, staying sharp is a key focus for this youthful squad. Williams says the gym was always full, so much so that they had to shut it down few times so guys would go get some rest.
"There was so much knowledge being talked about throughout the gym," Williams said. "Everyday these guys brought great energy. We didn't know what day we'd be playing for sure, but we squeezed in a scrimmage yesterday just to be safe."
Jae Crowder says the guys were eager to find out who they were playing all week. That played a role in them not wanting to leave the gym.
"You don't have to tell us twice to get in the gym, we all want to be there," Crowder said. "Coach gave us a blackout day to watch some basketball because he wanted to give us plenty of rest time."
As well as preparing for the WCF, Booker says they spent a good amount of time in the gym laughing, having fun, and bonding. When it's time to lock in for practice they do, and he believes they've found a great balance.
Playing The Clippers
The Clippers went 2-1 in the season series against the Suns. They last played April 28, with Phoenix winning 109-101.
As the No. 4 seed, they upset the No. 1 seed Jazz in the second round. Williams was watching and taking notes.
"The Clippers imposed their will defensively," Williams said about the Clippers' 25 point comeback. "They are tough and they never quit. They can use defense to get open shots on offense on a consistent basis."
With Leonard out, Paul George is playing bonkers. In games five and six, he scored 37 and 28 respectively. In the series against the Jazz, he averaged 29 points per game and shot over 45% from the field. The task of guarding him will fall on the entire team, Williams says.
The Clippers like to roll with a smaller lineup. That means Deandre Ayton will play an important role in keeping things rolling on offense and defense. Williams says he will not change the rotation for Ayton based on what the Clippers are doing with its size.
The energy at home games is drawing attention from all over. Crowder says he notices the passion of the fans and realizes its a blessing to have a whole city behind the team.
"Having a full house after playing on many empty gyms the last year is great," Crowder said. " The fans give us a lot of heart and it resonates on the floor."