It's been a few weeks, but there have been a lot going on on the recruiting front for multiple players here in the state. Here are a few updates on players and their recruitments:
First, shout out to Chilly over at Arizona Varsity for building a 7-on-7 and Big Man tournament from scratch to help create some exposure for players across the state in a still strange offseason.
There was SO much talent on the fields, and I'm going to start with two players who have yet to play not only a varsity snap, but a high school snap.
Jamar Malone – 2025 Higley Quarterback
The quarterback is in competition for the starting job at Higley after Eddy Zubey's last two quarterbacks have committed to Cal in Spencer Brasch and Kai Millner.
Malone has some great measurables, a big arm and maturity for a young player running an offense of varsity starters. He describes himself as quick and explosive and has already been studying the games of pro quarterbacks.
"I like to take parts from everybody's game," Malone said. "Tom Brady for the mentality, power, in the film room looking at film for hours. Patrick Mahomes with this incredible arm strength and off platform throws. Lamar Jackson for his out of the pocket abilities making those plays."
He already holds two offers from Louisville and NAU after strong showings at their cmaps.
"Louisville was great you know, they showed me around and it was just a great experience. The camp was really good, a lot of good coaches coaching up everybody."
Malone also recently visited Arizona and USC recently.
Malone is still in a quarterback battle and will be one to watch in the coming years.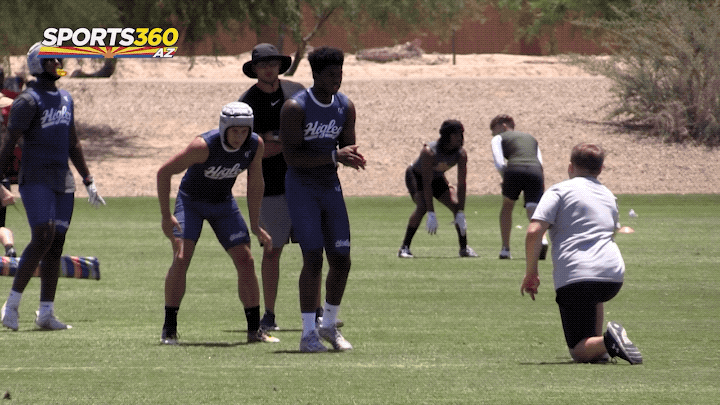 Dezmen Roebuck – 2025 Marana Athlete
Roebuck played wide receiver. He was playing safety. He made plays on both sides. He had this incredible catch that was ruled out of bounds. From my perspective, it looked like he was in, but I'm just holding a camera. Regardless, this shows the agility and strength to go up against guys three years older than him and come away with plays. I saw a few instances of that where six hands went up for a ball and Roebuck, the youngest of the group, came away with it time and again. Despite not playing a snap of high school football yet, he sure looked like he belonged.
I've heard from quite a few people who know the Southern Arizona scene and evaluate talent effectively, and they all say the same thing: This player has a really good chance to be really special.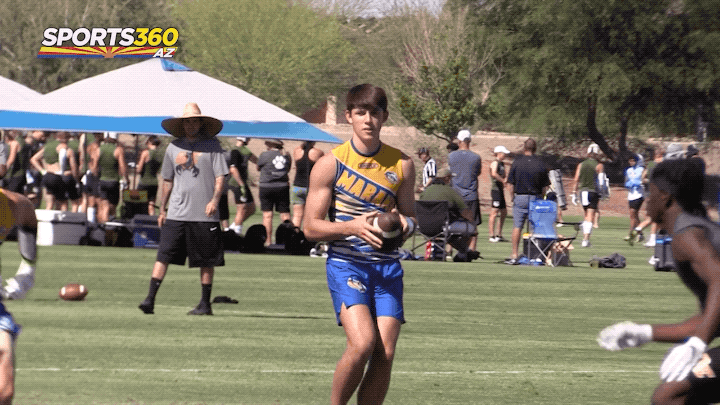 Luis Cordova – 2024 Salpointe Catholic Offensive Lineman
The 6-4, 280-pound offensive lineman already sports a 4.1 GPA and an Arizona offer. This has been a busy offseason for him as he looks to continue a long line of Division I linemen from Salpointe Catholic.
"My game is really violent, and I'm very hard working," Cordova said. "I keep on my mind on the gold. I'm a versatile lineman, and I can do the work. What do you need me to do? I can do it."
The hometwon Wildcats were the first to offer Cordova, making him a priority early on in his recruitment.
"It means the world to me because I got offer from my hometown and I have a lot of family in Tucson, Arizona," Cordova said. "I've just been around the whole program…I've been around the whole U of A my whole life."
God is great! I'm beyond blessed to have received my first offer to the university of Arizona. Thank you @brennanpcarroll, @CoachJeddFisch, and @LukeMcNitt! @CoachEricRogers @SOAZFootball @bangulo @JUSTCHILLY @JavierJMorales @SCLancerNation @ArizonaFBall pic.twitter.com/g4Z9gLqBI1

— Luis Cordova (@LuisCord2024) June 8, 2021
Cordova is also best friends with another top-flight Southern Arizona offensive lineman in Canyon del Oro's Sa'Kylee Woodard, who also holds an offer from Arizona. The two met when they were children in club football and could be the next wave of Southern Arizona recruits with heavy recruiting followings.
"We're best friends and we help each other perfect our craft and I just love that boy to death," Cordova said. "I'm there for him. He's there for me and I can do whatever in my power to help him and he does whatever he can to help me."
Dylan Jett Roberts – 2023 Centennial Defensive Lineman
Roberts was downright dominant at Just Chilly's Flight Club a few weeks ago. In nine games as a sophomore, he had 37 tackles, six tackles for loss and 5.5 sacks. He's been on a West Coast swing, taking unofficial visits to multiple Pac-12 schools.
That trip has already proven beneficial, with Roberts adding an offer from Cal in addition to Arizona and NAU. I have a feeling some more Pac-12 offers could be coming his way after visiting other campuses.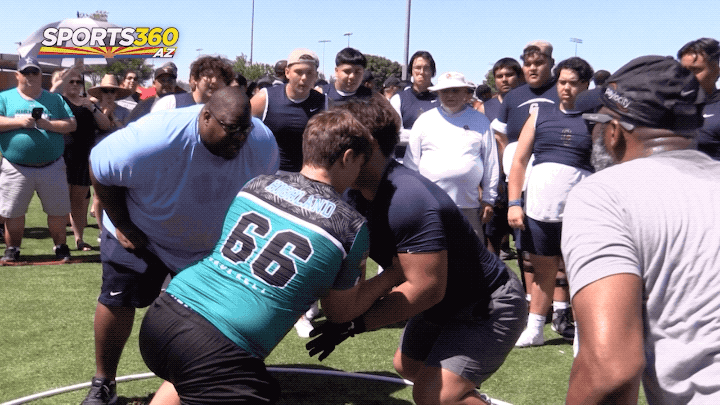 Gavin Smith – 2022 Notre Dame Prep Athlete
In a limited season, the Notre Dame athlete made plays on both sides. In two seasons, he caught 78 passes for 911 yards and 10 touchdowns. He also intercepted two passes and defended five additional passes.
He would be happy to play on either side of the football at the next level, but is mainly being recruited for offense.
"My main position is definitely receiver, but I love defense," Smith said. "I would even play defense in college if that's what they wan. I'm not really zoned in anywhere. But if I had to pick a position, it would be receiving."
Smith holds offers from ASU, North Dakota and Idaho and has been also hearing from Arizona, Oregon State, NAU, New Mexico, Wyoming and Buffalo.
Smith is not in a rush to commit and has been working on his speed and strength as he gears up for a senior season.
Merhauti "Sonny" Xepera – 2022 Higley Tight End
Xepera, a 6-foot-3, 220-pound tight end was able to make the most of an opportunity at Fresno State when he was able to get on campus and show what he could do. It resulted in an offer from the Bulldogs.
"It means a lot to me," Xepera said. "My family flew me out there, provided transportation, spent a lot of money and then for me to come home with the offer is a lot."
Fresno State tight ends coach Paul Creighton has been able to make a connection with Xepera and has been sending him motivational and life podcasts to listen to including one focused on actor Terry Crews.
"I've talked to about two times every week, we'll see you're just checking up on me and stuff like that."
In 14 games, Xepera has caught 28 passes for 308 yards and a touchdown.
Mardale Rowe – 2024 Brophy Defensive Lineman
The 6-foot-3, 225 pound defensive end is a converted running back and had a strong showing at the Flight Club. He has plenty of size and athleticism, and the Arizona Wildcats didn't waste any time pulling the trigger on an offer for him.
"It was it was actually really surreal and I don't know it was just a dream come true," Rowe said. "I worked really hard and so pretty humbling experience."
The Broncos have an impressive 2022 class that has seen many offers come in between Zac Swanson, Benjamin Morrison, Tyler Powell and E.J. Warner. Rowe has been learning the recruiting process through them, and Swanson in particular has been able to help Rowe on the field and in the recruitment.
"I'm looking to improve on my my get off," Rowe said. " I'm looking to get stronger in the weight room, build more chemistry with my teammates and just overall become a better and more of a leader."
These are just a few updates to look out for in what is sure to be a busy summer.