Story by Nathan Peterson
Greenway High School's Kaitlyn Terry has been named the 2020-21 Gatorade Arizona Softball Player of the Year. This is the second time in Greenway's history that this award has been earned by their softball program.
Only a sophomore, the left-handed pitcher and infielder has been working toward this recognition since she was young.
"It's great because of all the hard work she's put in. She's been doing this since she was four years old," said Kaitlyn's father Joe Terry. "It has finally come to see what has become of it and we are still waiting to see what it is going to bring."
What it's bringing is an early blip on the radar to many college coaches that have reached out their congratulations to Terry.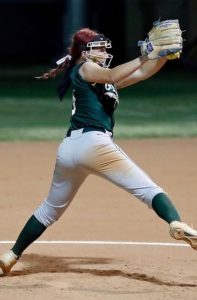 Terry led the Demons to a 16-4 record and a trip to the Conference 4A state quarterfinals this past season. Compiling an impressive stat sheet with a 0.29 ERA while allowing 29 hits and 237 strikeouts in 97.1 innings pitched.
On the other side, Terry put up impressive numbers. She led her team in home runs with nine and posted a .639 batting average. Terry was also second on the team for RBIs with 24.
The lefty powerhouse is currently ranked as No.21 in the nation for the class of 2023 according to Extra Inning Softball. Terry was also named the 2021 Skyline Region Player of the Year.
The apple doesn't fall far from the tree as Kaitlyn's mother Kristy Terry has her own accolades during her time at Florida State. In 1998, Kristy helped lead the Seminoles to an ACC softball championship along with being named to the ACC All-Tournament team four years in a row while also being named to the 1998 All-ACC softball team. Kaitlyn's sister Kendyl Terry was a standout player for Moon Valley High School as she posted a .600 batting average with 19 RBI and two home runs in 2019.
Kaitlyn owes much of her success to her older sister.
"She has always been there for me as my number one supporter," said Kaitlyn when talking about her relationship with her older sister.
While excelling on the field by being a leader and role model for other athletes, Terry makes sure that her grades are as exceptional as her stats on the field. Going into her junior year, Terry has maintained a 3.38 GPA as the award not only recognizes play on the field but also outstanding work in the classroom and community. Kaitlyn also takes time to volunteer locally as a youth softball coach as a way to give back to her community.
"She grinds between pitching, hitting lessons, practice, and school," Kaitlyn's mother and father jokingly said while describing the juniors' workload. "It's a full-time job."
Terry joins an elite group of athletes that have also won the award in Arizona including two-time winner Marissa Schuld (2016-18, Pinnacle High School), Carlie Scupin (2018-19, Tucson High), and Rylee Holtorf (2019-20, Sandra Day O'Connor).
With her selection as the Gatorade Arizona Softball Player of the Year, Kaitlyn is now nominated to be chosen as the Gatorade National Player of the year.