There were plenty of storylines in game one of Sunday's Western Conference Finals. Both teams exchanged punches and plenty of players continued to step up as shots continued to rain in.
In the end though, Devin Booker was simply too much to handle and the Suns claimed the opening game of the WCF by a final of 120-114.
Sunday's Father's Day special was a lot to take in, so here are a few notes and tidbits to break down Phoenix's victory and the festivities surrounding the matchup. The Phoenix Suns are three wins away from a Western Conference Championship and the overall magic number is down to seven.
No Paul, No Worries
Every player who spoke with the media prior to game one on Sunday spoke about a collective team effort. The Suns then went out and backed up their sentiments.
Every starter finished in double-figures. Deandre Ayton had 20, Jae Crowder had 13, Mikal Bridges had 14, Cameron Payne had 11, and Cam Johnson dropped in 11 off the bench.
In a game where the Suns needed everyone to step up, each player answered the bell. Despite not being with the team all week, Chris Paul made his voice heard through texts and phone calls all week. He spoke with Payne about starting at point guard in Paul's absence and Payne finished with nine assists.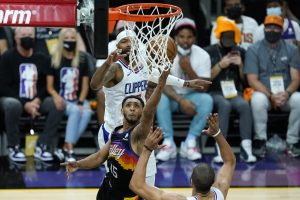 Although he wasn't in the building, Paul's attitude was carried on and that collective team mentality was evident. Every single Suns player bought in to fend off Paul George and a Clippers team that wouldn't go away.
Booker Balling Out
Devin Booker finished with 40 points points and exploded in the second half. He was money from mid-range and caught fire, continuing to attack the Clippers with his lethal jumper.
On the NBA' biggest stages, Booker has continued to grab the limelight. It's only his first postseason, but his legacy is escalating quickly. He recorded the first triple-double of his career. Almost all Suns fans know the story of Kobe Bryant telling Booker to "be legendary" early in his career.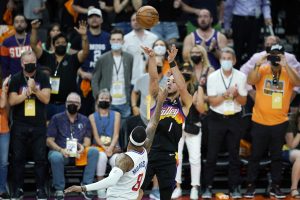 Well, those words have obviously stuck with Book. He joined an elite list of names on Sunday, becoming just the third player in conference finals history to record a 40-point triple-double.
The other two names of that group are Lebron James and Charles Barkley. It was also the first playoff triple-double by a Suns player since Steve Nash in 2005.
Pretty legendary.
"That's who Book is," said Suns head coach Monty Williams. "He's been waiting for these moments for a long, long time."
Devin Booker is the 6th player in NBA history to record multiple 40-point games in his first career postseason, joining Luka Doncic, LeBron James, Bob McAdoo, Rick Barry and Wilt Chamberlain. pic.twitter.com/KOZWJzzvRC

— ESPN Stats & Info (@ESPNStatsInfo) June 20, 2021
Between Terance Mann, Pat Beverley, and George, the Clippers have many capable defenders. However, Booker was simply untouchable in game one.
It should be interesting to see how the Clips counteract and try to make the Suns star more uncomfortable going into the next few games of the series.
Father's Day
The NBA postseason and the buzz surrounding basketball in the valley for the last two months has been something special. As Arizona Cardinals defensive end JJ Watt said during a media availability a couple weeks ago, there's a "palpable energy" around Phoenix.
However, off the court, there are still many things that are bigger than the game and the electricity of the purple palace at the Suns Arena.
On a special father's day, Monty Williams opened up about what it means to him to be a dad prior to tip-off.
"For me, it's my greatest responsibility and my greatest gift to father my children. I have kids in all stages of life right now," Williams said. "…I'm blessed to not only be their dad, but journey with them. My greatest joy is to be there for my children in every area of their lives. My kids in particular have been through so much. Any time I can provide them direction and joy, it just makes my day and makes my life worthwhile."
James Jones
Booker, Monty, and Paul are understandably attracting all the attention in the valley right now. But the man who has silently been pulling the strings and flown under the radar is James Jones. He deserves all the credit for constructing this Suns rebuild that has led them to the NBA's biggest stage.
On Sunday, that leadership was finally recognized when the Suns General Manger was named the 2020-21 NBA Executive of the Year.
Deandre Ayton was PUMPED to hear James Jones won 2020-21 NBA Basketball Executive of the Year! #ThatsGame

4th quarter of Game 1 underway on ABC. #NBAPlayoffs pic.twitter.com/d8XjhDuQkm

— NBA (@NBA) June 20, 2021
Monty Williams, Chris Paul, Dario Saric, Cam Johnson, Cam Payne, Jae Crowder. All impact players that have been brought into Phoenix by Jones. It's early in his tenure as GM, but he has pushed all of the correct buttons in all of the aforementioned moves. Had to be a pretty easy decision for the rest of the NBA.
The Suns and Clippers tip-off for game two on Tuesday, June 22 at 6 p.m. local time. With Kawhi Leonard and CP3 out for the beginning of this series, game one was still played at a very high level. This series should be fun.