By Eric Sorenson
Where did you go month of May?
About to turn the calendar once again and here's hoping everyone has an enjoyable and safe long weekend, while remembering why we observe Memorial Day.
Before starting this week's column, my thoughts and prayers are with Chris Chick's family, the Chandler High football staff, their players and everyone close to Coach Chick. Although I didn't know him well, I heard so many wonderful things about him and the outpour on social media Thursday was both touching and so tragic.
Today is a difficult time in our CHS OHANA and the AZHSFB Community with the passing of Chris Chick. We will miss his passion, dedication and creativity that gave him 13 State titles , 6 of those as a wolf… 🙏 to his family… WE LOVE YOU! #OHANAFOREVER pic.twitter.com/lEF2wvo0J3

— Coach G (@GarretsonRick) May 27, 2021
Godspeed, Coach.
Here's this week's "Zone Read."
The UFC Experience
Seth Robinson needed a summer internship so the former Saguaro High star, now UNLV outside linebacker, did what most of us would do.
He simply typed in "Google" and started searching.
"I was scrolling through," Robinson said with a chuckle to the "Zone Read." "I talked to my counselor because I knew I needed an internship to graduate. I saw UFC had openings for internships in different departments. I saw 'content marketing' and I thought, 'That's interesting.' Marketing is something I'd like to pursue."
So Robinson did what most smart people do in Las Vegas, asked to help get connected.
The 6-foot-2, now 220-pounder went to UNLV Athletic Director Desiree Reed-Francois and politely inquired if she happened to know anyone at UFC.
Reed-Francois was not only proactive in aiding to get Robinson in front of the right people, she also helped him with his cover letter and resume' which, like most early-year college students, wasn't exactly stuffed with professional job experience.
"I only had one job in my life, I worked at Olive Garden as a busser," Robinson explained. "She made my resume look awesome even though I only had one job."
Robinson's credentials, with the help of Reed-Francois, eventually landed on the desk of UFC Chief Operating Officer Lawrence Epstein and the waiting game started.
The UFC said they would let Robinson and all the potential candidates know in two weeks if they were selected for the invaluable paid summer working experience.
Two weeks passed.
Then three.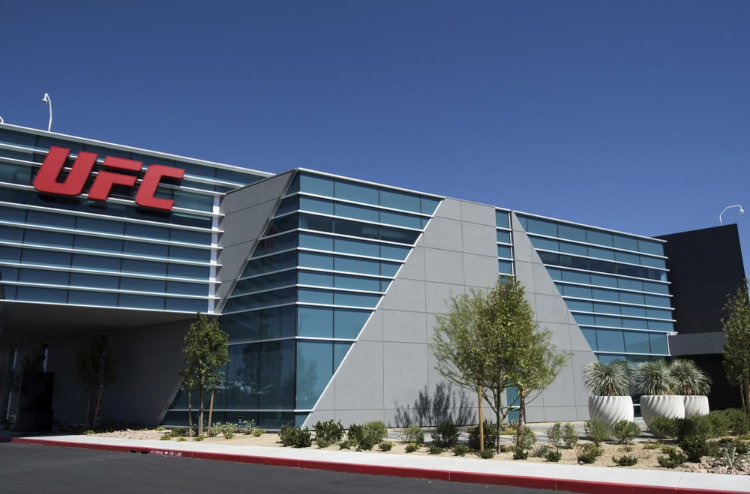 "It was over spring break and I wasn't really thinking about anything when my phone rang," Robinson recalled. "I saw the number. 702 [area code]. It must be Vegas. I had pretty much forgotten about the internship at this point. Then they offerered me the internship and I was like, 'What!?' I was in the middle of driving and I had to stop the car and pull over. 'Say that one more time?'"
Robinson, who is just finishing his first week on the job, is learning the creative, back-end side of marketing with a focus on UFC branding during broadcasts and other televised events. He is working with the production company who handles all the in-house details, including videos and various other ad strategies.
Internship Day 1 ✅ @ufc

— Seth Robinson 🐉 (@SethRobinn) May 24, 2021
The sophomore, who's majoring in hospitality management, has been blown away with Dana White's lavish facility.
"It's crazy," he said. "It's like a palace, honestly."
Robinson, who gets free tickets to all UFC events (nice perk), has also caught the envy of his Rebel teammates.
"Everyone freaked out," he said laughing, relaying the story of when he broke the news a few ago. "It's the brand. It's the repuation. It's the UFC."
Yes.
Yes it is, Mr. Robinson.
Two for '22
For the past two weeks, ArizonaVarsity.com's Cody Cameron has been kind enough to drop a smidge of his immense Arizona High School football knowledge on the "Zone Read." Last week, it was the Three for '23.
Now it's time to show some love to a pair of 2022 ballers who are poised for big senior seasons this fall.
Amier Boyd – Athlete (Mountain Pointe) "Here's a player who can play anywhere on the field. Boyd has spent most of his high school career playing quarterback. The incoming senior plans on playing mostly wide receiver and defensive back for the Pride this Fall. The 6'2 180-pound athlete has a long, athletic frame with great speed and tremendous athleticism. Boyd shined a few weeks ago in front of numerous Division II, Division III, and NAIA college staffs during the Desert Vista High showcase, picking off multiple passes in the Pride secondary. I believe that with a strong first half of the season next Fall, Boyd has the ability to gain a few Division I offers."
Amier Boyd (@boyd_amier) keeps stacking impressive performances in the @MPHS_Football secondary.
His range and instincts are advanced for being so new to the position.
Incredibly high ceiling for this young man! 📈 pic.twitter.com/FLBpRI1Ww4

— Kyle Morgan CATAPULT Southwest Regional Scout (@KyleMorgan_XOS) May 14, 2021
Devin Dunn – Defensive Back (Chandler) "It's rare finding diamonds in the rough. It's even more rare when that diamond attends Chandler High School. Dunn is a tremendous tackler, explosively driving his hips through contact on tackles. He possesses a solid, athletic frame, and can cover in space. It should come as no surprise if Devin Dunn becomes one of the top safeties in Arizona next year. To top it all off, Dunn has a reported 4.5 GPA in the classroom. Dunn currently has zero reported college offers. I'm trusting my eyes and what Chandler Head Coach Rick Garretson + Defensive Coordinator Steven Vaught tell me here. Devin Dunn is a Division I prospect (Paging NAU)."
Chandler 2022 DB Devin Dunn might be one of the most under recruited players in the State. Tough, physical, athletic player who tackles with force, 4.0+ GPA would not be surprised to see his recruitment spike by next Fall
Film: https://t.co/SqJhfApy6d pic.twitter.com/PsQmbc87Kn

— Cody Cameron (@CodyTCameron) April 6, 2021
Field(s) of Dreams
With the academic year and spring football in the books, it's time for a handful of lucky schools to start their home remodeling.
Cones, cleats and drills are replaced by bulldozers, several tons of sand, dirt, and…drills, of a different type.
Uneven, worn out, often weathered and age-destroyed fields are leveled out, re-calculated and replaced by fast-draining multi-purpose pro turf meccas which, in many ways, become the new focal point for the neighborhood campuses.
The new fields, and their exorbitant costs, are approved by the districts, as we've seen this summer with Deer Valley, Mesa and others.
Another layer to the turf project that will give Athletics, band, PE, and community rentals a place to use year round. @BGHS_DVUSD @DvusdA @DrFinchDVUSD pic.twitter.com/BXcl1eaZEy

— Goldwater Athletics (@GoldwaterAthle1) May 27, 2021
One highly valued benefit, besides their sparkling clean look and longevity, are the fields ability to drain and "recover" after fall rain storms.
"Our football team, Boulder Creek High School are so excited for the new field," head coach Tony Casarella said to the "Zone Read." "Not only does it look great, but it will be a great resource to help connect kids of all ages in our community with the high school. It's a great time to be a Jaguar."
The BC is going in! @BCJagsFootball @DVUSD @BcJagNation @DvusdA @DrFinchDVUSD @AdminLeadServe pic.twitter.com/S3045VXjvA

— Boulder Creek High (@BCHS_DVUSD) May 26, 2021
Sure, they're not common, but new fields assure often season-defining, late-season region games – or even playoff games – won't be impacted by muddy, torn up tracks like we saw in last year's Cactus-Mesquite 4A Championship Game at Highland High School in Gilbert.
"Zone Read" likes what you've done with the place.