One man is spreading a message of positivity by running 3,000 plus miles in 100 days. All with a smile on his face and an attitude that lights up any space.
Renowned long distance runner, Stan Cottrell, is running cross-country. He began by leaving Los Angeles on May 7, which was his 78th birthday. The Amazing Friendship Run, who's mission is "Uniting America with hope, health and friendship," is following along the journey with a documentary crew. He will end up in Washington D.C. by August 16. They are raising and donating money for numerous charities across the nation.
DAY 6: PHEONIX

30 miles a day dedicated for amazing causes. Donating to the causes you care about not only benefits the charities themselves, it can be deeply rewarding for you too.

Visit: https://t.co/nHvUpfBoPq to donate.

Let's make the world a better place! #RunstanRun! pic.twitter.com/Qmh6M4F8hS

— The Amazing Friendship Run 2021 (@tafrwithstan) May 13, 2021
"If I can get up and move at 78, everyone in America can too," said Cottrell in a press release. "We are creating a movement of spreading positivity, kindness, and unity. Everyone, young and old is welcome to join in and run with me for as long as they wish, be it a block, a mile, or more!"
World Record Holder
He's no stranger to this run. He owns the Guinness World Record for fastest run across the United States, doing so in just 48 days in 1980. He's also coasted across Europe in 80 days and ran 2,152 miles across China in 53 days. According to his bio on The Amazing Friendship Run website, he's ran over 250,000 miles in his lifetime. That equates to running around the globe 10 times.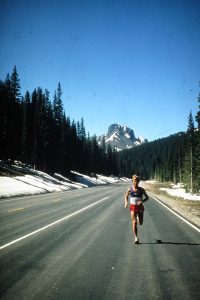 He's making stops in 15 major cities across the country. Throughout his run in Arizona, Cottrell starts at 4 a.m. and finishes by 11 a.m.. He ran from Buckeye Elementary District to Phoenix, Ariz. on Wednesday May 12, delivering a powerful message to the onlookers and supporters.
"The most rewarding part of this journey is all the people," Cottrell said. "I'm here to help inspire others but I always walk away feeling like I'm the one who's being blessed."
District 4 Councilwoman Laura Pastor presented a proclamation to Cottrell, saying "Stan is a remarkable man, and the city of Phoenix is happy to welcome him."
Next Stops
The next stop for Cottrell and crew is in Albuquerque, New Mexico. Until then he's just enjoying the run, one marathon a day at a time.
"All you have to do is start," Cottrell told the cheerleaders, drum line, and onlookers in attendance. "You can do anything you set your mind to, you just have to make it your mission."
You can track his journey or donate by visiting www.friendshipsportsassociation.org. And you can follow along on Twitter (@tafrwithstan).