What good came of giving Chris Paul minutes in game three on Thursday night rather than holding him out and resting/protecting his damaged limb? Was Chris Paul even on the floor in crunch time on Thursday night? No. So why exactly did Monty Williams go against practical wisdom in a seven-game series and not sit down his star guard?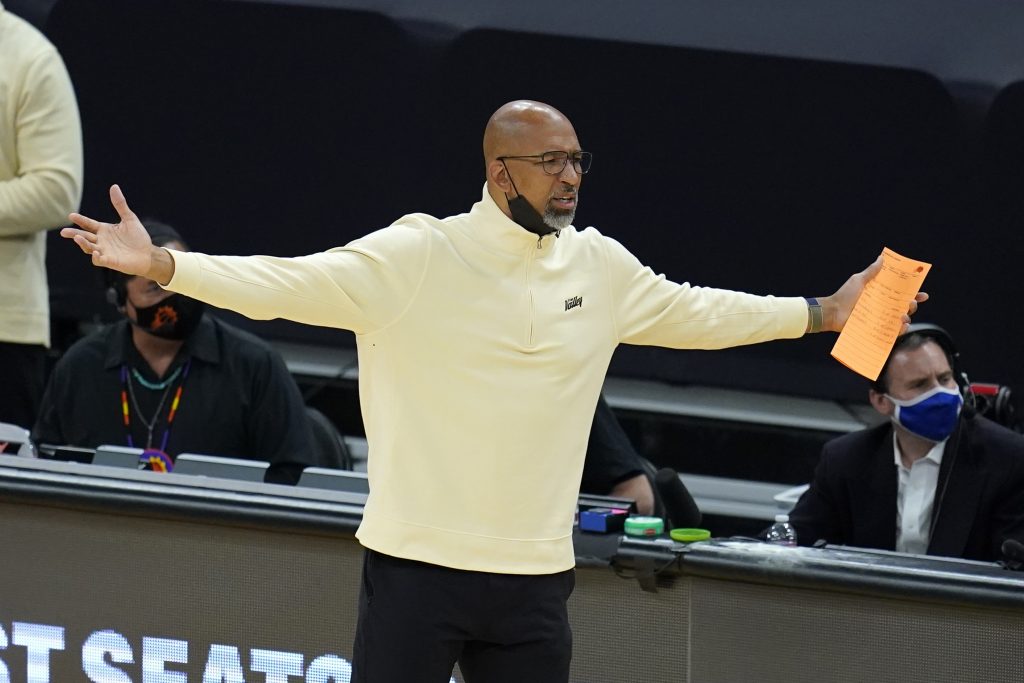 If he had done so, Paul would've had four full days off for treatment and trying to get his should right. Instead, the head coach rolled the dice, and it didn't come up with lucky 7's. Interested to see what kinds of adjustments the coach comes out with in game four. Small ball?
I'm thinking Cam Payne and some small ball may be the ticket to run the Lakers plodders like Andre Drummond and Marc Gasol off the court. Small ball in segments is a way that Monty should go.
This summer, Payne, a free agent, has made a bunch of money for himself in the last week. He's gone about his business the right way. Sign a two-year "prove it" deal. He has proven he deserves much more than the 2.1 million he's made in the last two years. Good story…
The poor behavior of those over the last year is spilling into the sports arena. Spitting on Trae Young, dumping popcorn on Russell Westbrook, or yelling racial insults at Ja Morant is just disgusting.
The NBA banned three fans after the events took place. I see more fights in the stands on my social media feeds. It's as though people came out of the pandemic with pent-up emotions and feel like they want to target athletes. Sickening…
William Hill has Tennessee as a 2.5-point favorite over the Cardinals in the season opener…
If the Diamondbacks really believe Torey Lovullo is the right manager for the franchise, then sign him to an extension now. Saw where former Diamondbacks skipper Bob Melvin moved into the second-winningest manager in Oakland Athletics history this past week. It really shouldn't be this hard…
Had a great chat with former Suns fan-favorite Leandro Barbosa on Friday. The "Brazilian Blur" has been a mentor/coach on Steve Kerr's staff in Golden State. One player he's become very close to is the former University of Arizona and Pinnacle High School star Nico Mannion.
"We work together A LOT. We became really close friends," he said over Zoom. "He had a tough season because he didn't have much time on the court as he wanted. This summer will be a huge summer for him because he will enjoy the Italian National team where he will get a lot of playing time with them."
You can check out our entire conversation right here (26:40 mark). Leandro will resume his playing career next month; you'll hear about it in this segment…
Starting to see a trend on social media of high school athletes posting their transcripts. I like this very much…