At just 15 years old Desert Vista's star pitcher, Jocelyn Briski is considered one of the best in the state. On the mound and at the plate she is a top performer in her sport with a .527 batting average, five home runs, a .25 era, and has 250 strikeouts in just 110 innings pitched. The sophomore is nearly unstoppable.
"From day one when she stepped on the field, we knew she was special," said Thunder head coach Chris Crowl.
However, Briski's sophomore season came with some unexpected challenges. She was thrown the biggest curveball of her life when her mom Melissa received a call from the doctor.
"On November 13th she got a call that she had stage 2 breast cancer," Briski said. "It definitely shocked our whole family because she's healthy, she's young, we weren't expecting this."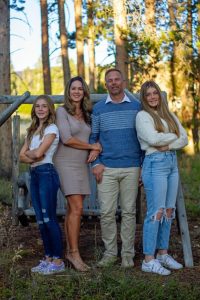 Shortly after receiving the news, Briski chose to step away from softball for a few months to dedicate more time to her family. However, because of COVID she and her younger sister decided to move out for six weeks. Despite being in different homes, the bond with her family grew and her passion for softball didn't slow down.
"I definitely grew as a person because I've never had something like that happen to me before," said Briski. "It just really made me think and appreciate all the things in life that I was given."
When it was time to return home and return to the game, Briski stepped up to the plate.
"When she steps between the white lines, it's all business for her," said Crowl.
When Briski gets onto the field everything else in life disappears and she only thinks about the game. Now with her sophomore season behind her, she's focussing on her new beginning.
"It's just nice knowing that there's an end in sight, knowing that she's going to get better, and she will be cured," said Briski.
On Monday, May 17 Briski's mom will have her last round of chemotherapy and be cancer-free.