There was A LOT going on last week with showcase week for Arizona high school football programs. Sports360AZ was well-represented throughout the week, and I was able to catch up with a lot of the programs throughout the week and even got to see an additional campus or two throughout the week. Here are a few updates on the state's top recruits:
Kyler Kasper – Williams Field – 2023 Wide Receiver
Kasper is long, bouncy and a match-up nightmare for opponents. We've talked about the talent returning to a potent offense, and Kasper's relationship with second-year starter CJ Tiller will help both of them grow. On the recruiting front, Kasper has added Nebraska, Cal, Vanderbilt and Oregon State in the past two months. The 6-foot-5 wide receiver is not in a rush with his recruitment but did say he plans to take unofficial visits to ASU and Iowa. He also has lofty goals for his junior season.
"Honestly, I feel like our connection (with Tiller) should be good. So just more more catches touchdowns, yards and everything else," Kasper said. "Myles Taylor, our receiver from last year, holds a lot of records so I'm gonna go try to break all his records. That's my dog. I have to try to break his records."
Nason Coleman – Chandler – 2022 Tight End
Coleman was not actually on the field for the Wolves as he continues to rehab his knee after a season-ending injury right before the 2020 season. He is on a blazing pace to get back to fully cleared in June, though.
"Before I wasn't been able to run. Now when I run, it feels like a brand new knee and feel ready to go."
Coleman plans to commit either mid-season or after his senior season. He's still in the early stages of his recruitment, but two Ivy League programs are jumping out right now.
"Just with the whole 40-year plan and how they can set me up after football. And most like much more like Princeton and Yale, they've been recruiting me pretty hard on the Ivy League side."
Stop me if you've heard this before…
But the Saguaro Sabercats have a very talented group coming up. The 2022 and 2023 classes have obvious playmakers, but the 2024 class is already getting some offers their way as well. We caught up with Jaci Dickerson earlier this offseason, and I was able to touch base with a few other 2024 playmakers:
2024 running back Jaedon Matthews currently has an offer from ASU and has earned some high praise from Saguar head coach Jason Mohns: When it's all said and done, Matthews could be one of the best pure running backs to come through the system.
Matthews tries to help the offense in multiple ways and styles his game after Alvin Kamara or Leveon Bell. Since we talked, Matthews also added an offer from Arizona, and he'll never forget the time he got word he was offered by the Sun Devils.
"It was it was breathtaking…I've been grinding for so long. Like it's really it's really like crazy dire like college is really paying attention at night especially as a freshman."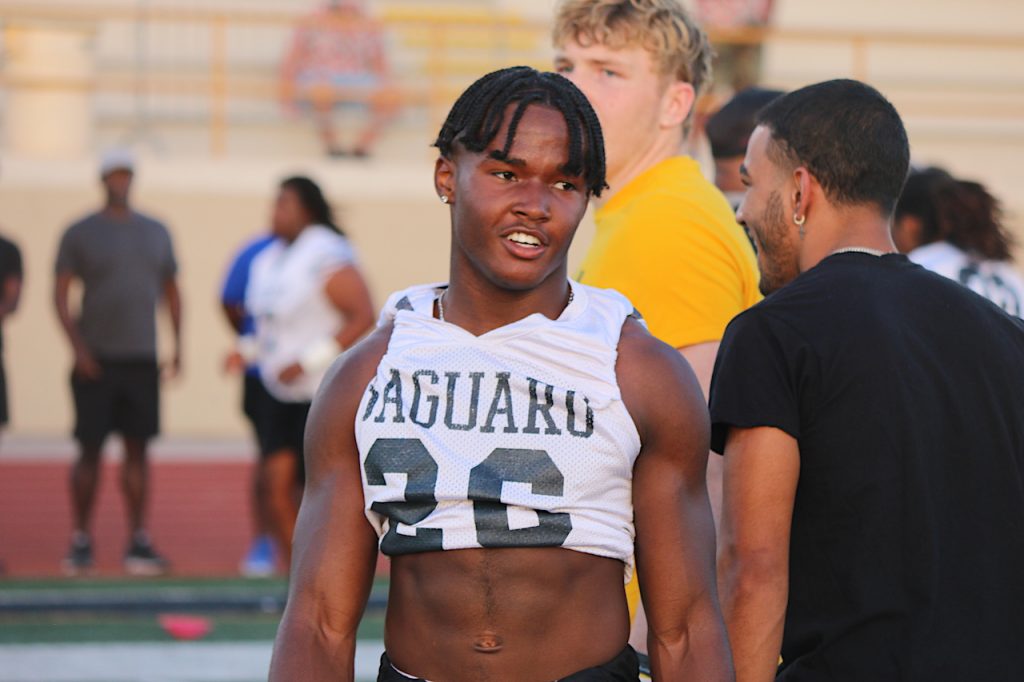 Jojo Clark seems to be the man in the middle on potentially both sides of the ball for years to come. He's drawn comparisons to current Sun Devil Will Shaffer and will look to help as a linebacker and H-back moving forward. He currently holds an offer from Arizona and he hopes to continue to develop on the offensive side of the ball.
"(Arizona) gave me a blessing, an opportunity," Clark said. "I want to develop more on offense because I know with the defense. Offense, I just need to work on a few things but everything else I'll be good."
A 2023 Sabercat to look out for is John Butler. The linebacker came in from Cesar Chavez and has been a monster in the weight room so far for the 'Cats.
"If I'm not showing, if I'm not doing lifting as hard as I can, I'm really not gonna get better," Butler said. "It starts in the weight room, especially in my position, that's a big component to my game."
He also holds a GPA well over 4.0.
455..✅ @AZPreps365 @Fredguidici @BenjiPalu_Cal @RagleCharlie @UCLAFootball @JUSTCHILLY @encinoman04 @FBCOACHA @JoelUriarte5 @wyattmilkovic @JR_Sandlin @CoachFrankBal @AztecFB pic.twitter.com/S9SkmqjlC7

— JohnButler (@john42_butler) December 15, 2020
He currently holds an offer from Arizona, where his teammate Tristan Monday committed earlier this spring.
"I feel like they're doing a good job of making sure all these kids that deserve it get we get getting offers, especially with Tristan, I feel like he made a good decision. I feel like he's gonna go out and thrive as well."
You'll see some more content from other Sabercats in the next few days.
Tavian Dennis – Desert Vista – 2022
A name to know over at Desert Vista is Tavian Dennis. The defensive back is a transfer from Cesar Chavez who had to sit out because of safety protocols within the district. Now, he's with the Thunder and already has an offer from San Diego State.
"They get their guys in the league. Guys like Donnel Pumphrey, Domontae Kazee, and of course, Marshall Faulk. Those names stand out to me, and I really like their defensive backs coaches."
As a sophomore, Dennis had 58 tackles and an interceptions on defense.
A few other teams…
A couple other schools I got to see for the first time in a while included Mountain Pointe. It seems like head coach Eric Lauer has plenty of long athletes at the school positions and in the secondary with the likes of Jordan Huff, Terryon Rowe, Amiere Boyd-Matthews. I saw Chris Arviso in the 7-on-7 circuit this offseason, and he certainly has a big arm that can make accurate throws. Will be fun to see this team put pads on in the fall.
Desert Edge is a school that returns two Power 5 players in Adryan Lara and Gavin Broscious as well as one of the most decorated running backs in the state in Jeryll McIntosh. The defense loses a lot of experience but the Scorpions are a program that seems to have freshmen and sophomores step up every year and become multi-year starters. The offensive line will be a bit inexperienced but having Broscious lead the way will help iron out any potential issues for them. There are multiple young players the Carter brothers are very excited about.
While I was out, I also was able to see Desert Ridge before the Red Mountain showcase.
The Jaguars seem to have a deep group under Roy Lopez in his first year with the program. We've talked a lot about Lance Holtzclaw (feature coming on him in a few days) and there are other playmakers on the defense including Keiyon Turner, KJ Miniefield and Angelo Paffumi. On offense, Jacob Condie is a tight end to keep an eye and Greg Bienvenue is an offensive lineman that could standout in a year or two.
"With everyone coming back, I'm just trying to know what I'm supposed to do so everyone can do better around me," Paffumi said. "If I can help pick up my part, I can help everyone else too."
There will be more content in the coming days about the Jaguars.
American Leadership Academy Queen Creek has some playmakers this year and Logan Hubler under center. Hubler made noise on the track this spring and the ball jumps out of his hands. As a junior, he notched 38 total touchdowns in 10 games. He can bring a lot to the field and should be a quarterback to look out for this summer and recruiting cycle.
Had a great track season! Won state in the 110 HH , 300 IM Hurdles and finished it off with a come from behind Win for the team in the 4×4 relay #3xCHAMP @alaqcathletics @JUSTCHILLY @CodyTCameron pic.twitter.com/bsbjEo2pMu

— Logan Hubler (@LoganHubler2022) May 16, 2021
Salpointe Catholic has some exciting young players, and they have a great history of developing offensive linemen. Class of 2024 Luis Cordova seems to be another great one coming up for the Lancers. I got to see him earlier in the offseason at the Under Armour Combine and he was rock solid again at the Saguaro showcase. It will be fun to watch him develop in the next few years.
So these were just a few players that jumped out in a very talented group of teams. More content from these showcases will be on Sports360AZ in the coming days.