Here's hoping each and every one of you are doing well as we sprint towards May.
"Zone Read" can almost taste spring football hitting campuses around the Valley and you know recruiting season will be sizzling with so many standouts around the entire state of Arizona.
This week, unfortunately, we start with the nearly unthinkable, and one student-athlete who made an incredible impact, both on and off the field, at South Mountain High School.
Gone Too Soon
Arizona high school football is special to cover for a myriad of different reasons.
For me, it's the stories or, in some cases, the story behind the story.
In the summer of 2019 in tiny Ash Fork – with the South Mountain High School football team – was where I first met junior Edward "LA" Crocker. The 5-foot-6, 140-pound slot receiver had recently transferred to South after moving to the Valley from Watts, California.
When we first talked during those long July days on the terrain in northern Arizona, the conversations between drills were brief and "LA" spent most of his time fiddling with his gloves or adjusting his look. Over the duration of camp, it was evident Crocker wasn't just warming up to me, he was warming up to his new teammates and coaches, as well.
The bond between Crocker and "The Mountain" grew fast that summer as the kid from the inner cities of Los Angeles adjusted to life in the desert.
The pairing seemed perfect for a young man looking for a fresh start and a program on the rise and starting to make some noise on Friday nights in the Valley.
Tuesday afternoon the 18-year-old was killed after he was thrown from a vehicle in a two-car accident. According to reports, he died at the scene and wasn't wearing a seatbelt at the time of the incident.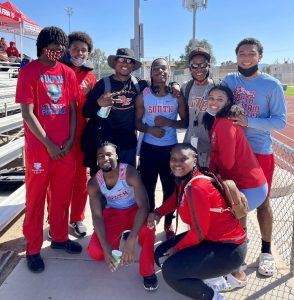 — CaliBloodLine81 (@CaliBloodLine81) April 21, 2021
"Edward's friendship meant so much to me, watching him grow throughout his years of high school," former South star wide receiver/cornerback, now NAU freshman cornerback, Devontae Ingram explained to the "Zone Read." "Him looking up to me brought me pure joy. All of our conversations behind closed doors helped me understand what kind of person he was. All he wanted to do was achieve his dreams and be a role model for his younger brother."
"I will forever be in debt [to] Edward because of all the memories and loyalty he gave me as a friend."
If you wish to help Crocker's family, a GoFundMe account has been set up here.
Until we meet again, "LA."
The Next Chapter, Family Matters
Rishard Davis is leaving on top.
— Rishard Davis (@davisTHEcoachSC) December 13, 2020
Months after becoming the first African-American high school football coach to win a state championship in Arizona, Davis announced he was leaving Eloy Santa Cruz High School and returning to his home in Alabama.
The decision wasn't an easy one.
"It was very hard to find the words," Davis explained to the "Zone Read." "When I broke the news to some of my players, I was expecting the worst. Surprisingly, it has been the complete opposite. I have received nothing but well wishes and understanding from them."
To let it be known… Thank you. 🤟🏿 pic.twitter.com/eZWO1X1Abz

— Rishard Davis (@davisTHEcoachSC) April 18, 2021
Davis led the Dust Devils to four playoff appearances, including two state runner-up finishes, before breaking through with a decisive 42-7 thumping of Benson in the title game last fall.
A former Division III defensive standout at Huntingdon College (AL), he leaves with nothing but incredible memories made and friendships forged in southern Arizona.
"There's not just one thing I'll remember," Davis noted. "I'll remember everything! I'm just glad we were able to compete and bring respect back to Santa Cruz football."
You did far more than that, Coach Davis.
Sweet Home, Alabama.
Party of Three
Elite high school quarterbacks and the southeast Valley are about as common as chips being dipped in salsa.
Higley High is no different.
Former Cal Golden Bear Spencer Brasch passed the playbook to Berkley-bound Kai Millner whose two-year starting totals tallied nearly 5500 total yards and 59 combined touchdowns.
This off-season brings both uncertain and intrigue as a trio of signal-callers will vie for the keys to Eddy Zubey's all gas, no breaks spread attack.
Junior-to-be Cash Merrell has been a two-year starter at the freshman and junior varsity level the past two seasons. The other two quarterbacks presently on campus are Chandler Johnson and Trent Zimmerman, both from the class of 2024.
Apex 7s at Higley@HIGLEYFOOTBALL
WR @AGarcia1322 gets behind the defense and QB Cash Merrell puts it on the money for the Touchdown!! pic.twitter.com/ctUvFhV7xE

— @JustChilly (@JUSTCHILLY) April 3, 2021
"Looking forward to seeing these guys compete and run our offense during spring ball in May," Zubey said to the "Zone Read."
Knight school will have full participation this spring.
Let the competition begin.