The Arizona Wildcats fell to Stanford in the National Championship, 54-53. While Twitter was relatively quiet during the first half of the biggest women's basketball game of the year, the birds awoke to tweet during halftime.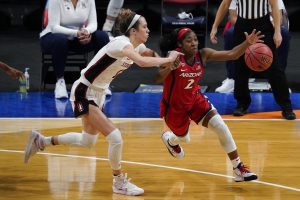 Going into halftime it looked like it would take a miracle and a whole lot of Aari McDonald to come up with a win. Stanford headed to the locker room up 31-24.
These stats ain't pretty, but our girls are battling and have 20 minutes to turn this thing around and make history. Let's go, @ArizonaWBB!!! pic.twitter.com/lPQkZKwuXj

— Jeff Dean (@UAZVoice) April 4, 2021
The halftime MVP was Arizona head coach Adia Barnes, who was simultaneously coaching and being a mother.
"Let's normalize working mothers and all that they have to do to make it all happen," excellent conclusion of @sportsiren report describing Arizona head coach Adia Barnes halftime routine of having to pump for her baby as she continues to nurse her daughter. #ncaaw

— Omar Ruiz (@OmarDRuiz) April 4, 2021
For the entire 40 minutes, all eyes were on Aari McDonald, whether you were rooting for Stanford or Arizona.
Are they ever! 🏀🏀🏀

Keep it up @AariMcdonald. You are amazing! #FinalFour #arizonawildcats #NCAATournament #GoCats https://t.co/R43ZYVjeDJ

— Alison Levine (@Levine_Alison) April 4, 2021
93-straight games in double-figures. pic.twitter.com/EUYFe0WUyn

— Arizona Women's Basketball (@ArizonaWBB) April 4, 2021
The Wildcats came back hungry for a win and made a run for it.
Basketball is always a game of runs and Stanford's first one was so big that Arizona has just been chasing it all game.

They'll need one final, perfectly timed spurt to win this. Absolutely headed for a great finish.

— Craig Hoffman (@CraigHoffman) April 4, 2021
As the game was coming to a close, the Wildcats run looked promising making it a one-point game with under one minute left.
Cats down by one with 36 seconds left. pic.twitter.com/iI1FpMiiri

— Arizona Women's Basketball (@ArizonaWBB) April 5, 2021
This is INTENSE!!!#ncaaW

— JJ Watt (@JJWatt) April 5, 2021
Yes JJ, we know. To be fair, Patrick Mahomes and Kevin Pillar can't believe it either.
Wait what??? #ncaaW

— Patrick Mahomes II (@PatrickMahomes) April 5, 2021
What's going to happen?? @ncaawbb pic.twitter.com/hOkuiKRXQO

— Kevin Pillar (@KPILLAR4) April 5, 2021
With just seconds left in the game, the Wildcats put their faith in the reliable Aari McDonald.
that was the player, but that wasn't the play.

needed to get her off a screen or into some space.

damn. what a game.

— Sarah Spain (@SarahSpain) April 5, 2021
The Stanford Cardinals win their first National Championship in 28 years.
The moment our dreams came true.#GoStanford pic.twitter.com/k7e5oLPDum

— Stanford Women's Basketball (@StanfordWBB) April 5, 2021
The Wildcats still celebrate an incredible 2020-2021 season.
A magical run. Thank you to EVERYONE who stood with us. ❤️ pic.twitter.com/NgNAv5X3bw

— Arizona Women's Basketball (@ArizonaWBB) April 5, 2021