After helping lead the Oregon Ducks to a Fiesta Bowl appearance, former Hamilton quarterback Tyler Shough announced he has entered the transfer portal.
Many blessings and opportunities ahead! Hebrews 11:1 pic.twitter.com/e8MyWCwyn6

— Tyler Shough (@tylershough2) February 12, 2021
"I would like to thank my coaches at Oregon for the opportunity and many lessons learned these past (three) years," Shough tweeted. "Huge thank you to the fans and Eugene community for welcoming me here and making this place special.
"I appreciate the academic staff for your constant help and guidance that has allowed me to graduate with two degrees in (three) years. Thank you to my teammates and brothers for making this place a home."
After serving as the back-up to Justin Herbert in 2019, Shough took over starting duties in the shortened 2020 season. In five games, the 6-foot-5, 221-pound redshirt sophomore threw for 1,559 yards, 13 touchdowns and three interceptions.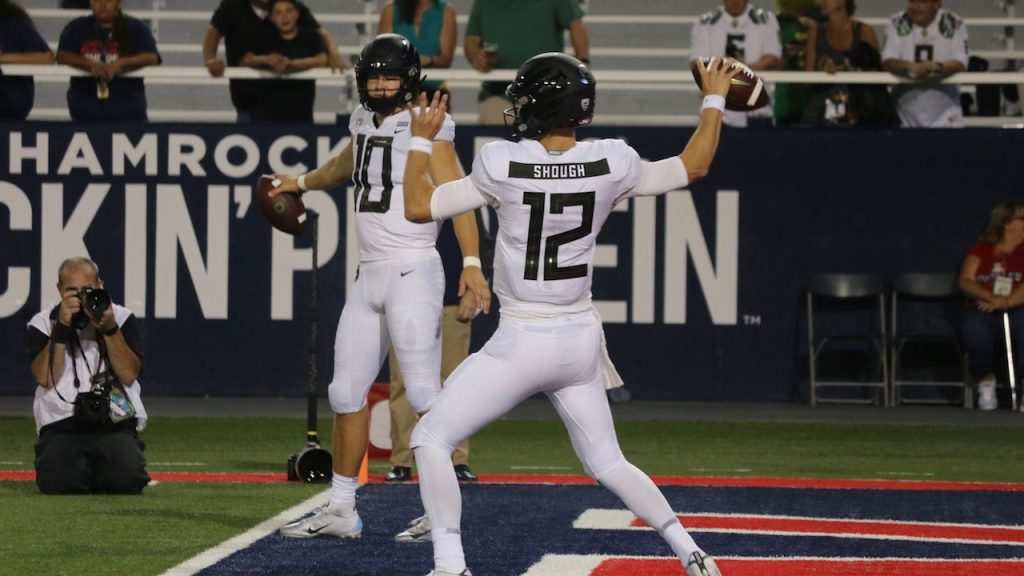 Senior Anthony Brown – a transfer out of Boston College – found the field in a situational role in the Pac-12 Championship, throwing three passes for two touchdowns. In the Fiesta Bowl, Brown threw 19 passes for 147 yards while Shough completed seven of his nine passes.
The Ducks also signed Mesquite's Ty Thompson in this recruiting cycle, who is the No. 4 pro-style quarterback in the 247 Sports composite rankings.
Shough has three years of eligibility remaining.
While at Hamilton High School, Shough was an Elite 11 quarterback who accumulated 5,150 yards, 57 touchdowns and 14 interceptions in two seasons. He was the first multi-year starter at quarterback in over a decade at the school.
Tyler Shough and the History of Arizona QB Transfers
Shough is the second Arizona native quarterback to enter the transfer portal this offseason. Former Casteel slinger Gunner Cruz made the jump from Washington State to the University of Arizona last month.
There are trajectories that Shough and Cruz will hope to follow from former Arizona standouts.
Former Chandler quarterback Bryce Perkins spent two years at Arizona State before transferring to Arizona Western and eventually Virginia. In two years with the Cavaliers, he set the school record for total offense in a season twice. In total, he threw for 6,210 yards, 47 touchdowns and 21 interceptions. He also rushed for 1,692 yards and 20 scores on the ground. Perkins is currently on the Los Angeles Rams roster.
Former Paradise Valley star Ryan Finley started his career at Boise State but found success at North Carolina State. In three seasons, he through for 10,501 yards, 60 touchdowns and 25 interceptions with the Wolfpack. He was a 4th round selection by the Bengals in 2019.