Once upon a time spring training brought an air of excitement beyond hanging out on the grassy berm at Salt River Fields sipping a cold one while watching our hometown heroes get ready for what could be a magical season. Instead, the conversation in my circles is about Trevor Bauer joining the Dodgers rotation and the Padres going for broke in the offseason. The Diamondbacks have done very little in the way of creating buzz for 2021. From my view, they're banking on bounce-back years from several players.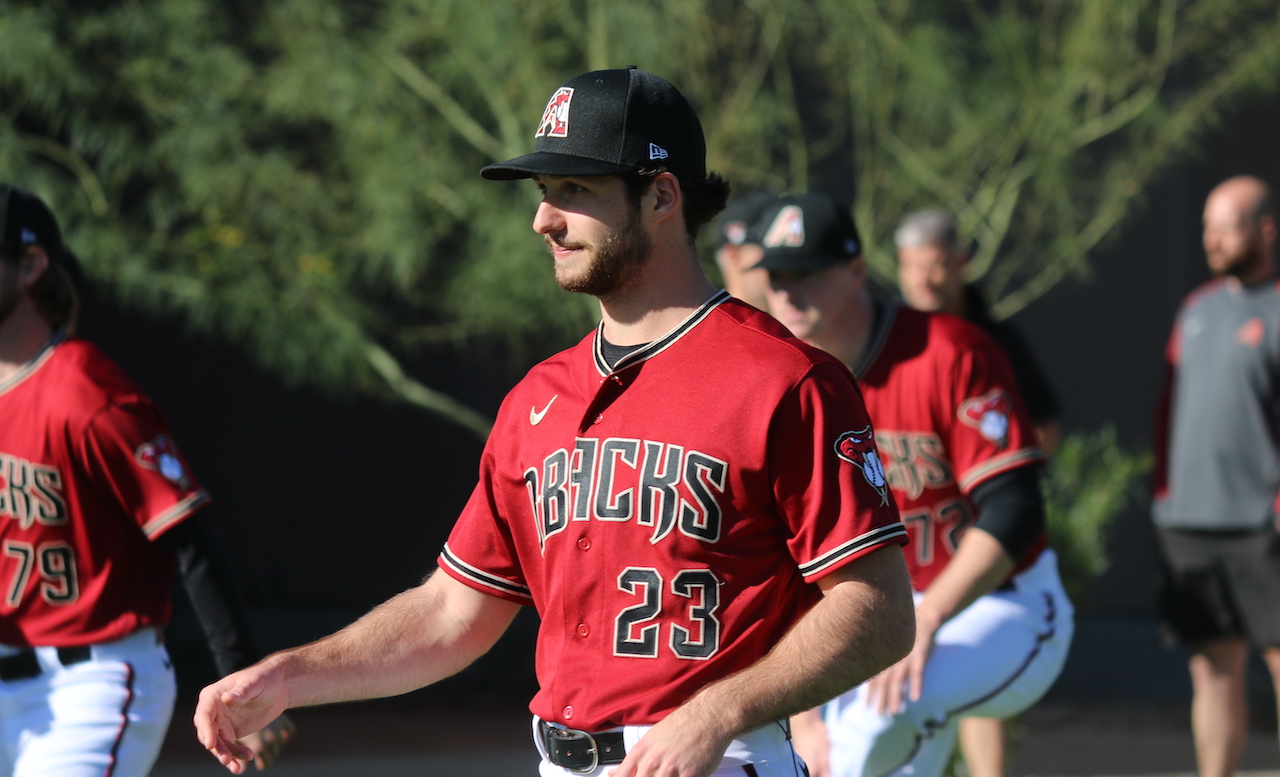 That's a dangerous way of doing business, especially in the National League West where the Friars and LA have better rosters top to bottom. Go position by position around the diamond and who has the better player between the Arizona nine and the two squads above them? It's really not even close. But for giggles and grins, I'll play along. If Ketel Marte, Carson Kelly, and Eduardo Escobar all bounce back at the plate and IF Madison Bumgarner and Lake Weaver can pitch deep into games and IF the bullpen can come in with an extinguisher rather than a gas can and matches, then the Diamondbacks could be interesting beyond the 4th of July. Yes, spring training is here and I'm happy about that, but this just feels like another year of looking up at the competition…
J.J. Watt wants money and a Super Bowl opportunity. Where would the Arizona Cardinals fit in on this conversation? I appreciate Deandre Hopkins acting as Jerry McGuire, but are the Cardinals just one player away from becoming an elite NFC team? No. Still, what Hopkins put on his Instagram "let's finish what we started", was good stuff…
Former Hamilton quarterback Tyler Shough, who left Oregon and entered the transfer portal last Friday, is going to be just fine. No shortage of suitors throughout the Power Five…
I've been a big fan of Hamilton quarterback Roch Cholowsky since seeing him spin a football last summer. I became more enamored after learning he's already committed to UCLA on a baseball scholarship. Here's some of his recent nifty glove work.
South Chandler Baseball Club SS Roch Cholowsky (@CholowskyRoch) makes a BIG LEAGUE play deep in the hole. Just watch, absolutely legit here at the @FiveToolWest Spring Showdown. #FiveToolTopPlay@hhsbaseball98 (AZ) 2023 • @UCLABaseball commit pic.twitter.com/SrVysRXobR

— Five Tool Baseball (@FiveTool) February 15, 2021
From my understanding, Cholowsky has been taking snaps at 7 on 7's the same day as playing in multiple baseball games. My kind of athlete…
Judge for yourself if Thom Brennaman deserves a second chance. I had the popular former Diamondbacks television voice on this past week and he was very open and apologetic about his use of gay slur during a Cincinnati Reds broadcast which cost him his MLB and NFL on Fox jobs. I think if you give this a listen you'll agree with me that he should be able to get behind a mic again…
Saturday, Valley treasure Charles Barkley turns 57…
The toughest job in Valley sports right now belongs to good guy Rich Nairn…
St. Marys and Brophy moving closer to meeting on the football field this fall…
http://blockquote%20class=instagram-media%20data-instgrm-captioned%20data-instgrm-permalink=https://www.instagram.com/p/CLXQIZjACPM/?utm_source=ig_embed&utm_campaign=loading%20data-instgrm-version=13%20style=%20background:#FFF;%20border:0;%20border-radius:3px;%20box-shadow:0%200%201px%200%20rgba(0,0,0,0.5),0%201px%2010px%200%20rgba(0,0,0,0.15);%20margin:%201px;%20max-width:540px;%20min-width:326px;%20padding:0;%20width:99.375%;%20width:-webkit-calc(100%%20-%202px);%20width:calc(100%%20-%202px);div%20style=padding:16px;%20a%20href=https://www.instagram.com/p/CLXQIZjACPM/?utm_source=ig_embed&utm_campaign=loading%20style=%20background:#FFFFFF;%20line-height:0;%20padding:0%200;%20text-align:center;%20text-decoration:none;%20width:100%;%20target=_blank%20div%20style=%20display:%20flex;%20flex-direction:%20row;%20align-items:%20center;%20div%20style=background-color:%20#F4F4F4;%20border-radius:%2050%;%20flex-grow:%200;%20height:%2040px;%20margin-right:%2014px;%20width:%2040px;/div%20div%20style=display:%20flex;%20flex-direction:%20column;%20flex-grow:%201;%20justify-content:%20center;%20div%20style=%20background-color:%20#F4F4F4;%20border-radius:%204px;%20flex-grow:%200;%20height:%2014px;%20margin-bottom:%206px;%20width:%20100px;/div%20div%20style=%20background-color:%20#F4F4F4;%20border-radius:%204px;%20flex-grow:%200;%20height:%2014px;%20width:%2060px;/div/div/divdiv%20style=padding:%2019%%200;/div%20div%20style=display:block;%20height:50px;%20margin:0%20auto%2012px;%20width:50px;svg%20width=50px%20height=50px%20viewBox=0%200%2060%2060%20version=1.1%20xmlns=https://www.w3.org/2000/svg%20xmlns:xlink=https://www.w3.org/1999/xlinkg%20stroke=none%20stroke-width=1%20fill=none%20fill-rule=evenoddg%20transform=translate(-511.000000,%20-20.000000)%20fill=#000000gpath%20d=M556.869,30.41%20C554.814,30.41%20553.148,32.076%20553.148,34.131%20C553.148,36.186%20554.814,37.852%20556.869,37.852%20C558.924,37.852%20560.59,36.186%20560.59,34.131%20C560.59,32.076%20558.924,30.41%20556.869,30.41%20M541,60.657%20C535.114,60.657%20530.342,55.887%20530.342,50%20C530.342,44.114%20535.114,39.342%20541,39.342%20C546.887,39.342%20551.658,44.114%20551.658,50%20C551.658,55.887%20546.887,60.657%20541,60.657%20M541,33.886%20C532.1,33.886%20524.886,41.1%20524.886,50%20C524.886,58.899%20532.1,66.113%20541,66.113%20C549.9,66.113%20557.115,58.899%20557.115,50%20C557.115,41.1%20549.9,33.886%20541,33.886%20M565.378,62.101%20C565.244,65.022%20564.756,66.606%20564.346,67.663%20C563.803,69.06%20563.154,70.057%20562.106,71.106%20C561.058,72.155%20560.06,72.803%20558.662,73.347%20C557.607,73.757%20556.021,74.244%20553.102,74.378%20C549.944,74.521%20548.997,74.552%20541,74.552%20C533.003,74.552%20532.056,74.521%20528.898,74.378%20C525.979,74.244%20524.393,73.757%20523.338,73.347%20C521.94,72.803%20520.942,72.155%20519.894,71.106%20C518.846,70.057%20518.197,69.06%20517.654,67.663%20C517.244,66.606%20516.755,65.022%20516.623,62.101%20C516.479,58.943%20516.448,57.996%20516.448,50%20C516.448,42.003%20516.479,41.056%20516.623,37.899%20C516.755,34.978%20517.244,33.391%20517.654,32.338%20C518.197,30.938%20518.846,29.942%20519.894,28.894%20C520.942,27.846%20521.94,27.196%20523.338,26.654%20C524.393,26.244%20525.979,25.756%20528.898,25.623%20C532.057,25.479%20533.004,25.448%20541,25.448%20C548.997,25.448%20549.943,25.479%20553.102,25.623%20C556.021,25.756%20557.607,26.244%20558.662,26.654%20C560.06,27.196%20561.058,27.846%20562.106,28.894%20C563.154,29.942%20563.803,30.938%20564.346,32.338%20C564.756,33.391%20565.244,34.978%20565.378,37.899%20C565.522,41.056%20565.552,42.003%20565.552,50%20C565.552,57.996%20565.522,58.943%20565.378,62.101%20M570.82,37.631%20C570.674,34.438%20570.167,32.258%20569.425,30.349%20C568.659,28.377%20567.633,26.702%20565.965,25.035%20C564.297,23.368%20562.623,22.342%20560.652,21.575%20C558.743,20.834%20556.562,20.326%20553.369,20.18%20C550.169,20.033%20549.148,20%20541,20%20C532.853,20%20531.831,20.033%20528.631,20.18%20C525.438,20.326%20523.257,20.834%20521.349,21.575%20C519.376,22.342%20517.703,23.368%20516.035,25.035%20C514.368,26.702%20513.342,28.377%20512.574,30.349%20C511.834,32.258%20511.326,34.438%20511.181,37.631%20C511.035,40.831%20511,41.851%20511,50%20C511,58.147%20511.035,59.17%20511.181,62.369%20C511.326,65.562%20511.834,67.743%20512.574,69.651%20C513.342,71.625%20514.368,73.296%20516.035,74.965%20C517.703,76.634%20519.376,77.658%20521.349,78.425%20C523.257,79.167%20525.438,79.673%20528.631,79.82%20C531.831,79.965%20532.853,80.001%20541,80.001%20C549.148,80.001%20550.169,79.965%20553.369,79.82%20C556.562,79.673%20558.743,79.167%20560.652,78.425%20C562.623,77.658%20564.297,76.634%20565.965,74.965%20C567.633,73.296%20568.659,71.625%20569.425,69.651%20C570.167,67.743%20570.674,65.562%20570.82,62.369%20C570.966,59.17%20571,58.147%20571,50%20C571,41.851%20570.966,40.831%20570.82,37.631/path/g/g/g/svg/divdiv%20style=padding-top:%208px;%20div%20style=%20color:#3897f0;%20font-family:Arial,sans-serif;%20font-size:14px;%20font-style:normal;%20font-weight:550;%20line-height:18px;%20View%20this%20post%20on%20Instagram/div/divdiv%20style=padding:%2012.5%%200;/div%20div%20style=display:%20flex;%20flex-direction:%20row;%20margin-bottom:%2014px;%20align-items:%20center;div%20div%20style=background-color:%20#F4F4F4;%20border-radius:%2050%;%20height:%2012.5px;%20width:%2012.5px;%20transform:%20translateX(0px)%20translateY(7px);/div%20div%20style=background-color:%20#F4F4F4;%20height:%2012.5px;%20transform:%20rotate(-45deg)%20translateX(3px)%20translateY(1px);%20width:%2012.5px;%20flex-grow:%200;%20margin-right:%2014px;%20margin-left:%202px;/div%20div%20style=background-color:%20#F4F4F4;%20border-radius:%2050%;%20height:%2012.5px;%20width:%2012.5px;%20transform:%20translateX(9px)%20translateY(-18px);/div/divdiv%20style=margin-left:%208px;%20div%20style=%20background-color:%20#F4F4F4;%20border-radius:%2050%;%20flex-grow:%200;%20height:%2020px;%20width:%2020px;/div%20div%20style=%20width:%200;%20height:%200;%20border-top:%202px%20solid%20transparent;%20border-left:%206px%20solid%20#f4f4f4;%20border-bottom:%202px%20solid%20transparent;%20transform:%20translateX(16px)%20translateY(-4px)%20rotate(30deg)/div/divdiv%20style=margin-left:%20auto;%20div%20style=%20width:%200px;%20border-top:%208px%20solid%20#F4F4F4;%20border-right:%208px%20solid%20transparent;%20transform:%20translateY(16px);/div%20div%20style=%20background-color:%20#F4F4F4;%20flex-grow:%200;%20height:%2012px;%20width:%2016px;%20transform:%20translateY(-4px);/div%20div%20style=%20width:%200;%20height:%200;%20border-top:%208px%20solid%20#F4F4F4;%20border-left:%208px%20solid%20transparent;%20transform:%20translateY(-4px)%20translateX(8px);/div/div/div%20div%20style=display:%20flex;%20flex-direction:%20column;%20flex-grow:%201;%20justify-content:%20center;%20margin-bottom:%2024px;%20div%20style=%20background-color:%20#F4F4F4;%20border-radius:%204px;%20flex-grow:%200;%20height:%2014px;%20margin-bottom:%206px;%20width:%20224px;/div%20div%20style=%20background-color:%20#F4F4F4;%20border-radius:%204px;%20flex-grow:%200;%20height:%2014px;%20width:%20144px;/div/div/ap%20style=%20color:#c9c8cd;%20font-family:Arial,sans-serif;%20font-size:14px;%20line-height:17px;%20margin-bottom:0;%20margin-top:8px;%20overflow:hidden;%20padding:8px%200%207px;%20text-align:center;%20text-overflow:ellipsis;%20white-space:nowrap;a%20href=https://www.instagram.com/p/CLXQIZjACPM/?utm_source=ig_embed&utm_campaign=loading%20style=%20color:#c9c8cd;%20font-family:Arial,sans-serif;%20font-size:14px;%20font-style:normal;%20font-weight:normal;%20line-height:17px;%20text-decoration:none;%20target=_blankA%20post%20shared%20by%20Deandre%20Hopkins%20(@deandrehopkins)/a/p/div/blockquote%20script%20async%20src=//www.instagram.com/embed.js/script
http://blockquote%20class=instagram-media%20data-instgrm-captioned%20data-instgrm-permalink=https://www.instagram.com/p/CLXQIZjACPM/?utm_source=ig_embed&utm_campaign=loading%20data-instgrm-version=13%20style=%20background:#FFF;%20border:0;%20border-radius:3px;%20box-shadow:0%200%201px%200%20rgba(0,0,0,0.5),0%201px%2010px%200%20rgba(0,0,0,0.15);%20margin:%201px;%20max-width:540px;%20min-width:326px;%20padding:0;%20width:99.375%;%20width:-webkit-calc(100%%20-%202px);%20width:calc(100%%20-%202px);div%20style=padding:16px;%20a%20href=https://www.instagram.com/p/CLXQIZjACPM/?utm_source=ig_embed&utm_campaign=loading%20style=%20background:#FFFFFF;%20line-height:0;%20padding:0%200;%20text-align:center;%20text-decoration:none;%20width:100%;%20target=_blank%20div%20style=%20display:%20flex;%20flex-direction:%20row;%20align-items:%20center;%20div%20style=background-color:%20#F4F4F4;%20border-radius:%2050%;%20flex-grow:%200;%20height:%2040px;%20margin-right:%2014px;%20width:%2040px;/div%20div%20style=display:%20flex;%20flex-direction:%20column;%20flex-grow:%201;%20justify-content:%20center;%20div%20style=%20background-color:%20#F4F4F4;%20border-radius:%204px;%20flex-grow:%200;%20height:%2014px;%20margin-bottom:%206px;%20width:%20100px;/div%20div%20style=%20background-color:%20#F4F4F4;%20border-radius:%204px;%20flex-grow:%200;%20height:%2014px;%20width:%2060px;/div/div/divdiv%20style=padding:%2019%%200;/div%20div%20style=display:block;%20height:50px;%20margin:0%20auto%2012px;%20width:50px;svg%20width=50px%20height=50px%20viewBox=0%200%2060%2060%20version=1.1%20xmlns=https://www.w3.org/2000/svg%20xmlns:xlink=https://www.w3.org/1999/xlinkg%20stroke=none%20stroke-width=1%20fill=none%20fill-rule=evenoddg%20transform=translate(-511.000000,%20-20.000000)%20fill=#000000gpath%20d=M556.869,30.41%20C554.814,30.41%20553.148,32.076%20553.148,34.131%20C553.148,36.186%20554.814,37.852%20556.869,37.852%20C558.924,37.852%20560.59,36.186%20560.59,34.131%20C560.59,32.076%20558.924,30.41%20556.869,30.41%20M541,60.657%20C535.114,60.657%20530.342,55.887%20530.342,50%20C530.342,44.114%20535.114,39.342%20541,39.342%20C546.887,39.342%20551.658,44.114%20551.658,50%20C551.658,55.887%20546.887,60.657%20541,60.657%20M541,33.886%20C532.1,33.886%20524.886,41.1%20524.886,50%20C524.886,58.899%20532.1,66.113%20541,66.113%20C549.9,66.113%20557.115,58.899%20557.115,50%20C557.115,41.1%20549.9,33.886%20541,33.886%20M565.378,62.101%20C565.244,65.022%20564.756,66.606%20564.346,67.663%20C563.803,69.06%20563.154,70.057%20562.106,71.106%20C561.058,72.155%20560.06,72.803%20558.662,73.347%20C557.607,73.757%20556.021,74.244%20553.102,74.378%20C549.944,74.521%20548.997,74.552%20541,74.552%20C533.003,74.552%20532.056,74.521%20528.898,74.378%20C525.979,74.244%20524.393,73.757%20523.338,73.347%20C521.94,72.803%20520.942,72.155%20519.894,71.106%20C518.846,70.057%20518.197,69.06%20517.654,67.663%20C517.244,66.606%20516.755,65.022%20516.623,62.101%20C516.479,58.943%20516.448,57.996%20516.448,50%20C516.448,42.003%20516.479,41.056%20516.623,37.899%20C516.755,34.978%20517.244,33.391%20517.654,32.338%20C518.197,30.938%20518.846,29.942%20519.894,28.894%20C520.942,27.846%20521.94,27.196%20523.338,26.654%20C524.393,26.244%20525.979,25.756%20528.898,25.623%20C532.057,25.479%20533.004,25.448%20541,25.448%20C548.997,25.448%20549.943,25.479%20553.102,25.623%20C556.021,25.756%20557.607,26.244%20558.662,26.654%20C560.06,27.196%20561.058,27.846%20562.106,28.894%20C563.154,29.942%20563.803,30.938%20564.346,32.338%20C564.756,33.391%20565.244,34.978%20565.378,37.899%20C565.522,41.056%20565.552,42.003%20565.552,50%20C565.552,57.996%20565.522,58.943%20565.378,62.101%20M570.82,37.631%20C570.674,34.438%20570.167,32.258%20569.425,30.349%20C568.659,28.377%20567.633,26.702%20565.965,25.035%20C564.297,23.368%20562.623,22.342%20560.652,21.575%20C558.743,20.834%20556.562,20.326%20553.369,20.18%20C550.169,20.033%20549.148,20%20541,20%20C532.853,20%20531.831,20.033%20528.631,20.18%20C525.438,20.326%20523.257,20.834%20521.349,21.575%20C519.376,22.342%20517.703,23.368%20516.035,25.035%20C514.368,26.702%20513.342,28.377%20512.574,30.349%20C511.834,32.258%20511.326,34.438%20511.181,37.631%20C511.035,40.831%20511,41.851%20511,50%20C511,58.147%20511.035,59.17%20511.181,62.369%20C511.326,65.562%20511.834,67.743%20512.574,69.651%20C513.342,71.625%20514.368,73.296%20516.035,74.965%20C517.703,76.634%20519.376,77.658%20521.349,78.425%20C523.257,79.167%20525.438,79.673%20528.631,79.82%20C531.831,79.965%20532.853,80.001%20541,80.001%20C549.148,80.001%20550.169,79.965%20553.369,79.82%20C556.562,79.673%20558.743,79.167%20560.652,78.425%20C562.623,77.658%20564.297,76.634%20565.965,74.965%20C567.633,73.296%20568.659,71.625%20569.425,69.651%20C570.167,67.743%20570.674,65.562%20570.82,62.369%20C570.966,59.17%20571,58.147%20571,50%20C571,41.851%20570.966,40.831%20570.82,37.631/path/g/g/g/svg/divdiv%20style=padding-top:%208px;%20div%20style=%20color:#3897f0;%20font-family:Arial,sans-serif;%20font-size:14px;%20font-style:normal;%20font-weight:550;%20line-height:18px;%20View%20this%20post%20on%20Instagram/div/divdiv%20style=padding:%2012.5%%200;/div%20div%20style=display:%20flex;%20flex-direction:%20row;%20margin-bottom:%2014px;%20align-items:%20center;div%20div%20style=background-color:%20#F4F4F4;%20border-radius:%2050%;%20height:%2012.5px;%20width:%2012.5px;%20transform:%20translateX(0px)%20translateY(7px);/div%20div%20style=background-color:%20#F4F4F4;%20height:%2012.5px;%20transform:%20rotate(-45deg)%20translateX(3px)%20translateY(1px);%20width:%2012.5px;%20flex-grow:%200;%20margin-right:%2014px;%20margin-left:%202px;/div%20div%20style=background-color:%20#F4F4F4;%20border-radius:%2050%;%20height:%2012.5px;%20width:%2012.5px;%20transform:%20translateX(9px)%20translateY(-18px);/div/divdiv%20style=margin-left:%208px;%20div%20style=%20background-color:%20#F4F4F4;%20border-radius:%2050%;%20flex-grow:%200;%20height:%2020px;%20width:%2020px;/div%20div%20style=%20width:%200;%20height:%200;%20border-top:%202px%20solid%20transparent;%20border-left:%206px%20solid%20#f4f4f4;%20border-bottom:%202px%20solid%20transparent;%20transform:%20translateX(16px)%20translateY(-4px)%20rotate(30deg)/div/divdiv%20style=margin-left:%20auto;%20div%20style=%20width:%200px;%20border-top:%208px%20solid%20#F4F4F4;%20border-right:%208px%20solid%20transparent;%20transform:%20translateY(16px);/div%20div%20style=%20background-color:%20#F4F4F4;%20flex-grow:%200;%20height:%2012px;%20width:%2016px;%20transform:%20translateY(-4px);/div%20div%20style=%20width:%200;%20height:%200;%20border-top:%208px%20solid%20#F4F4F4;%20border-left:%208px%20solid%20transparent;%20transform:%20translateY(-4px)%20translateX(8px);/div/div/div%20div%20style=display:%20flex;%20flex-direction:%20column;%20flex-grow:%201;%20justify-content:%20center;%20margin-bottom:%2024px;%20div%20style=%20background-color:%20#F4F4F4;%20border-radius:%204px;%20flex-grow:%200;%20height:%2014px;%20margin-bottom:%206px;%20width:%20224px;/div%20div%20style=%20background-color:%20#F4F4F4;%20border-radius:%204px;%20flex-grow:%200;%20height:%2014px;%20width:%20144px;/div/div/ap%20style=%20color:#c9c8cd;%20font-family:Arial,sans-serif;%20font-size:14px;%20line-height:17px;%20margin-bottom:0;%20margin-top:8px;%20overflow:hidden;%20padding:8px%200%207px;%20text-align:center;%20text-overflow:ellipsis;%20white-space:nowrap;a%20href=https://www.instagram.com/p/CLXQIZjACPM/?utm_source=ig_embed&utm_campaign=loading%20style=%20color:#c9c8cd;%20font-family:Arial,sans-serif;%20font-size:14px;%20font-style:normal;%20font-weight:normal;%20line-height:17px;%20text-decoration:none;%20target=_blankA%20post%20shared%20by%20Deandre%20Hopkins%20(@deandrehopkins)/a/p/div/blockquote%20script%20async%20src=//www.instagram.com/embed.js/script
http://blockquote%20class=instagram-media%20data-instgrm-captioned%20data-instgrm-permalink=https://www.instagram.com/p/CLXQIZjACPM/?utm_source=ig_embed&utm_campaign=loading%20data-instgrm-version=13%20style=%20background:#FFF;%20border:0;%20border-radius:3px;%20box-shadow:0%200%201px%200%20rgba(0,0,0,0.5),0%201px%2010px%200%20rgba(0,0,0,0.15);%20margin:%201px;%20max-width:540px;%20min-width:326px;%20padding:0;%20width:99.375%;%20width:-webkit-calc(100%%20-%202px);%20width:calc(100%%20-%202px);div%20style=padding:16px;%20a%20href=https://www.instagram.com/p/CLXQIZjACPM/?utm_source=ig_embed&utm_campaign=loading%20style=%20background:#FFFFFF;%20line-height:0;%20padding:0%200;%20text-align:center;%20text-decoration:none;%20width:100%;%20target=_blank%20div%20style=%20display:%20flex;%20flex-direction:%20row;%20align-items:%20center;%20div%20style=background-color:%20#F4F4F4;%20border-radius:%2050%;%20flex-grow:%200;%20height:%2040px;%20margin-right:%2014px;%20width:%2040px;/div%20div%20style=display:%20flex;%20flex-direction:%20column;%20flex-grow:%201;%20justify-content:%20center;%20div%20style=%20background-color:%20#F4F4F4;%20border-radius:%204px;%20flex-grow:%200;%20height:%2014px;%20margin-bottom:%206px;%20width:%20100px;/div%20div%20style=%20background-color:%20#F4F4F4;%20border-radius:%204px;%20flex-grow:%200;%20height:%2014px;%20width:%2060px;/div/div/divdiv%20style=padding:%2019%%200;/div%20div%20style=display:block;%20height:50px;%20margin:0%20auto%2012px;%20width:50px;svg%20width=50px%20height=50px%20viewBox=0%200%2060%2060%20version=1.1%20xmlns=https://www.w3.org/2000/svg%20xmlns:xlink=https://www.w3.org/1999/xlinkg%20stroke=none%20stroke-width=1%20fill=none%20fill-rule=evenoddg%20transform=translate(-511.000000,%20-20.000000)%20fill=#000000gpath%20d=M556.869,30.41%20C554.814,30.41%20553.148,32.076%20553.148,34.131%20C553.148,36.186%20554.814,37.852%20556.869,37.852%20C558.924,37.852%20560.59,36.186%20560.59,34.131%20C560.59,32.076%20558.924,30.41%20556.869,30.41%20M541,60.657%20C535.114,60.657%20530.342,55.887%20530.342,50%20C530.342,44.114%20535.114,39.342%20541,39.342%20C546.887,39.342%20551.658,44.114%20551.658,50%20C551.658,55.887%20546.887,60.657%20541,60.657%20M541,33.886%20C532.1,33.886%20524.886,41.1%20524.886,50%20C524.886,58.899%20532.1,66.113%20541,66.113%20C549.9,66.113%20557.115,58.899%20557.115,50%20C557.115,41.1%20549.9,33.886%20541,33.886%20M565.378,62.101%20C565.244,65.022%20564.756,66.606%20564.346,67.663%20C563.803,69.06%20563.154,70.057%20562.106,71.106%20C561.058,72.155%20560.06,72.803%20558.662,73.347%20C557.607,73.757%20556.021,74.244%20553.102,74.378%20C549.944,74.521%20548.997,74.552%20541,74.552%20C533.003,74.552%20532.056,74.521%20528.898,74.378%20C525.979,74.244%20524.393,73.757%20523.338,73.347%20C521.94,72.803%20520.942,72.155%20519.894,71.106%20C518.846,70.057%20518.197,69.06%20517.654,67.663%20C517.244,66.606%20516.755,65.022%20516.623,62.101%20C516.479,58.943%20516.448,57.996%20516.448,50%20C516.448,42.003%20516.479,41.056%20516.623,37.899%20C516.755,34.978%20517.244,33.391%20517.654,32.338%20C518.197,30.938%20518.846,29.942%20519.894,28.894%20C520.942,27.846%20521.94,27.196%20523.338,26.654%20C524.393,26.244%20525.979,25.756%20528.898,25.623%20C532.057,25.479%20533.004,25.448%20541,25.448%20C548.997,25.448%20549.943,25.479%20553.102,25.623%20C556.021,25.756%20557.607,26.244%20558.662,26.654%20C560.06,27.196%20561.058,27.846%20562.106,28.894%20C563.154,29.942%20563.803,30.938%20564.346,32.338%20C564.756,33.391%20565.244,34.978%20565.378,37.899%20C565.522,41.056%20565.552,42.003%20565.552,50%20C565.552,57.996%20565.522,58.943%20565.378,62.101%20M570.82,37.631%20C570.674,34.438%20570.167,32.258%20569.425,30.349%20C568.659,28.377%20567.633,26.702%20565.965,25.035%20C564.297,23.368%20562.623,22.342%20560.652,21.575%20C558.743,20.834%20556.562,20.326%20553.369,20.18%20C550.169,20.033%20549.148,20%20541,20%20C532.853,20%20531.831,20.033%20528.631,20.18%20C525.438,20.326%20523.257,20.834%20521.349,21.575%20C519.376,22.342%20517.703,23.368%20516.035,25.035%20C514.368,26.702%20513.342,28.377%20512.574,30.349%20C511.834,32.258%20511.326,34.438%20511.181,37.631%20C511.035,40.831%20511,41.851%20511,50%20C511,58.147%20511.035,59.17%20511.181,62.369%20C511.326,65.562%20511.834,67.743%20512.574,69.651%20C513.342,71.625%20514.368,73.296%20516.035,74.965%20C517.703,76.634%20519.376,77.658%20521.349,78.425%20C523.257,79.167%20525.438,79.673%20528.631,79.82%20C531.831,79.965%20532.853,80.001%20541,80.001%20C549.148,80.001%20550.169,79.965%20553.369,79.82%20C556.562,79.673%20558.743,79.167%20560.652,78.425%20C562.623,77.658%20564.297,76.634%20565.965,74.965%20C567.633,73.296%20568.659,71.625%20569.425,69.651%20C570.167,67.743%20570.674,65.562%20570.82,62.369%20C570.966,59.17%20571,58.147%20571,50%20C571,41.851%20570.966,40.831%20570.82,37.631/path/g/g/g/svg/divdiv%20style=padding-top:%208px;%20div%20style=%20color:#3897f0;%20font-family:Arial,sans-serif;%20font-size:14px;%20font-style:normal;%20font-weight:550;%20line-height:18px;%20View%20this%20post%20on%20Instagram/div/divdiv%20style=padding:%2012.5%%200;/div%20div%20style=display:%20flex;%20flex-direction:%20row;%20margin-bottom:%2014px;%20align-items:%20center;div%20div%20style=background-color:%20#F4F4F4;%20border-radius:%2050%;%20height:%2012.5px;%20width:%2012.5px;%20transform:%20translateX(0px)%20translateY(7px);/div%20div%20style=background-color:%20#F4F4F4;%20height:%2012.5px;%20transform:%20rotate(-45deg)%20translateX(3px)%20translateY(1px);%20width:%2012.5px;%20flex-grow:%200;%20margin-right:%2014px;%20margin-left:%202px;/div%20div%20style=background-color:%20#F4F4F4;%20border-radius:%2050%;%20height:%2012.5px;%20width:%2012.5px;%20transform:%20translateX(9px)%20translateY(-18px);/div/divdiv%20style=margin-left:%208px;%20div%20style=%20background-color:%20#F4F4F4;%20border-radius:%2050%;%20flex-grow:%200;%20height:%2020px;%20width:%2020px;/div%20div%20style=%20width:%200;%20height:%200;%20border-top:%202px%20solid%20transparent;%20border-left:%206px%20solid%20#f4f4f4;%20border-bottom:%202px%20solid%20transparent;%20transform:%20translateX(16px)%20translateY(-4px)%20rotate(30deg)/div/divdiv%20style=margin-left:%20auto;%20div%20style=%20width:%200px;%20border-top:%208px%20solid%20#F4F4F4;%20border-right:%208px%20solid%20transparent;%20transform:%20translateY(16px);/div%20div%20style=%20background-color:%20#F4F4F4;%20flex-grow:%200;%20height:%2012px;%20width:%2016px;%20transform:%20translateY(-4px);/div%20div%20style=%20width:%200;%20height:%200;%20border-top:%208px%20solid%20#F4F4F4;%20border-left:%208px%20solid%20transparent;%20transform:%20translateY(-4px)%20translateX(8px);/div/div/div%20div%20style=display:%20flex;%20flex-direction:%20column;%20flex-grow:%201;%20justify-content:%20center;%20margin-bottom:%2024px;%20div%20style=%20background-color:%20#F4F4F4;%20border-radius:%204px;%20flex-grow:%200;%20height:%2014px;%20margin-bottom:%206px;%20width:%20224px;/div%20div%20style=%20background-color:%20#F4F4F4;%20border-radius:%204px;%20flex-grow:%200;%20height:%2014px;%20width:%20144px;/div/div/ap%20style=%20color:#c9c8cd;%20font-family:Arial,sans-serif;%20font-size:14px;%20line-height:17px;%20margin-bottom:0;%20margin-top:8px;%20overflow:hidden;%20padding:8px%200%207px;%20text-align:center;%20text-overflow:ellipsis;%20white-space:nowrap;a%20href=https://www.instagram.com/p/CLXQIZjACPM/?utm_source=ig_embed&utm_campaign=loading%20style=%20color:#c9c8cd;%20font-family:Arial,sans-serif;%20font-size:14px;%20font-style:normal;%20font-weight:normal;%20line-height:17px;%20text-decoration:none;%20target=_blankA%20post%20shared%20by%20Deandre%20Hopkins%20(@deandrehopkins)/a/p/div/blockquote%20script%20async%20src=//www.instagram.com/embed.js/script