Football players have personality. Sport360AZ was there to capture a few glimpses of that this year.
In its fifth year, we present the Best High School Football Celebration GIF Award field. 16 GIFs from 16 teams. It's a bunch of celebration, a bunch of personality, and that fun is one of the reasons we all love high school football so much.
Before we look at the field, let's revisit our past winners:
2015 – Bozton Sanders – Centennial
OK….so this GIF actually sparked the idea of this award. Sanders never actually had to beat any other nominees for it, but creating the inspiration for this whole dang thing means he wins the honors for 2015.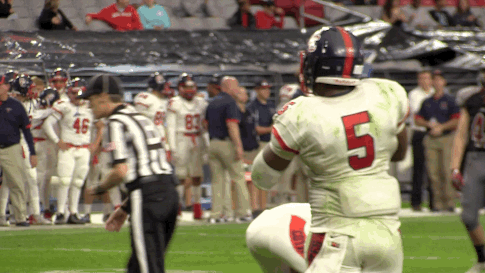 2016 – T.J. Green – Chandler – "The State Championship Shuffle"
Green capped off a 2,000 yard senior season with a state championship ring. He only wanted one dance partner that night, and that was the 6A title trophy.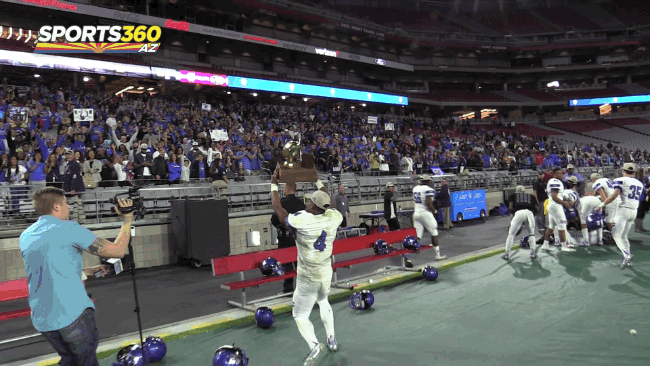 2017 – Brock Purdy – Perry – "Are You Not Entertained???"
Purdy wasn't known for showing too much emotion, good or bad, while on the field. But the 2017 state title game brought something out of him. After rushing for the game's opening touchdown (he ended the night with six scores) the Perry quarterback ran to the Puma student section to show them some love too.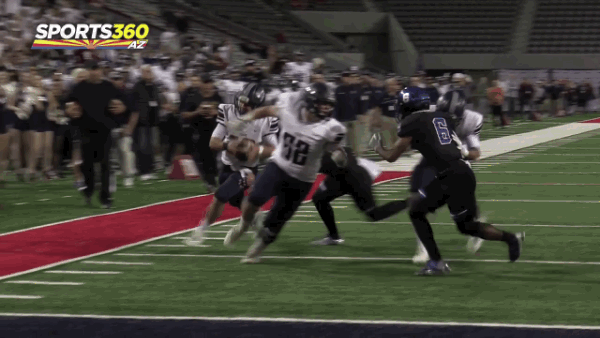 2018 – Ty Robinson & Truitt Robinson – Higley – "Brothers Gotta Hug"
Many know Higley defensive lineman and All-American Ty Robinson. But in this GIF, he was giving some love to younger brother Truitt, who – oh I don't know – took a 73-yard reception in for a touchdown to earn a playoff win. There's so much brotherly love in this that I may need to call Joey Lawrence.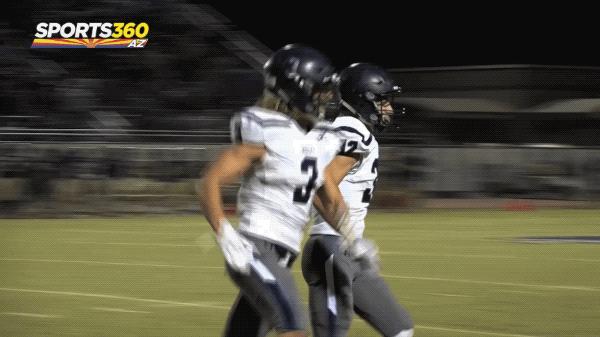 2019 – Brenden Rice – Hamilton – "Rivalry Pump Up"
Brenden Rice always shows his passion on the field and didn't need any motivation when Hamilton took on rival Chandler in his senior season. This reaction came after his second touchdown of the night.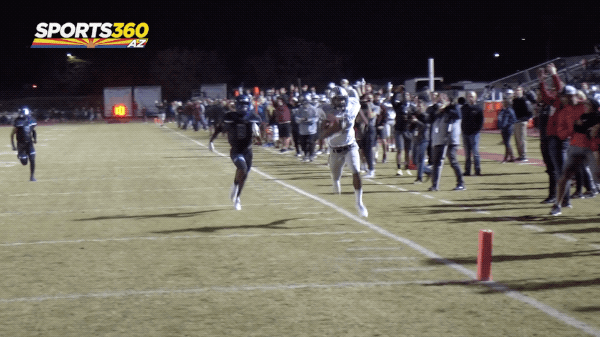 We now present this year's field, and the order has been selected at random:
Group 1
"Jaguars In the Mist…Red Smoke" – Boulder Creek
Teams have become much more creatie with how they take field and I am here for it. A few teams utilized the color coordinated smoke out of the tunnel, and seeing the Jaguars emerge was an intimidating sight for the rest of 6A.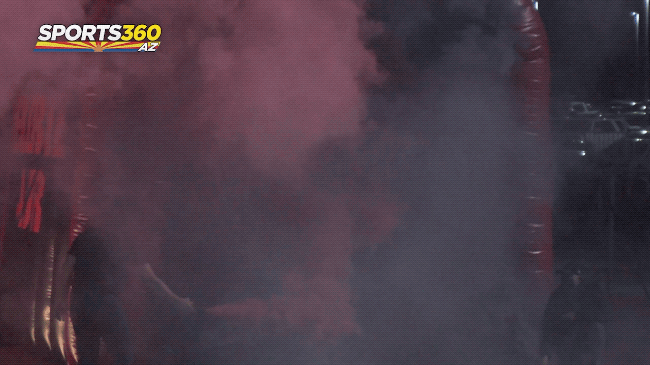 "(Fire)birds of a Feather" – Chaparral
The Chaparral Firebirds were a great 2020 story. After missing their first three games due to COVID-19, they barely played enough regular season games to qualify for the 6A postseason. But as a seven-seed, the 'Birds flew through the playoffs on their way to a state title. That adversity required them to work together, so it's approproriate their pregame hype up is all of them together with a few coaches in the middle. Right in the middle is defensive coordinator Derrick Nsubuga, who was quite the defensive lineman for the Firebirds back in the day.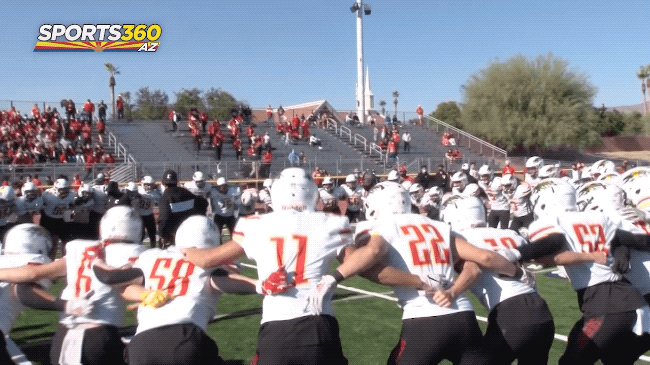 "The Porter Punch" – Porter Reynolds – Queen Creek
The Reynolds brothers have a reputation for delivering big hits at Queen Creek. Trey is heading to Utah next year after a very decorated career with the Bulldogs, and Porter has already made a huge impact as a sophomore. Fitting that Porter throws a fist pump after stuffing a 4th down play. Just make sure you aren't in the way of that celebration.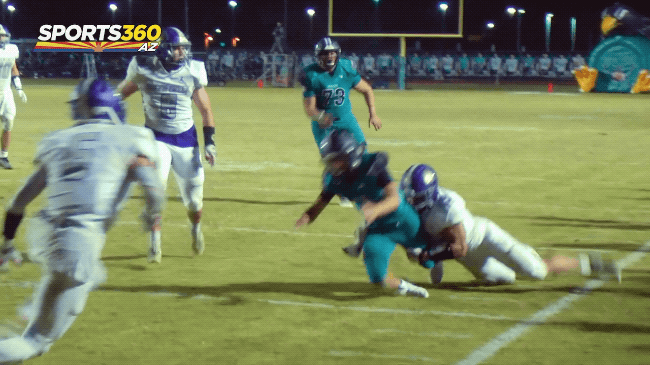 "Flexin" – Jaden Ruff – Desert Vista
Football, especially in the trenches, is all about strength. So Desert Vista senior lineman Jade Ruff wanted to remind his sideline how strong he was after blowing up a play.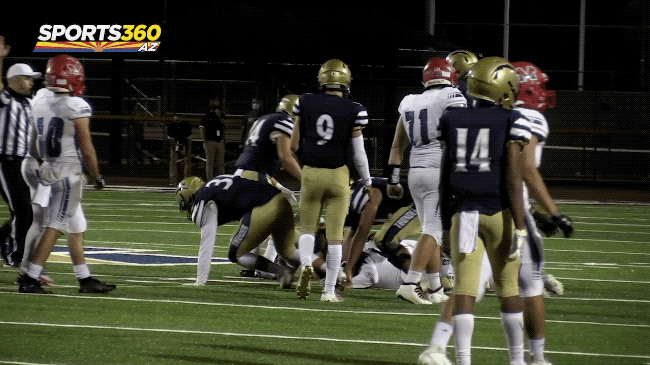 Group 2
"The Man of Many Talents" – Bram Walden – Saguaro
Bram Walden has long been pancaking guys along the Saguaro offensive line at an elite level. But the All-American also took home the first edition of the 2020 "Phat & Go" competition. He also showed off his punting skills after hauling in the over-the-shoulder pass and a nice shoulder bump with Xander Werner. That versatility led to the first nomination from a practice in the award's history.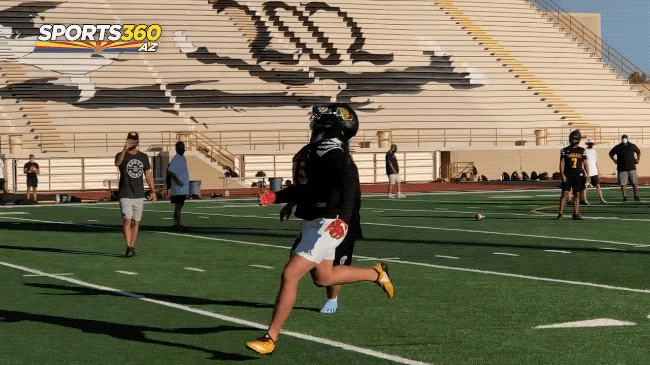 "Five Straight" – Chandler
The Chandler Wolves capped off another impressive season with a 2020 Open Division championship in 2020. Players have graduated, head coaches have changed, but it's still all about the Ohana for the Wolves.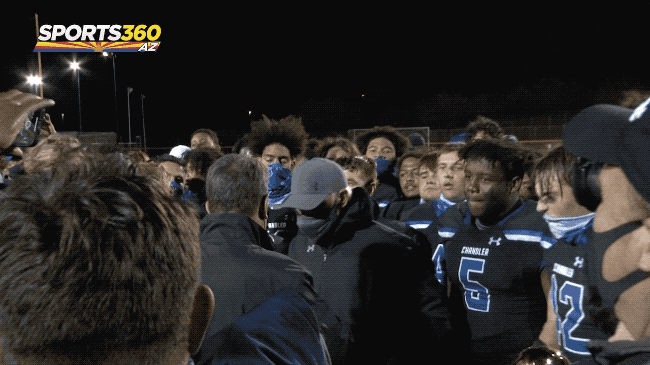 "Please, you're far too kind" – Malaki Ta'ase – Mesa Mountain View
Mesa Mountain View continues to build in their new era of the program after a 6-2 season in 2020. A big part of that was Malaki Ta'ase, who lived in the backfield all season. Even after blowing up a play, he didn't want the cheers to get to his head.
"The Highland High-Step" – Cooper Brown – Highland
This Highland team was really fun, had a lot of personality and had some good options for celebratory GIFs. We went with Cooper Brown because he perfectly encapsulated the fun and the swagger this team had as they competed, and delivered, throughout a really tough 6A schedule. They were the only 6A team to play 11 games in 2020, and they had fun doing it.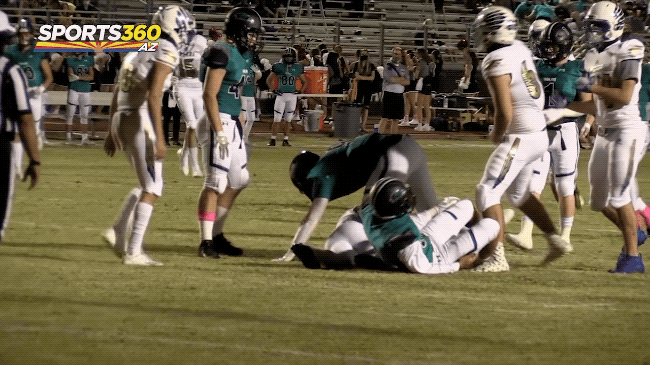 Group 3
"Big-Hit Bronco" – Ben Morrison – Brophy
Brophy 2021 defensive back Ben Morrison is one of the best ballhawks in the state, but he isn't afraid to deliver big hits, either. He was pumped up after forcing an incomplete, and he'll be one of the headliners of really good returning Bronco group for next season.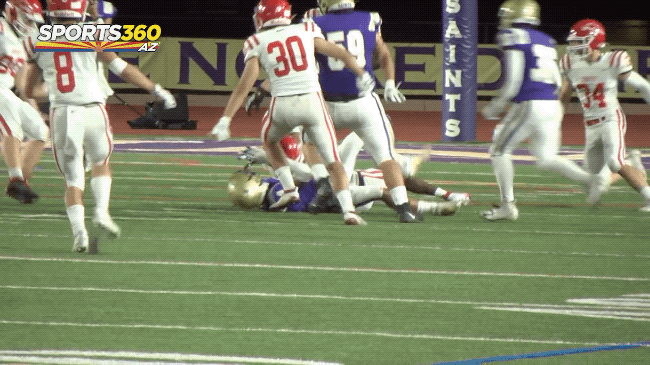 "This is gonna be funnnn" – Cole Martin – Hamilton
One of the most impressive things about elite players is their ability to stay loose during the season's biggest moments and biggst games. That's exactly what Cole Martin was doing as he was gearing up to return a kick in the Open Division championship. And if you saw the way Arizona Cardinals Special Teams Player of the Year returned kicks and punts this year, you'd want to dance too.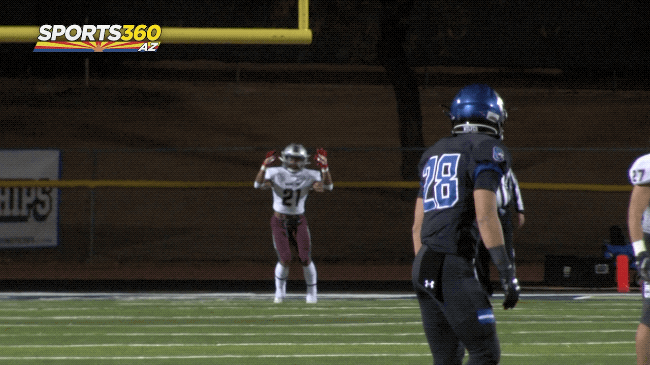 "Flex on 'Em" – Truitt Robinson & Carter Hancock – Higley
Robinson returns to the celebration GIF bracket after winning the whole dang thing in 2018 with his older brother, Ty. Hancock and Robinson were a fun dynamic duo for Kai Millner this year, and after pulling off a hook-and-ladder to perfection, why not flex a little?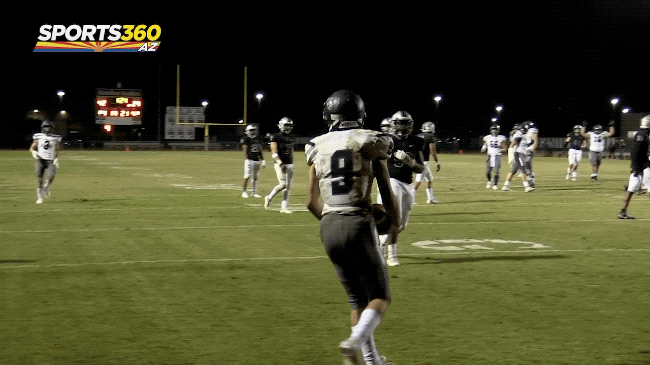 "Fresh(man) Picked" – Jeremiah Newcombe – Casteel
Jeremiah Newcombe had quite the freshman campaign, and he wasn't the only one. Here he is celebrating a big interception, and we're sure there will be plenty more big plays, and celebrations, over the coming years from these freshman Casteel contributors.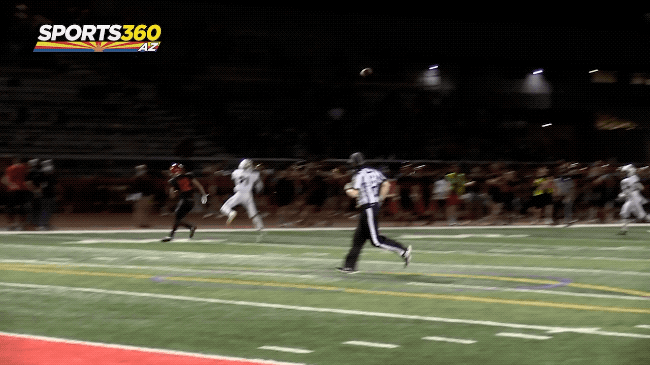 Group 4
"We Doin' This?" – Ty Thompson – Mesquite
Watching Ty Thompson work the past few years has been so much fun. The protoypical quarterback size, the big arm, the athleticism, and the stoicism that provided a calming, confident effect for his team. Here he is twirling the football on his finger minutes before the 4A state title game, ready to go make some plays.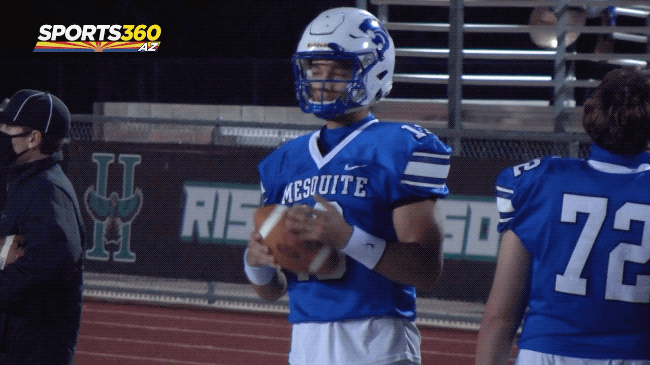 "Peek-a-Boo!" – Carson Bachmann – Basha
Entering the field can take some timing, and we love the timing of this footage. Right as the paper gets clear, senior defensive back Carson Bachmann pops up for the camera to add an exclamation point as the Bears take the field.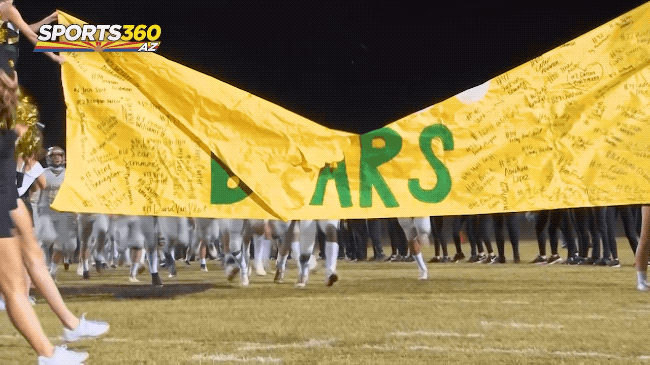 "GET THE BELT" – Cris Contreras – Desert Edge
Desert Edge was one of multiple programs to bust out the turnover belt in recent years, and that was a consistent rallying cry for the Scorpion defense that was not short on game-changing plays this year.
Those are the 16. Make sure to rock the vote for the best celebration GIF from 2020. Below are the tweets with the groupings. Once voting has completed, the final four will be revealed and voted on.
Who had the best celebration GIF from Group 1?

VOTE FOR EACH GROUP: https://t.co/8O6TC02SxO

— Sports360AZ (@Sports360AZ) December 15, 2020
Who had the best celebration GIF from Group 2?

VOTE FOR EACH GROUP: https://t.co/8O6TC02SxO

— Sports360AZ (@Sports360AZ) December 15, 2020
Who had the best celebration GIF from Group 3?

VOTE FOR EACH GROUP: https://t.co/8O6TC02SxO

— Sports360AZ (@Sports360AZ) December 15, 2020
Who had the best celebration GIF from Group 4?

VOTE FOR EACH GROUP: https://t.co/8O6TC02SxO

— Sports360AZ (@Sports360AZ) December 15, 2020