It's rivalry week in the state of Arizona. Arizona State will travel down to Tucson to face Arizona on Friday, as both teams look for their first win of the season in the 94th annual Territorial Cup.
Former Sun Devil Scott Peters joined the Brad Cesmat Show to talk about what the rivalry week meant to him. Is hatred too strong of a word to describe the emotions leading up to the game and the actual game itself?
"It's always about that," Peters said. "You have that great rivalry and this year, as strange as it is, I think hatred is always a factor and this year maybe more so because it looks like a short run this year, so to come home with that trophy, you could salvage the season on some level."
Peters played for the Sun Devils as an offensive lineman from 1997 to 2000. He reflected on what things were like for him and the team leading up to the matchup against Arizona.
"My freshman year I heard stories that guys hated them and I was like, 'What's the big deal?' and as you get into the game and you realize, 'wow, this is nasty,'" Peters said. "It's a real rivalry. It's a real hatred because down there at U of A, they don't care how they do as long as they beat ASU. That's a big deal.
"It's a dirty game, physical game, nasty game. It's always memorable, but coming out of there with a win is important."
Peter's best memory playing in the Territorial Cup came in 1999 at Sun Devil Stadium, when ASU defeated the Wildcats 42-27.
"I think we ran for 300 yards against them," Peters said. "Just broke them in half and it was a fun time for us. As an offensive line, you want to put a lot of yards on the defense because when you get a chance to do that throughout the game, you feel them break."
After his collegiate career, Peters was drafted in the 2002 NFL Draft by the Philadelphia Eagles and played with various teams for seven seasons. During the 2009 season, he won an NFC Championship with the Arizona Cardinals and appeared in Super Bowl XLIII.
Now, Peters is in his first season as an assistant offensive line coach for the Cleveland Browns, who are currently 9-3 and coming off an impressive win 41-35 shootout victory against the Tennessee Titans.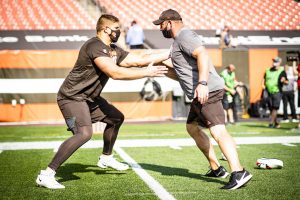 He is proud of how the team is performing so far in Cleveland – an organization that hasn't been to the playoffs since 2002 (longest current drought in the NFL).
Peters has enjoyed getting to work with and be around offensive line coach Bill Callahan because of how much knowledge Callahan possesses. Peters is continuing to learn and grow everyday, just like his players.
"If you take everything that we've endured this year, COVID-19, and the Browns of all teams to do well and for me to be apart of it, I didn't necessarily say I could see this coming," Peters said, "but I'm excited to be here and be around a great group of guys and watch them grow and have success on the field because they're putting in the work under crazy conditions."