Story by Maddyn Johnstone-Thomas
Roch Cholowsky threw for 136 passing yards and a touchdown last Friday night in Hamilton's 50-0 quarterfinal victory over Corona Del Sol. Despite the strong numbers on the gridiron, there's another sport that the Husky quarterback excels at.
Growing up, baseball was always Cholowsky's main sport, as he has family ties with it. His dad, Dan, played minor league baseball for eight seasons and his mom, Tika, worked with the Oakland Athletics as an Account Manager for a year.
Dan also played football in high school, which is where Roch's love stemmed from as well. Balancing two sports hasn't been much of a task for Cholowsky, who has showcased his talents in both arenas.
"It hasn't been too tough because I've been doing it since I was young, but in the transition from baseball, or from football to baseball really helps me because I'm lifting all fall, and then going into baseball being in shape helps me out a lot," Cholowsky said.
On the diamond, Cholowsky is already showing the talent he has. As a sophomore, he has already committed to play baseball at UCLA, which has been a dream of his since he was a young boy.
"My whole family is based out of Southern California, so I mean having them at all the home games, it's going to be great," Cholowsky said. "Then of course it's not too far from home, only about a six hour drive, and not too long of a flight, so if I were homesick or needed to come home I could always do that and just the coaching staff there is great."
You knew early on what you wanted and continued to work hard toward that goal! Stay humble and kind & enjoy the ride. Go Bruins! ?❤️ @CholowskyRoch pic.twitter.com/QVid7jFoeF

— Tika Cholowsky (@Tcholowsky) June 21, 2020
Head coach Michael Zdebski admires Cholowsky's abilities to be a multi-sport athlete as well, expressing his admiration for his work ethic and dedication to both crafts.
"The fact that when he goes out to practice, he competes every day," Zdebski said. "He knows he's got one of the best quarterbacks in the country in front of him and being such a good athlete and such a competitive young man, that he has that much humbleness and care for the team to do what's best for the team, and to help the team in any way he can
"I think it's a great example for a lot of kids that it's okay to play multiple sports. It's okay to run track and play baseball and wrestle and play basketball and play football."
He also has the support of his teammates. In Friday's win, Cholowsky stepped in for highly-touted junior quarterback Nicco Marchiol after he suffered an injury a week prior to the playoffs against Chandler.
With a new signal-caller under center, Cholowsky's teammates had his back while stepping into a tough situation.
"It meant a lot because all the guys behind me, they were all cheering me on the whole week, and of course defense put up a big zero (against Corona Del Sol) so that helped," Cholowsky said. "They pretty much rallied behind me and helped me out throughout the week and then when Friday came, we were all just locked in."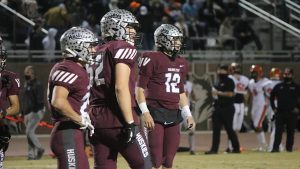 Zdebski saw how Cholowsky rose to the challenge of stepping in for Marchiol. He impressed him leading up to gameday last Friday with his day-by-day preparation.
"I think early in the week, he didn't have the leadership that you want to see in a quarterback," Zdebski said. "You know commanding the huddle, then it got a little bit better on Tuesday, then it got a lot better on Wednesday and then by Thursday it was his offense. Not a lot of kids can do that, to take charge of things, but he did and that's why he is the overall athlete that he is."
According to Prep Baseball Report, the 6-foot infielder is ranked number one in Arizona for the class of 2023. Even though baseball is his main sport, he values the lessons that he's gaining from football as the Huskies try to make a run in the Open Eight postseason.
"I want to take some of the coaching points from high school football later in life, the discipline, and take that with me and implement that in my baseball game," Cholowsky said.
Extremely honored to announce that I am going to be furthering my academic and athletic career at UCLA. I would like to thank my family, friends, and coaches for everything they have done to get me to this point. GO BRUINS??? @UCLABaseball @UCLA @UCLAAthletics @B_Ward_23 pic.twitter.com/TPerFF486O

— Roch Cholowsky (@CholowskyRoch) June 20, 2020
Cholowsky has earned the respect of his teammates because of his competitive nature and how he respects them, which makes him a great teammate on and off the field. Cholowsky's future is bright in both football and baseball, regardless of what field he steps on.
"I believe that he is a Division One quarterback as well," Zdebski said. "When it's all said and done, when he's a senior, he'll have the choice of being a quarterback in football or being a baseball player and then it's up to him what he wants to do."
Cholowsky and the Huskies are set to face Salpointe Catholic this Saturday night in the Open Division semifinals.