Story by Maddyn Johnstone-Thomas
It was a record-breaking night for Arizona State football last Friday as it put up 70 points against Arizona for the win, which was the most points scored by the Sun Devils in Territorial Cup History.
However, the victory was special in more ways than one for Sun Devil Jackson He. With seven minutes remaining in the contest, the redshirt junior running back made history after he scored a touchdown, becoming the first Chinese-born player to score at the collegiate level.
? JACKSON HE FOR SIX ?

THE FIRST CHINESE BORN PLAYER TO SCORE A TOUCHDOWN IN FBS HISTORY.

? https://t.co/ai5cgW0WIH pic.twitter.com/cAJoY90Jao

— Sun Devil Football (@ASUFootball) December 12, 2020
Originally born in Shaoguan, China, He walked onto the football team in 2019 after giving his film to running backs coach Shaun Aguano. He moved to the United States in 2014 when he was 17 with a group of other students hoping to gain better educational opportunities.
He began his journey at Lutheran High School, a small private school in Chula Vista, California, which is now called Victory Christian. Growing up, he played table tennis and some basketball later on, but didn't know much about football, until a classmate's parent approached him to play.
"I was walking around on campus in high school and a teammate's parent came to me and said, 'You're big and you should play tackle,'" He said. "I wanted to try new things because I came into a new environment, so I decided to try it."
While also trying to learn everything about this new sport, He was also trying to learn a new language. However, he was up to the challenge and embraced it, rather than shying away from it. He watched TV shows in English, one of his favorites being Big Bang Theory, and tried to talk to people in English whenever he could to get better.
At the end of his first season, He was named Most Improved Player on the team and gave credit to his teammates and coaches at the time.
"The first season was really miserable because I didn't know anything about football, but my teammates and coaches were really supportive and patient," He said. "They taught me a lot of detail and helped me watch film and stuff. I really appreciated that."
When He started school at Lutheran High School, he came in as a senior, but ultimately decided to reclassify in order to gain more experience on the field with hopes of getting a scholarship to ease his financial burden.
After high school, He decided to go to the University of Jamestown in North Dakota, and redshirted his first year. During his second season, He rushed 80 times for 376 yards.
After being in San Diego, the cold wasn't something that He was used to being in North Dakota. It wasn't his thing, so he went back to China to sort matters out before deciding to come back to the United States and apply to Arizona State. He wanted more of a challenge at a bigger university.
Not only did He embrace his new opportunities with his new team, but his new team is embracing him as well. The team presented He with a jersey that had his Chinese name, He Peizhang, on the back, which was an emotional moment for everyone.
"I never thought this was going to happen. It was a surprise," He said. "It's an honor to have my actual name on the back of my jersey. That means a lot and I really appreciate the equipment room to do that for me."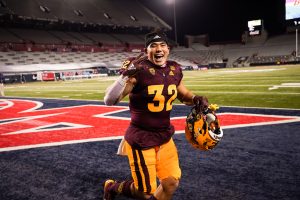 When He came to the United States, he decided to go with the English name Jackson in honor of his love for pop star Michael Jackson's music. His favorite song by the late star is 'Beat It'.
After the victory against Arizona, co-defensive coordinator Antonio Pierce came to practice with a shirt that had 'Chinese can ball too' written in Chinese.
"It's family," He said. "We are a family. We love each other and we are happy for each other and happy to see people succeed."
"HE"can Ball ? #ChineseCanBall2️⃣ pic.twitter.com/TNJ7zwD1Zy

— Antonio Pierce (@AntonioPierce) December 15, 2020
He's story is creating waves all across the world, including in China. Tencent Video, a streaming service with more than 900 million monthly users, will stream Arizona State's game tonight against Oregon State.
Even though He is proud of his accomplishments, he is staying humble and will be ready when his number is called at any time.
"I think this is what life is," He said. "There are going to be a lot of people that are really good at this position, but I think you have to be prepared for everything that's coming to you so when your chances come, you can take over."