You don't have to look far to see some of the quarterback talent that Arizona high schools have had on display in recent years.
Two Power Five Championship games this weekend feature former State 48 high school signal-callers dueling it out against one another.
Rattler v. Purdy, Part II
When Oklahoma and Iowa State met the first time this season in early October, it was a shining moment for some of the local quarterback talent that has passed through the valley.
Both players didn't disappoint, with Purdy throwing for 254 yards and a touchdown, while Rattler delivered with 300 yards and two touchdowns himself in a nail-biting one-touchdown win for the Cyclones in primetime.
Now the former Pinnacle and Perry High School stars will meet again on the national stage this weekend in the Big 12 Championship Game for a top-10 rematch to likely determine who's playing in a New Year's Six Bowl.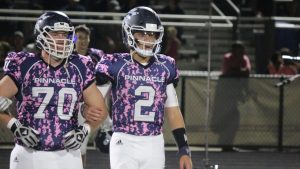 For local players looking to follow in the footsteps of quarterbacks like Purdy and Rattler, it's another great opportunity to showcase what this state has to offer. It's some must-watch Saturday morning football.
Shough and Slovis
Another power-five Championship game featuring former Arizona quarterback stars this evening is the Pac-12 Championship game between Oregon and USC.
All four Arizona quarterbacks will be on display, and it should be a weekend for talent in Arizona to be put on notice. With National Signing Day happening just a couple days ago, the question now is who's going to be the next Arizona quarterback to step in the national spotlight in college football? Mikey Keene, Ty Thompson, Will Haskell? The state continues to churn out high-end talent.