Football weather…finally (for a week)!
Yep, I was the person underdressed and running for cover last Friday night as the rain started in the north Valley.
Some people just never learn.
Anyway, here's this week's "Zone Read."
Pick Your Eight
I promised myself I wouldn't take the bait but "Zone Read" just can't resist the urge, I suppose.
The AIA released their initial Open 8 Playoff rankings and the results were…puzzling – fitting for the AIA's 2020, right?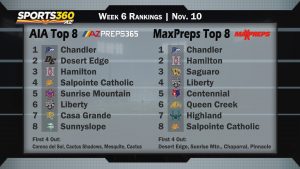 — Sports360AZ (@Sports360AZ) November 7, 2020
The two have grown close over the years and Garretson even attends Farrel's son's Pop Warner games.
The 4-2 Hawks are on a modest two-game losing streak but Chandler is well aware of their talent up and down the roster.
"[Highland] is right up there as one of the top five teams in the state," Garretson said without hesitation. "I don't think there's any question and that's at all levels."
One Last Ride
While most schools are well into their season and some lucky enough to be working on their playoff positioning over the next two weeks, the Phoenix Union District's finale will be Friday night.
Their COVID-delayed year will total three games.
48 more minutes of football in 2020 under the Friday night lights for all off those varsity players and, sadly, each and every single senior at Alhambra, Betty Fairfax, Camelback, Carl Hayden, Central, Cesar Chavez, Maryvale, North, South Mountain and Trevor Browne.
That's it.
One of those seniors is South wide receiver/cornerback Travis Gammage.
"It's crazy," Gammage said to the "Zone Read" shaking his head. "You never expect stuff like this. I don't think it's set in all the way yet, either. I feel like I'll understand it on Friday like, 'Man, this is truly my last high school game.' I'm really blessed that we got to play at all because there was no season at first."
The 6-foot, 165-pounder who carries a 4.3 GPA, has played varsity since his sophomore year and last season caught 10 touchdowns and averaged nearly 15 yards per catch as the Jags finished 7-3 and claimed their first region title since 2008.
I had a great conversation with @SamKing10 from UND, a virtual visit with offensive coordinator @jrhoff26 from Simpson University, and ended the night with a great chat with special teams recruiter @CoachKMoss from @CSUPFootball! @SpiceBoy408 @CaliBloodLine81 @CoachJLaMar

— Travis Gammage (@GammageTravis) May 7, 2020
As a whole, 2020 has been difficult to navigate for Gammage, his teammates and every other student-athlete in the PUSD.
"It's been really tough, blows after blows," he explained as South prepares for their season finale at North. "We would come back [to football], do some training and then they'd call it again. It's been impactful. It's been tough. School on-line has been tough, as well. Everything has just been real different…football has been a great escape. Being able to escape into a world where I am seeing people in-person. I am able to hang out with my friends.
I'm just glad my family is healthy, everybody on the team is healthy. I'm blessed for that."
Well put.
We should all share Gammage's honest yet positive perspective on the current situation.
Some college is going to get a quality student-athlete but more importantly, a great person over the next four or five years.
The Fight For Flagstaff
Like Coco vs. Flag needed any extra juice, right?
Friday's rivalry game at Cromer Stadium between the visiting 4-2 Eagles and the 6-0 Panthers will decide the Grand Canyon Region as FHS can force a tie with Coconino with a victory in both teams' regular season finale.
Somewhat quietly in the pines Mike Lapsley's team has run the table to this point behind a balanced rushing attack and steady quarterback play.
Coco has three players with at least four rushing touchdowns with Zach Bennett leading the way. The senior three-year starter who has eclipsed 1,000 yards each of the last two seasons has 925 through the first six games (at least 100 yards rushing in every game this season) and 11 rushing touchdowns. Quarterback Ryan Seery has thrown seven touchdowns against just one interception.
The Panthers will be prepared, disciplined and ready.
The Eagles have a stud running back themselves in Luis Jaramillo who "Zone Read" saw first hand earlier this year.
Flagstaff fast ??‼️- expect lots of points this season from @FlagstaffEagles. Senior ⭐️ RB/LB @Luis_Jara2021 is a total dude. @Sports360AZ pic.twitter.com/HhmZyU5D4C

— Eric Sorenson (@EricSports360AZ) September 4, 2020
This senior wrecking ball has rushed for 860 yards and 12 touchdowns and once blocked for Bennett when both shared a backfield in youth football according to KAFF Sports Director Dave Zorn who knows northern Arizona prep sports better than anyone.
"I think both teams are playing their best football right now," Zorn noted to the "Zone Read" on the matchup."I think Coco is the better team but Flag could win the game and I wouldn't be surprised."
Until two years ago, this game was played exclusively at NAU's Walkup Skydome (Flag's home field until COVID this year) before Coco pushed to host the game every other year on their campus. Flag and Coco have shared Cromer this season.
Pitt(s) Stop
Methotically the defending 6A Champion Liberty Lions have placed themselves squarely back in the Open Eight conversation after a 1-2 start.
First-year head coach Colin Thomas has a somewhat new-look roster from last year's title team but 4-2 Liberty has won three-straight behind a core of veteran players, including Shane Pitts who does a little bit of everything, including remind opponents why it's not safe to venture over the middle against the back half of their secondary.
.@LibertyFBLions riding a 3-game win streak and had the pads popping last night…like senior captain @ShanePitts12 ?!! Grab the body bag ☠️☠️☠️… pic.twitter.com/E1Q9xgRBXf

— Eric Sorenson (@EricSports360AZ) November 7, 2020
"Shane Pitts is a special, special kid," Thomas said to the "Zone Read" after last week's road win at Pinnacle. "He plays as hard as any kid I've ever seen. He's that physical. He does everything for us. He's punting, he's kicking. He plays a little offense every now and then. He's a special player and we're lucky to have him."
If Liberty and Centennial hold serve Friday, next week's showdown will determine the Desert Valley Region champion.
There's some good stuff happening in the west Valley this year.