Story By Jordan Spurgeon
The PAC-12 is officially back. With only a six game (plus one) schedule, each game is even more crucial than in a normal season.
ASU opened their season with a 28-27, last-minute loss to No. 20 USC. The road to a PAC-12 South championship now goes through the Trojans.
DRAKE LONDON MY GOODNESS ??

What a perfect throw from @Kedonslovis to @DrakeLondon_ to give @USC_FB the lead! pic.twitter.com/EoS8SgErOq

— FOX College Football (@CFBONFOX) November 7, 2020
Here are some notes and quotes from today's #PAC12BeforeBrunch contest.
The Passing Game Was Limited
The offensive line did well with four rushers. But USC often sent five or more, forcing Jayden Daniels into rushed throws. The second half adjustments proved to help a little, but there was still constant pressure on Daniels, who finished 11-23 with 134 passing yards and a touchdown.
"USC did a good job taking away the pass," Daniels said in his postgame press conference. "We just gotta go back to the drawing board and watch the tape this week."
On the final drive, Daniels and the offense found a rhythm. But after a potential catch down the sidelines was reviewed and overturned, they didn't regain momentum.
"We were definitely talking about that on the sideline," ASU offensive coordinator Zak Hill said. "It took us out of some momentum and we tried to recover from there and we just couldn't."
The New Running Backs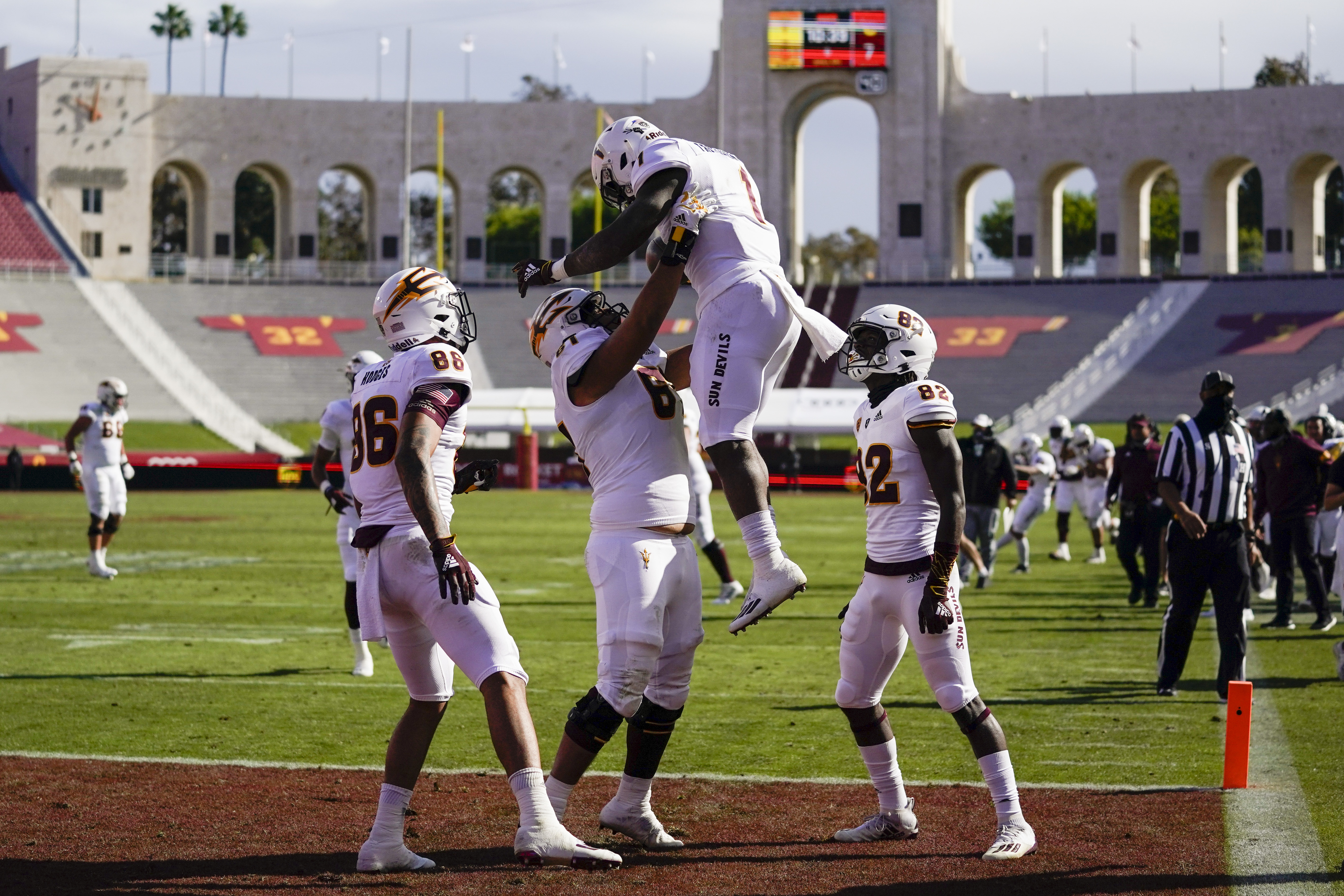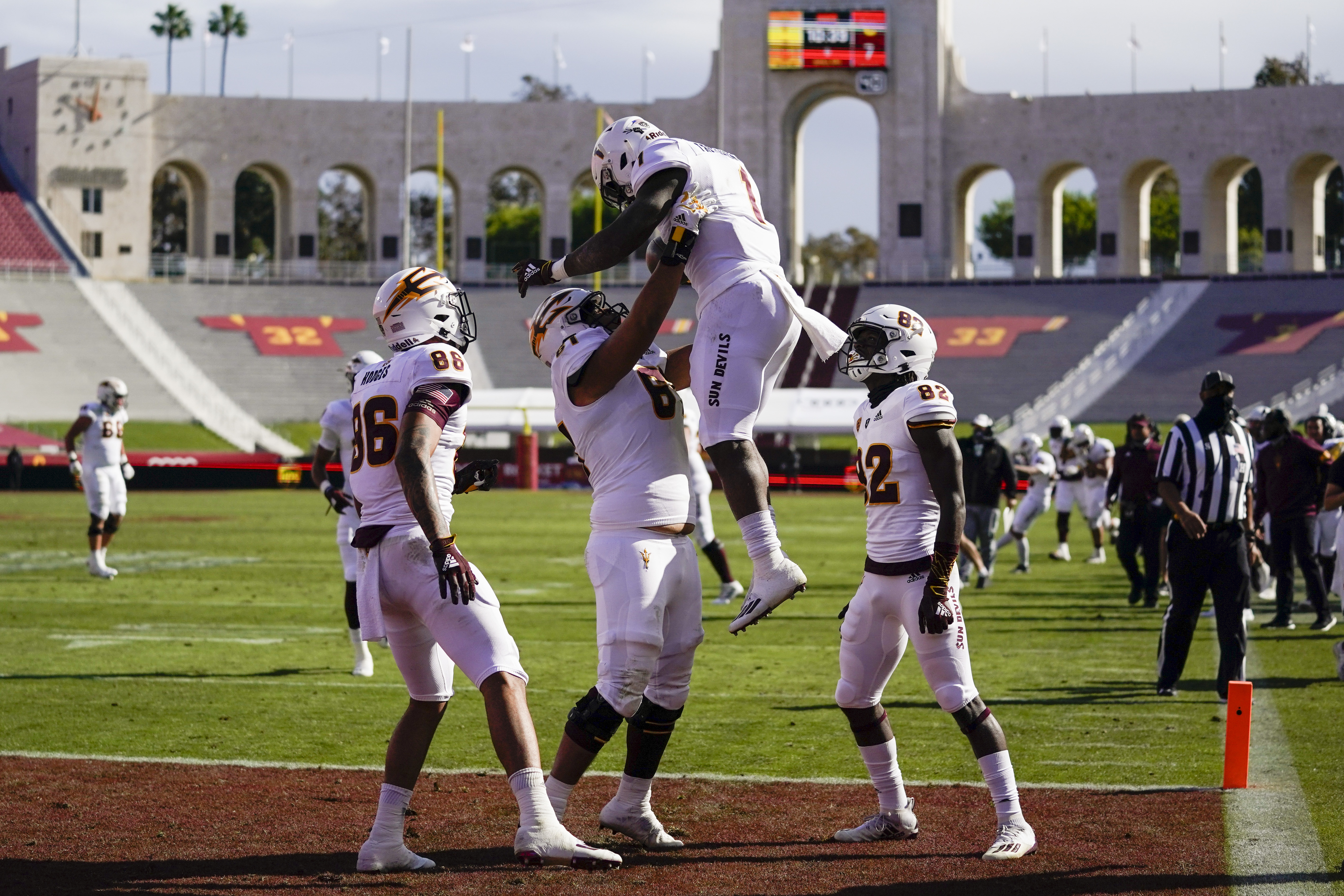 After Eno Benjamin became a seventh round pick for the Arizona Cardinals, many Sun Devil fans wondered who would take the reigns. The answers have been forming all offseason, but this game showcased two backs who can be utilized in many ways.
JUCO transfer running back Rachaad White was named the starter this week, with freshman DeaMonte Trayanum being named his counterpart. They both garnered national attention in this one. White finished with 76 yards on 12 carries and had three receptions for 70 yards and a touchdown. Trayanum was bulldozing through Trojan defenders, bruising his way to 84 yards on 12 carries and two touchdowns.
"Our running game was great today," ASU head coach Herm Edwards said. "DeaMonte is a bruiser and Rachaad is a smooth runner. They played really well today."
The JUCO product (@7_chaad) is off to a great start for the Sun Devils

The RB has 70 receiving yards on 3 catches.pic.twitter.com/OQhHkV6May

— Jordan Spurgeon (@spurge_) November 7, 2020
Special Teams Woes
Special teams issues were the opening chapter and the final page of this matchup.
The first punt of the game was muffed by Jack Jones. It didn't lead to USC points, but it did give them more time of possession.
Then with a 27-21 lead and 2:52 left, the Sun Devils failed to recover an onside kick, leading to the go-ahead 21 yard touchdown from Slovis to Drake London with 1:20 remaining.
USC RECOVERS THE ONSIDE KICK! @USC_FB pic.twitter.com/sfN695eBF1

— FOX College Football (@CFBONFOX) November 7, 2020
"It's not like we didn't have our hands team out there," Edwards said. "It just went their way this time. We have to make more plays."
Daniels Makes History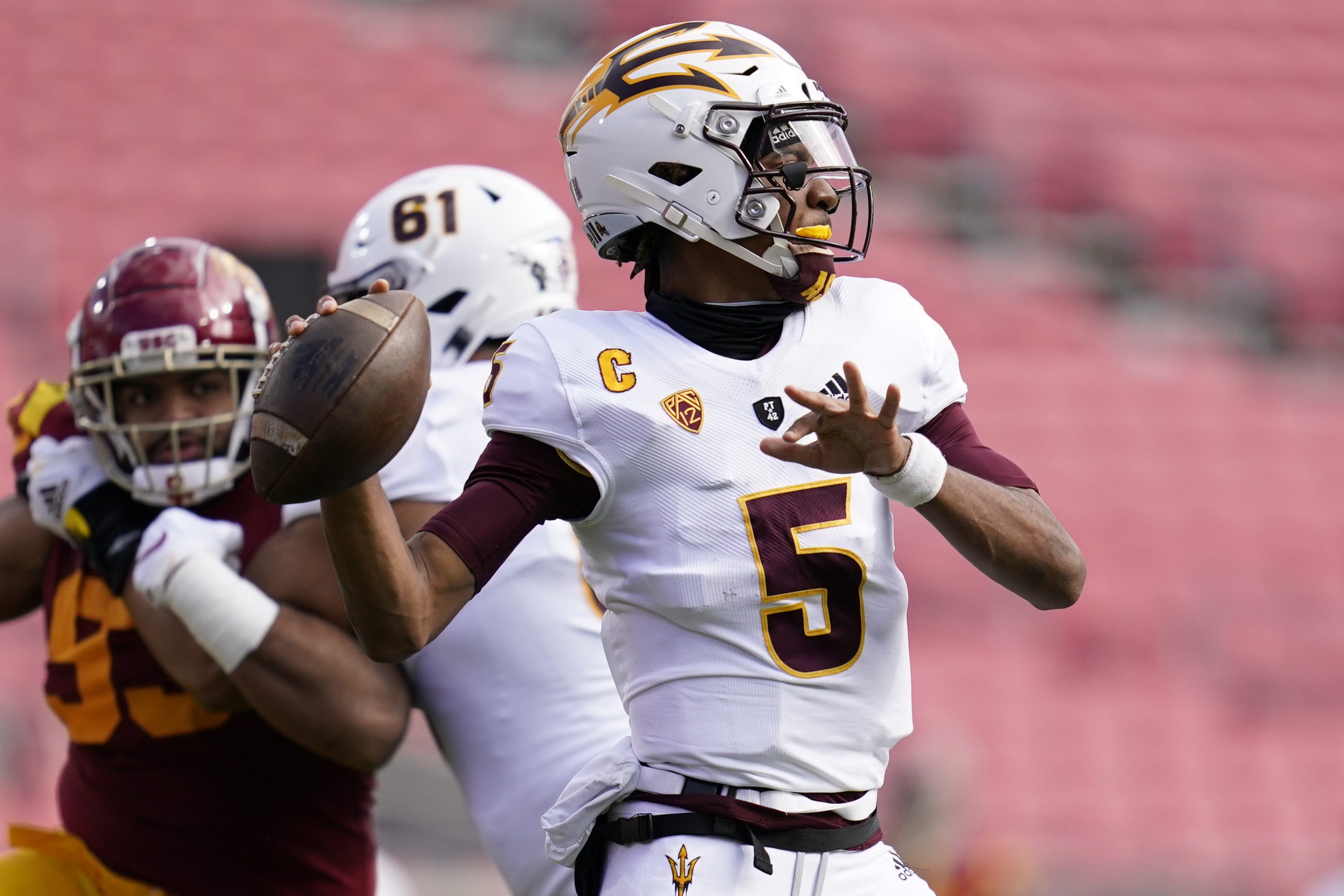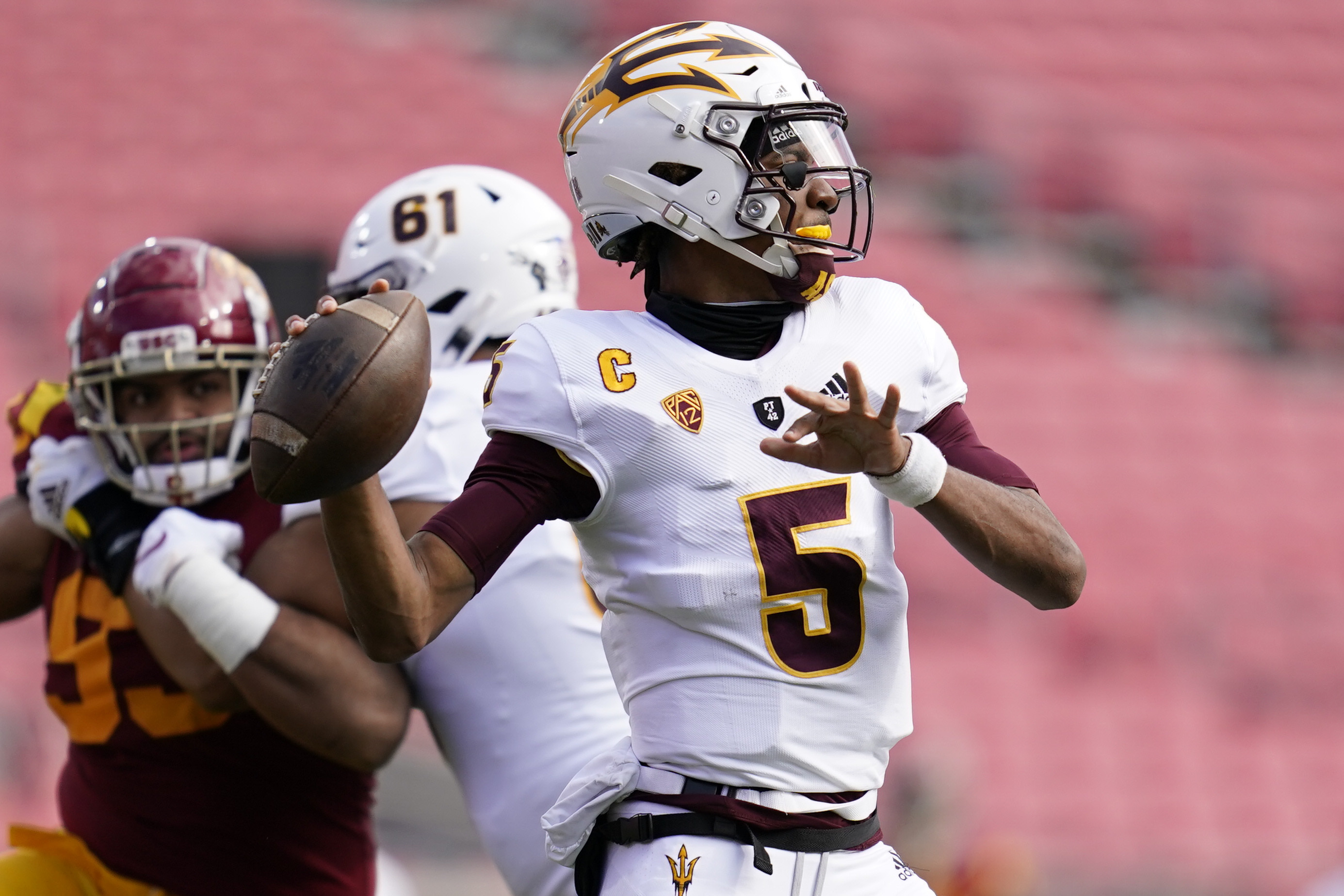 ASU now has three quarterbacks who have rushed for 100 yards in a game. Daniels joins Mark Malone (3) and Taylor Kelly (1) on that list after finishing with 111 rushing yards on 11 carries.
"Jayden did a great job running around making plays with his legs," ASU offensive coordinator Zak Hill said.
Defense Bent, Then Broke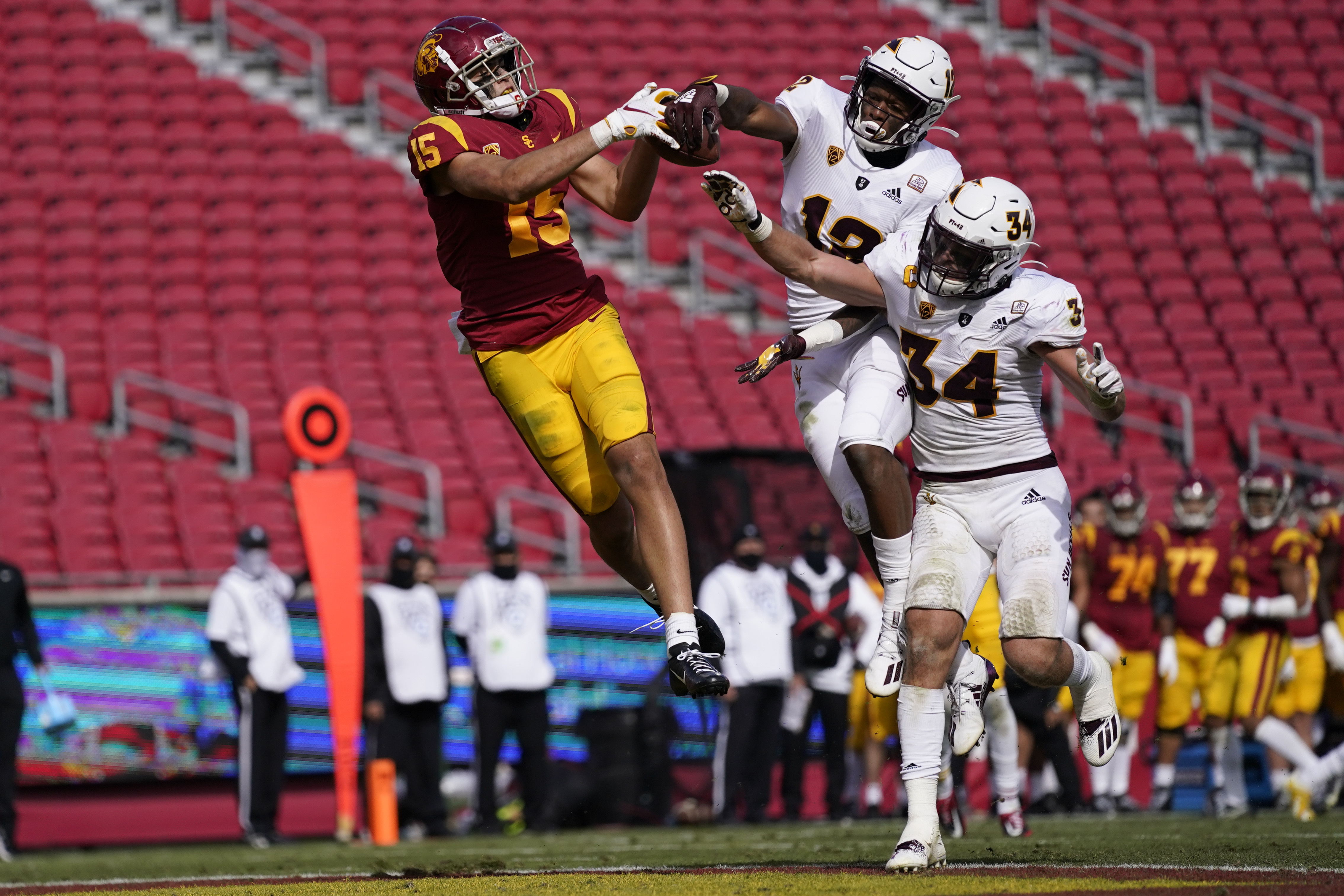 Marvin Lewis and Antonio Pierce have implemented a new defense this year. And this Trojans offense could be the best they face. Quarterback Kedon Slovis finished 40-55 for 381 yards, two touchdowns and an interception.
In the first half they limited the big plays. But in the fourth quarter, the Trojans made some explosive plays, including the dagger to put USC on top.
"It was honestly good coverage," Edwards said. "It was just a great throw."
The Sun Devils allowed 556 total yards. Jack Jones played well against Amon-Ra St. Brown early, but he finished with seven receptions for 100 yards.
Wide Receivers Timing With Daniels
The first half saw a lot of timing issues between Daniels and the wide receiving corps. Frank Darby went down early with an injury, so he only had one catch for two yards. The rest of the young group had to step up and make plays.
"It's all about experience with this receiving corps," Hill said. "I thought those guys, as far as their demeanor and how they handled themselves on the sidelines, was impressive today."
Looking Ahead
ASU is scheduled to play its home opener against the Cal Golden Bears next Saturday, but Cal didn't play its opening matchup against Washington due to a player testing positive for COVID-19 this week. Due to quarantine and contact tracing regulations, Cal didn't have enough scholarship players who were eligible to participate, and the game was considered a no contest by the PAC-12.
It will be an ongoing situation, which the Sun Devils will have to prepare for.