Story by Maddyn Johnstone-Thomas
League of Champions. It's a motto that the Northland Preparatory Academy girls soccer team has instilled within their program, and it's engrained in the program's identity.
The numbers speak for itself. Northland Prep went undefeated this year and won its fourth state championship in a row. Over the past four years, they went 75-1-0.
Seven years ago, Michael Blair started with the team as an assistant coach. The best record the program had ever seen was 6-6. They went to the state championship that year, but ended up losing.
However, that team learned a lot from it. During the 2017-18 season, Blair and Keith Hovis, who was also an assistant at the time, took the program over and became head coaches. Things only went up from there.
"The first year, there was just that environment that wasn't really for each other, it was kind of how high school sports can be and we really changed that culture around and I think that's where we got kids to believe in each other and we were able to make it to the state championship," Blair said. "We surprised a lot of people because we weren't that good but they played together well and made it happen."
For Blair, this group of seniors is special not because of the history that the team has made, but because of the history that they have together.
"I've coached basically all of our senior group," Blair said. "I've coached them since they were younger on the club side so I spent a lot of time knowing them. It's pretty rewarding to see how they were able to really dominate this time of their playing careers and just how intelligent they are not only on the field seeing things, but also in the classroom."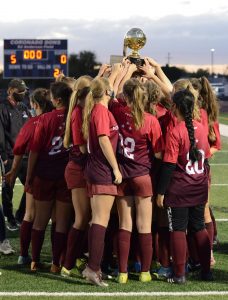 One of those special stars is Blair's daughter, Mia, who has played on varsity all four years of her high school career. It has been a family affair for the Blair family, who have had multiple kids come into the program and play alongside their siblings and for their dad. Coach Hovis' daughter also plays on the team.
"There's a lot of different family ties, which to me has really just built the experience to another level, because I think that a lot of the girls on the team, regardless as to what their life outside of the soccer field is like, get to see what it means to come on to the team that has such a family dynamic," Mia said. "I think that really has helped us replicate having a family on the field as well with our teammates."
As captain of the team, Mia has been one of the top players on the field and was selected as an All-American and is also a finalist for the All-American game in St. Louis next year. She has also been named Conference Player of the Year. However, as selfless leaders often do, she doesn't take credit for all of the accolades.
"A lot of the credit can't just be given to me for winning the award," Mia said. "Soccer is obviously a team sport and we have so many really great players on our team. I just felt very privileged to be able to play on it for all four years, and that all my teammates, hard work, and effort put me in a position to be able to get that award."
Mia currently has an offer at Wheaton College to play soccer. It is a smaller Christian college, but that is something that she valued when talking with the coaches. She wants to continue to grow in her soccer career.
"Their team seems like the team that I'm going to leave this year, which to me is really incredible to be able to find it again and find an environment like that," Mia said. "Everything that they said definitely felt like a near replication of the experience I just left, but I think that it will also provide so much room for me to grow as a person and as a player which is ultimately my goal."
Kiarra Hovis is also a senior that has been on the team for all four years and was a captain as well. Hovis tore her ACL last year, which changed things when it came to recruiting, along with the obstacles that the COVID-19 pandemic has created. She is just going with the flow of things and is thankful for the memories that the team has given her.
"I really don't want to move on from soccer, especially this team just because they're my second family and they're what I've known forever," Hovis said. "I do want to keep playing soccer just because I have a love for the game and it's such a fun time whenever I'm playing, but the fact that I'm not going to be with my team and my coaches is super sad.
"I'm still looking forward to the future and I know that the rest of my team is going to go off and do amazing things as well. I'm just excited to see where we all go from here."
With this talented group of seniors leaving the program and leaving their mark for years to come, there are going to be some changes next year, but Blair is confident in the group that he has and the players that will join.
"They know they have big shoes to fill, but it's their program now, which is pretty awesome and the seniors handed it off," Blair said. "That was the big thing they wanted, to hand off their legacy and have the other ones continue it."