Story by Maddyn Johnstone-Thomas
For JT Mulvihill, football has always been his passion. His parents moved to Arizona from the east coast and as soon as he was born, he immediately became an Arizona Cardinals fan. Mulvihill constantly kept up on all the latest stats and news regarding Cardinals star Larry Fitzgerald. He was the kid at the playground reciting stats about the Cardinals and Fitzgerald.
The Chandler teen is a freshman at Arizona College Prep and is part of the football team. Head coach Myron Blueford believes that JT has a natural talent and passion for the game.
However, two years ago, Mulvihill and his family found out that he has a rare connective tissue disorder called Stickler syndrome. He has had numerous surgeries on his left eye in an attempt to save his eyesight, but unfortunately they were not able to save his left eye. It is only a matter of time before he loses vision in his right eye as well.
Due to the risk of impact to the head that JT could get in football, he is unable to partake in contact drills. However, he is still heavily involved with the non-contact drills, which is something coach Blueford admires about him.
"He absolutely does everything with the exception of contact and even with that, sometimes we're like, 'JT you can't do that,' because he tries to jump in every once in a while," Blueford said. "We kind of joked that we had to make sure we had his helmet close to us on the sidelines because he would run in if we needed a body. He's locked in and tuned in when he's doing those drills. We run routes and the ball goes in the air and everyone's kind of quiet because we're waiting to erupt with cheer because we know he is capable of catching it."
JT is loving the time that he has spent with the team so far as they get ready for playoffs.
"It's awesome," Mulvihill said. "I actually didn't think I would be this involved with the players and actually get to know them, but it was awesome and it's been an awesome journey and it's been an awesome season too."
Mulvihill decided to take his love for football off the field as well, and apply it in the classroom. He came up with a design for a helmet liner that would help reduce the impact a football player receives to the head when hit.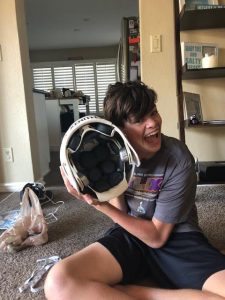 The project took two years to complete and he entered a national competition where he won second-place and a check of $2,500 which he can put toward any STEM camp he wants.
"The first year was more about testing different materials and testing how these different materials reacted and how they recovered in certain scenarios," Mulvihill said of his process. "Once we figured out what product was the best from that first year, it was kind of okay how can we build off of this and make the product the best that it can be."
JT's mom, Taragh, is proud of her son and the accomplishments that he has had up to the point, but remembers the obstacles they faced to get there as well.
"He had a lot of failures in this project," Taragh said. "I spent about two weeks' salary buying cantaloupes because we were testing cantaloupes inside helmets in the backyard and we couldn't get the cantaloupes to sit in the helmet right. We couldn't get the sensors to stay on the helmets.
"This last year probably the hardest part, besides reconfiguring the design here and there, was finding a lab that would let him come and test the helmet. We put our brains together as a family for that and pretty much researched all the helmet labs whether it was professional companies or colleges universities. We're super proud of him. When he went into Nationals our mantra 'Immerse yourself in the experience and if something great comes out of it.'"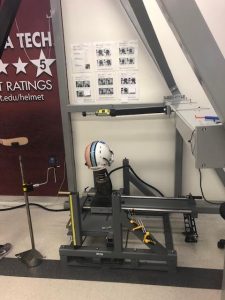 JT has the support of his teammates and coaches on and off the field, too.
"It's become one of the things that we've cheered for at the beginning of the season. All of his teammates knew about it," Blueford said. "He was gone for about a week because he was going through the final portion of it, but it was talked about as a team every single day. I reached out to him and asked him how everything went. It was becoming one of the wins that we wanted on top of just being on the field."
Another one of JT's passions is marine biology. Besides football, he also loves sharks and sea life. His mom hopes that he can find something that he enjoys studying in college and make a career with it. For now though, Mulvihill is focused on perfecting his new design.
"My hopes are to just make the game as safe as possible," JT said. "So that means it's going to take a while, and it's going to take a lot of trials and a lot of failures. If that means somebody in control with a bigger profit maybe needs to take that away from me, you know they need to take it away from me. It's a group effort, it's for the better of everybody."
Blueford doesn't think that JT's disorder defines him and that shouldn't be the only story about him. His determination in excelling on and off the field speaks volumes about him.
"I don't know where he wants to go post high school or anything but he does have a great football mind," Blueford said. "I would love to see him move forward in this and maybe even get into coaching or something like that. Not only does he bring a lot of energy, but he does know the game. It's not a story that we have this blind kid and he's out here. The story is that he has a great football mind. He's a great athlete that has unfortunate eyesight, but I believe that if he had 20/20 vision, he would probably be one of the best football players we have."