Oh, hello halfway point of the high school football season. This rollercoaster ride still have plenty of time left for the unexected but we'll do our best to keep things moving in the right direction with November just a handfull of days away.
Here's this week's "Zone Read."
Another Chance
Friday night in Scottsdale the nation will see how we do things here in State 48 as Saguaro hosts Hamilton on ESPN2 at 6:00.
Outside of maybe Chandler entertaining Hamilton on November 30th, you won't find a more anticipated matchup than this rematch of last year's Open Division semifinal where the Sabercats came back to take out the Huskies 20-16 in a back-and-forth game which either of these storied programs could have won.
Both teams will have different looks than their 2019 version.
Gone are stars like Nick Arvay, Brendan Rice, Gabe Armenta, Dylan Mayginnis, Kelee Ringo, Will Shaffer, Damian Sellers and Jaylen Jeffers but there are still plenty of key returning players on both sides and the stakes are plenty high in what is expected to be another dogfight under the lights between two of the top 40 programs in the country this fall.
Life Is Good ? #sundayvibes pic.twitter.com/L4rdTqNMJe

— Jason Mohns (@CoachMohns) October 18, 2020
For the Huskies' returning players, this game will have even more juice considering it ended the careers of Arvay, Rice, Armenta, Mayginnis, Sebastian Dorman, Jamar Brown and many others who helped bring Hamilton football "back."
"I would say there's definitely more motivation," Huskies senior safety and wide receiver Brady Shough said to the "Zone Read." "We are working harder in practice and making sure we prepare like no other. We are excited for this challenge and we are ready to show the state what we are all about."
Get me there already.
Back Over The Mountain
It's a very special homecoming week for Bob Young.
The first-year head coach at Bradshaw Mountain (2-1) will be returning to his roots Friday afternoon when he takes his Bears into Cottonwood to take on the program he built at Mingus Union.
Young coached the Marauders to a 178-98-1 record during his 24 seasons at the helm. He led MUHS to a state championship in 1997 and also had two runner-up finishes.
"I coached at Mingus for 30 years, it will be a homecoming of sorts," Young explained to the "Zone Read." "All of the Mingus assistant coaches played for me and most of the current players had older brothers or fathers that played for me. I'm looking forward to bringing Bradshaw Mountain over for another great rivalry game."
Bradshaw possesses a fast, attacking defense paced by tackling machines Nick Foshee and Michael Kelly, as well as senior quarterback Josh Grant (770 passing yards, eight touchdowns, zero interceptions) and junior running back Elijah Ocuna (277 rushing yard, six touchdowns).
Mingus (1-2), who also has a new head coach in Doug Provenzano, lacks Bradshaw's sheer numbers but is much-improved behind junior quarterback Zach Harrison and running backs Jonathan Sanchez (five rushing touchdowns) and Austin Meyer (three touchdowns).
Young, the former Notre Dame Prep defensive coordinator, pursued the Bradshaw job after Sedona Red Rock opted to cancel football this fall due to a lack of players.
Incredible Shrinking Coaches
Long-time close friends and head coaches at two of the states most successful high school football programs need to be applauded for their dedication and commitment to bettering themselves during the COVID-19 pandemic.
Higley's Eddy Zubey and Cactus' Joseph Ortiz both decided it was time for a life change and it started with losing weight.
A lot of weight.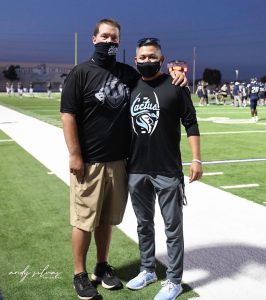 — Cody Cameron (@CodyTCameron) October 17, 2020
Through three games, Robinson's stats have nearly eclipsed his full junior season. He has only one less reception (18) and 28 less yards (220) than he did in 10 games last fall. He's already caught one more touchdown (five) than all of 2019.
The Robinson family lineage at Higley is a good one. Truitt's big, scratch that – much bigger brother Ty is arguably the greatest player to ever wear a Knights uniform. The 6-foot-6, 310-pound redshirt freshman defensive lineman is expected to not just play but play a lot for Scott Frost's defense at Nebraska.
Much like Notre Dame Prep's Jake and Gavin Smith, the Robinson brothers got to spend some unexpected time together this off-season and the early returns are quite promising for Truitt.
"As soon as the season ended I started working out right away, every day of the week," he said to the "Zone Read." "When COVID hit and everything shut down, Ty got to come back home and me and him were working out for about three months before he had to go back [to Nebraska]."
@t_robinson03 !!!!!!!! Lil bro showin out big time!!!!!! Go show him some love https://t.co/UGLDOwA7Ck

— Lord Shaxx (@TyRobinson2124) October 17, 2020
He also worked with his personal receiver trainer, former Arizona Rattlers star Siaha Burley and others close to the Higley program.
The challenge will be much bigger for Robinson and the Knights' offense as they host Chandler on Friday.
Goodbye Black Stripe
Just days before Ohio State opens their season against Nebraska, true freshman quarterback and former Chaparral star Jack Miller took another step in his young Buckeye career.
? Black Stripe Alert ‼️

You're gonna be a fun one to watch @jackjamesmiller! Congrats on getting the stripe off!#GoBuckeyes pic.twitter.com/DJp0FHQAv1

— Ohio State Football (@OhioStateFB) October 21, 2020
The tradition was started by former Buckeyes head coach Urban Meyer when he was at Bowling Green. All members of the freshman class wore thin black stripes on their helmets until they proved to do the right things both and off the field.