The virus numbers are at a level in our state that we haven't seen since June. Back then I said, "shut it down". Fortunately we did. Here we are in late October and once again we are fast tracking the wrong direction, closing in on a thousand new cases per day in Arizona. Maybe the Governor will weigh in on…oh wait, never mind…
I went to Saguaro high school for Friday night's nationally televised game between the Sabercats and Hamilton. It should've felt special, but it wasn't. Easy to park, a sparse gathering on both sides of the bleachers, security guards barking at people to wear masks. Not even close to the atmosphere it would be in normal times. The two teams will meet again in December, if we are still having a season by then…
The ones who were saying back in June that the virus will magically go away right around the election have gone silent. The people that think they are making a statement by letting their mask dangle while sitting in the stands or the sidelines are now being shunned. We won't know for many years if they were right or I was wrong. Our sons and daughters long-term health will be the judge and jury.
I understand that most of us are frustrated and worn out, (except of course those who know as fact this will all go away a week from next Tuesday). Last I heard, we've had double-digit games canceled or rescheduled. People arguing over mindless topics like whether Saguaro should be in the Open Division or not since their game against Horizon disappeared on Saturday.
If we shut down back in June to get the numbers under control, shouldn't we be doing the same now? Or, is it just looking the other way? Since we are now halfway through the regular season and just want to get to the finish line to say, "mission accomplished" and deposit the checks? It's one or the other, unless of course you believe this will all disappear a week from Tuesday…
Quick Hits…
Ben Finley was one of my favorite Arizona high school quarterbacks. When we had him in studio for the TV show before his senior season, he showed up wearing his Paradise Valley high school tennis team gear. Yep, a quarterback who played on the tennis team. Give me that kid all day long!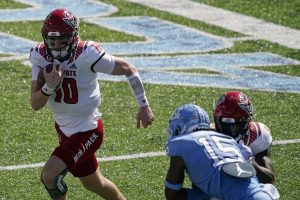 I was very pleased to see him in at quarterback on Saturday for North Carolina State. Same goes for Jack Miller. While there's no way he's going to get starting reps at Ohio State with Justin Fields at quarterback, he may well get plenty of mop up action for the Buckeyes like he did on Saturday in their blowout of Nebraska…
Rutgers beats Michigan St, Indiana survives against Penn State. Nothing normal at all about 2020…Who had Oklahoma State in the CFP debate?…
I am one who likes to know how sausage is made. So understanding when the wheels started in motion to move the Cardinals game to Sunday night on NBC is fascinating stuff to me.
When did the NFL office say, "Uh, Las Vegas has a problem with the virus, who can we move to take their place that will bring us close to the ratings number of Brady vs Raiders?" Good for the Cardinals street cred that they are viewed as a national brand…
No NBA, no NHL until the end of the year. The Winter Baseball Meetings will be done virtually. So, now is the time for Esports and UFC to increase their foothold into the marketplace…
Class act of the week award goes to Williams Field football head coach Steve Campbell. I was on the sidelines at WF Friday night when a player from Casteel went down with what appeared to be a serious injury. Campbell was the first one to the players side and even attempted to help him up after several minutes of work by the trainers. It's not all about the W's and the L's.
Sticking with Williams Field, they have a running back that is worth the price of admission. Go see Kaden Cloud, he's special.