It's bad enough family and friends can't go to high school football games due to COVID-19, so watching game streams is the only way families can watch their athletes play this year. With a dependence on streams, bots on Facebook have aggressively started a campaign to take advantage of all high school football communities across the nation.
There are dozens of fake "Facebook Events" spreading on the social media platform promising game streams of high school football games. They make an event with a generic football picture and tag school pages, team pages, and district pages providing a strange link for you to click on. They look similar to the one below, but they will use different pictures as the header image.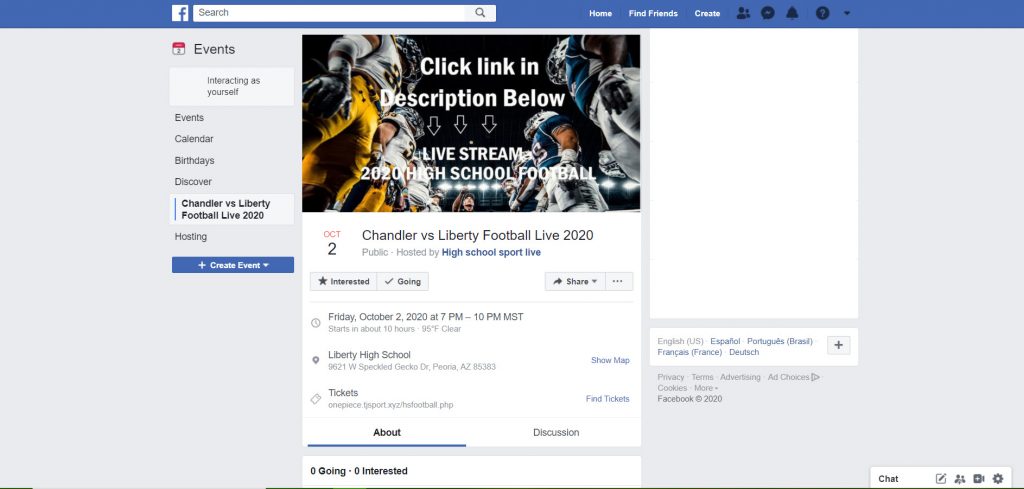 If you look at who is hosting the event, it's a strange name. These event pages hope that you click the link and takes you to a web site that looks like the video is about to begin. It then asks you to "register" to watch the game.
The page's goal is for you to enter an email and password combination that you use for other outlets such as your personal social media and other sites. They take that information you gave them, they do not deliver any type of stream, and now the people who are behind this scheme have access to any account that you use the same user name and password you just provided.
I hate to give bad people recognition but the reason why I'm giving this scam attention is due to seeing multiple football Facebook Pages and school pages sharing these fraudulent events to their followers.
If you open up a web page and the picture below appears on your screen, please leave this page and do not enter any personal information. This is what the home page is for these scam sites.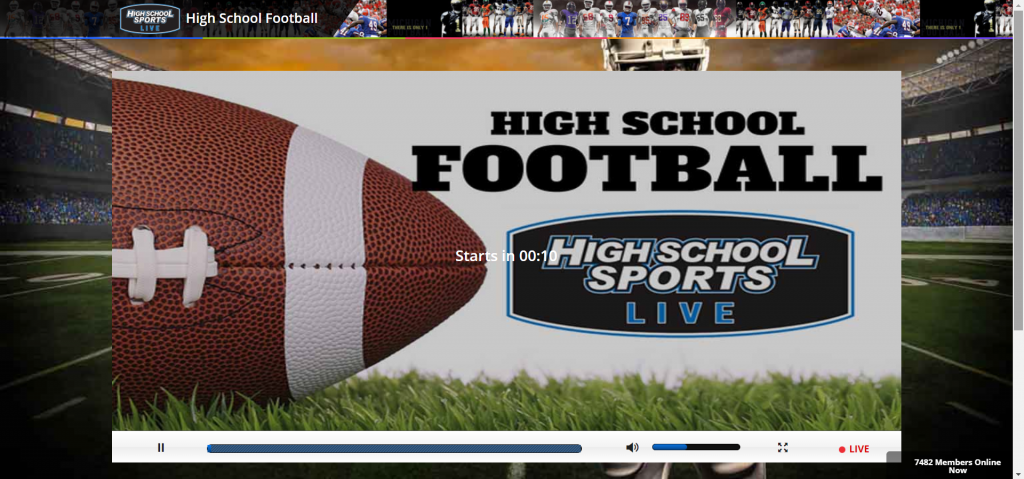 I don't want to spread fear or anything, but the fact that these pages are working, stealing credentials, and are potentially putting spam on computers is frightening.
Here are a few ways to stay safe on social media during your athletics seasons:
Use common sense on social media. If it looks fishy, it probably is. Look at the host's Facebook page and the event page. If there is no real information on the page or it looks like a phishing scheme, it probably is.
The Chandler District, Peoria District, Dysart District, and other individual schools regularly stream their home games. Watch for their official school pages for links to games or call/email your school and ask them if they plan to stream their game and what the link to watch is.
Check sites like Sports360AZ and NFHS Network (who you will have to register for) who carry a variety of games. These are safe sites and might be the host of the games you're looking for.
Use a unique password for every account you have. If someone does get hold of an email and password combo, it won't help them if you don't use that combination anywhere else.
Most streams are on recognizable sites such as the school's page, YouTube, Vimeo, or live without clicking a link on Facebook. If you've never heard of the website you're being directed to, be a little skeptical and ask if this is the correct site.
There are dozens of these fraudulent pages for a single game all over Facebook. You can try your best to report them but it most likely won't achieve much and making your administration aware of a single fake page won't do much because there are dozens of other phishing pages doing the same thing.
The best thing you can do is keep yourself safe and spread the word so everyone is aware of these fraud attempts and everyone can watch their athletes this season online safely.
Stay safe, don't fall for these fake scams, and most importantly, enjoy this high school football season.