It wasn't just the "Belli Bomb" in Game 7 on Sunday night that made me want to write about the Dodgers Cody Bellinger.
BELI BOMB!!! it's gone!! Dodgers take the lead in Game 7!!! pic.twitter.com/IAwucssTn4

— FOX Sports: MLB (@MLBONFOX) October 19, 2020
I've heard for awhile now that he's been taking care of those of who took care of him back at Chandler Hamilton High School. Mike Woods is the longtime head baseball coach of the Huskies. Woods was effusive in praise when we connected on Monday morning.
"He has bought our guys gear, he regularly attends out alumni game and golf tournament. He provides memorabilia for us to sell, etc," Woods said.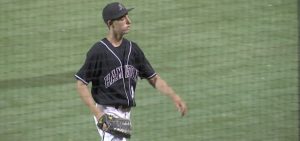 What I've heard through the years about Bellinger's days at Hamilton was him hitting just one home run his senior year. Woods bristles at the topic.
"It was the first year of the new bat regulations, where were a game changer for high school baseball," he said. "Those bats he (Cody) used were dead, worse than wood."
Clay Bellinger, Cody's father, is still part of the Hamilton program.